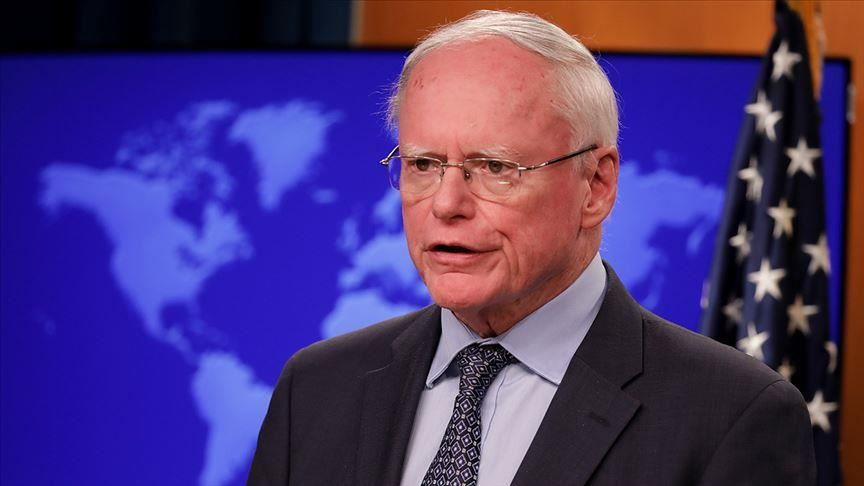 HASAKAH, Syria (North Press) – An informed Syrian Kurdish source confirmed to North Press on Monday that United States Special Representative for Syria Engagement James Jeffrey met yesterday with a delegation from the Syrian Democratic Council (SDC) and the Kurdish-led Syrian Democratic Forces (SDF).
The source said that during the meeting, several topics were discussed in northeastern Syria, including the possibilities of finding comprehensive political solutions for Syrian crisis.
Local and international media declared the arrival of Jeffrey on Sunday in the Autonomous Administration of North and East Syria (AANES) on a surprise visit.
According to what was reported by the diplomatic source to North Press, Jeffrey stressed the importance of the commitment of all parties to the cease-fire.
The source indicated that Jeffrey also spoke about opening the way for dialogue between the Syrian parties and external parties involved in the Syrian crisis.
The source said that the report issued recently by the International Commission for Human Rights was also discussed, which talked about human rights violations committed by Turkish forces and their affiliated armed opposition groups in northern Syria.
UN investigators accused Turkey and its affiliated Syrian opposition groups of committing violations that may amount to war crimes against civilians in northern Syria.
The United Nations High Commissioner for Human Rights, Michelle Bachelet, said that the human rights situation in parts of northern Syria (referring to areas under Turkish control) is "dire."
The US envoy said that US supports the representation of the SDC in international dialogue platforms regarding finding a solution to the Syrian crisis, according to United Nations resolution 2245.
The source also indicated that Jeffrey stressed his support for the continuation of the initiative of the commander of SDF, Mazloum Abdi, for intra-Kurdish dialogue in northeastern Syria.
He said that he is closely following the matter with the US State Department team present in the region, according to the source.
(Reporting by Hosheng Hassan)