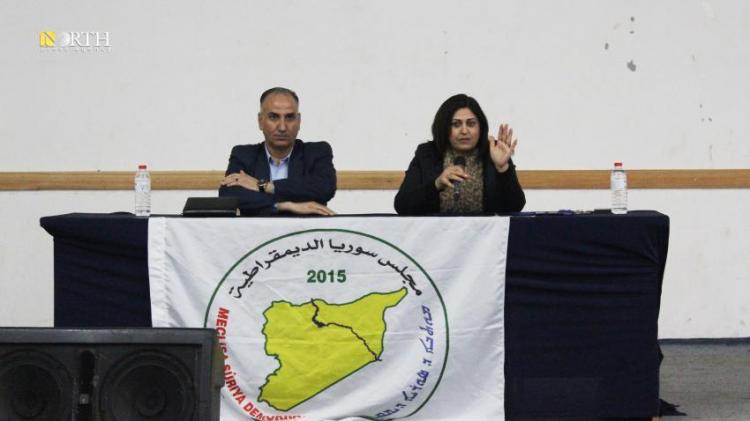 QAMSHLI, Syria – (North Press) – Riad Dirar, co-chair of the Syrian Democratic Council (SDC), said holding a series of dialogues and conferences with the people of northern Syria is a continuation of previous dialogues aimed at achieving a common political vision for the people of the region, and it could end with holding a broad conference at the level of north and east Syria.
Dirar said in a special statement to North Press, "The statement about holding meetings and seminars in north and east Syria is the completion of the SDC dialogues with Syrian forces after holding conferences for intra-Syrian dialogue in the town of Ain Issa and the city of Kobani, and after holding six discussion workshops in Europe with Syrian personalities."
He added the dialogues that will be held by the SDC will be with intellectuals, academics, tribal leaders, and representatives of the region and those concerned with its affairs.
In late July, the SDC called for a Syrian dialogue between the people of north and east Syria.
Dirar said that the new dialogues aim to rebuild the region after the defeat of ISIS, determine how to deal with ISIS cells, and discuss other topics such as the political vision of the region, the educational curriculum, and methods of governance and management.
He said the aim is to involve all communities in the region in these dialogues to reach a common vision, and it is possible these meetings will end with a broad conference for all the people of the region.
Regarding the Cairo Conference for the Syrian opposition, Dirar said their efforts to hold the conference are still ongoing, but the conference was interrupted due to the outbreak of coronavirus throughout the world.
The SDC published a video on Facebook about holding a series of dialogues in northern Syria, where the co-chair of the council, Amina Omar, said the SDC has a clear vision to solve the Syrian crisis through dialogue and negotiation based on UN resolutions, foremost of which is Resolution 2254.
Omar agreed with Dirar regarding the issues raised in these meetings on the methods of administration and governance, and added: "We will be frank in presenting these issues for discussion with the people of northern Syria."
However, the Syrian Democratic Council did not specify a date for upcoming meetings and dialogues.
Additional reporting by Abdulhalim Suleiman