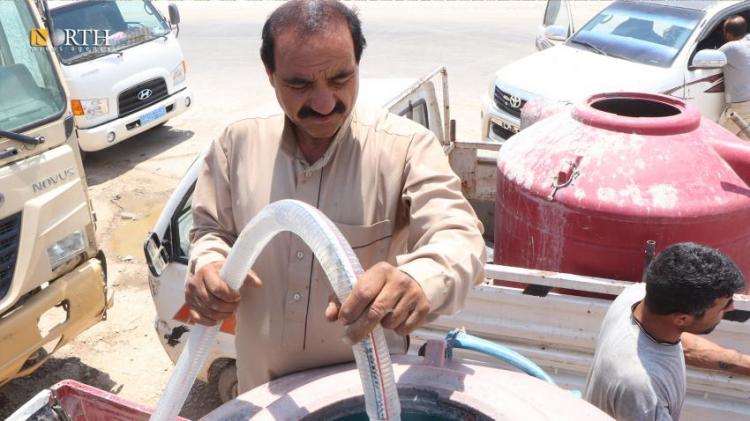 WASHINGTON, USA (North Press) – His holiness Patriarch of Antioch and the rest of the East, the Syriac Orthodox Mar Ignatius Avram II send a message on Saturday to the UN Secretary-General Antonio Guterres, UN High Commissioner for Human Rights Michelle Bachelet and EU Council President Charles Michel criticizing Turkey's water cut from people of Hasakah in northeastern Syria and holding the international community responsible.
Humanitarian catastrophe
"We write to you with deep concern about the current humanitarian catastrophe that is taking place in Hasakah, northeast Syria as over one million Syrians are denied their basic human rights, namely their right to live."
Turkish-backed groups deliberately cut off water
The message accused the Turkish-backed Syrian opposition armed groups of water cut from the city of Hasakah amid high temperatures and in light of the spread of coronavirus in the area.
"For more than 10 days, the armed factions supported by the Turkish occupation have deliberately cut off water from the population thus subjecting them, especially children, elderly and vulnerable people, to thirst and critical health conditions."
"This comes at a time when the spread of COVID19 virus is taking its toll on the entire country," he said.
Barbaric act
The message described the act as barbaric and criticized the silence of the international community.
"Using water as a weapon – and this is not for the first time – is a barbaric act. Yet, there has been no response from the international community to this atrocity despite the constant appeal of the people of the region."
"If water blockade continues, it would only be appropriate to characterize this inhumane act as a crime against humanity," he added.
UN is responsible
The message concluded with appeal to the UN organizations to deal with the crisis.
"While we hold the international community responsible for the consequences of this unethical act, we urge the United Nations, through the Office of the High Commissioner for Human Rights and the European Union, to address immediately this calamity and to provide water and help for the suffering people of Hasakah and northeast Syria."
(Reporting by Hadeel Oueiss)