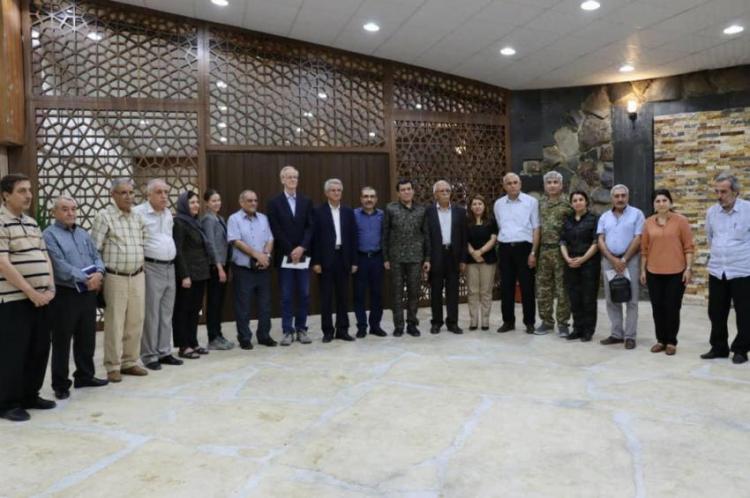 HASAKAH, Syria (North Press) – In exclusive statements to North Press on Tuesday, Syrian Democratic Forces (SDF) General Affairs Office official Redur Khalil said that they would abide by the intra-Kurdish initiative as a guarantor to reach a "national agreement."
SDF Commander Mazloum Abdi launched the intra-Kurdish talks initiative to unify the Kurdish position in Syria in late 2019.
Both the Kurdish National Council in Syria (ENKS) – the main opposition coalition in the Autonomous Administration regions – and the PYD-led Kurdish National Unity Parties (PYNK) took part in negotiations reaching a political understanding in June 2020.
Khalil said that having some different standpoints between the two parties has been normal, and "it is most important to express the political will to overcome differences, demonstrate a sense of responsibility, and prioritize national and general interests over partisan ones."
"We hope that press statements by any party will not be turned into an obstacle to the dialogue," he added.
SDF leaders and the US State Department's representatives in northeast Syria are sponsoring the negotiation sessions between the two parties.
In September, both PYNK and ENKS have reached understandings about forming a Kurdish unified position for the Kurds of Syria, but intra-Kurdish dialogue was suspended due to the American guarantor's travel to the US for the presidential elections.
The two parties are expressing their readiness to complete the negotiations.
He said, "The two parties reached serious steps during the past sessions as we hope to reach an agreement according to fixed national terms in the coming phase."
Khalil pointed out that these negotiations have been a part of the SDF strategy to launch an intra-Syrian dialogue embracing all Syrian communities.
"We are working with all friends in order to make the intra-Syrian dialogue becomes a reality and guarantees a brighter future to Syrians, who have suffered and sacrificed for years in countering terror, occupation, and the dictatorial regime," he added.
Reporting by Hosheng Hassan