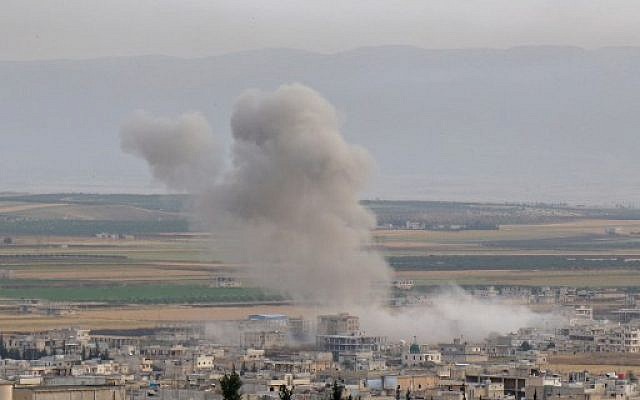 IDLIB, Syria (North Press) – The airspace ofthe northwestern Syrian city of Idlib witnessed intensive Russian flights, coinciding their absence from the Turkish military patrol which was run on Tuesday on the M4 main road.
The Syrian Observatory for Human Rights (SOHR) reported that a squadron of six Russian jets executed nearly 15 airstrikes Tuesday morning, targeting the western bushland of Maarat al-Nu'man city in northwestern Idlib, amid reports about an outbreak of fires there. Meanwhile, the Russian jets are still flying over the area.
Local sources reported that several Russian airstrikes hit training camps and headquarters of Hayat Tahrir al-Sham (HTS, formerly al-Nusra Front) in the Batentah area to the west of Maarat Misrin city in northern Idlib.
The aerial attack left several HTS members injured. The Russian airstrikes coincided with Syrian government forces' rocket attacks on Kafr Oweid and Halloubiya towns and other positions in Zawiya Mountain in southern Idlib.
Meanwhile, Turkish reconnaissance drones were seen flying over the area, and a Turkish patrol was conducted later on the M4 highway.
It is worth noting that a Russian-Turkish joint patrol was supposed to run on the M4 highway. However, the Russians refused to conduct a joint patrol with the Turkish forces for unknown reasons.
(Reporting by Mohammed Khier Ahmed)