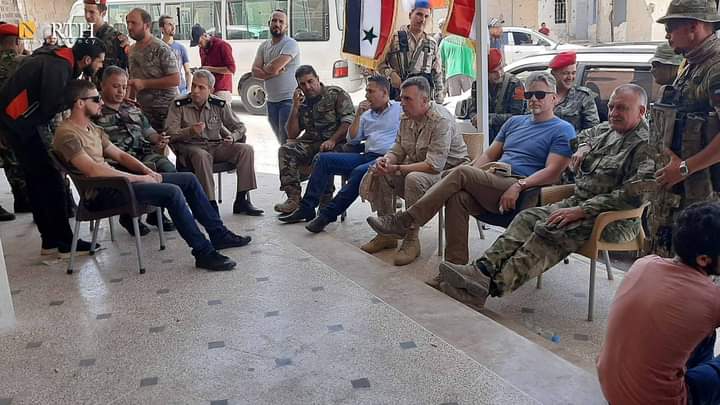 DARAA, Syria (North Press) – On Wednesday, the Central Committee in Daraa, southern Syria, issued a statement specifying the terms of the agreement reached with the Syrian government forces under Russian auspices, which started to be carried out in Daraa al-Balad, the Tariq al-Sadd neighborhood and the camps.
The statement stated that among the terms of the agreement was an immediate ceasefire, the entry of a Russian Military Police (MP) patrol and its stationing in Daraa al-Balad, and the opening of a center to settle the status of wanted persons and their weapons.
It added that the agreement stipulated checking the identities of those in Daraa al-Balad to deny the presence of any strangers, and the deployment of four security points in the neighborhood of Daraa al-Balad.
Yesterday, an agreement was reached between the dignitaries of Horan, the Central Committee in the western neighborhood, the Fifth Corps, and the Daraa al-Balad Committee on the one hand, and the Security Committee of the government forces on the other hand, with the guarantee of the Russians.
The agreement also included the lifting of the cordon around the perimeter of Daraa al-Balad, the return of the police station personnel and the restoration of services to Daraa al-Balad.
Additionally, to release the detainees and clarify the fate of the missing, five days after the implementation of this agreement.
This morning, the Russian forces and members of the Eighth Brigade of the Fifth Corps entered Daraa al-Balad and the besieged neighborhoods to carry out the terms of the agreement.
Meanwhile, a settlement center was opened in Daraa al-Balad, and the government forces started to settle the situation of 34 residents of Daraa with the delivery of a number of light weapons, in the presence of Major General Hussam Louqa, head of the security committee of the government forces.
The Syrian government forces and the Iranian-backed factions have been besieging the Daraa al-Balad and other neighborhoods and closing all roads leading to them for more than two months.
Reporting by Ihsan Muhammad