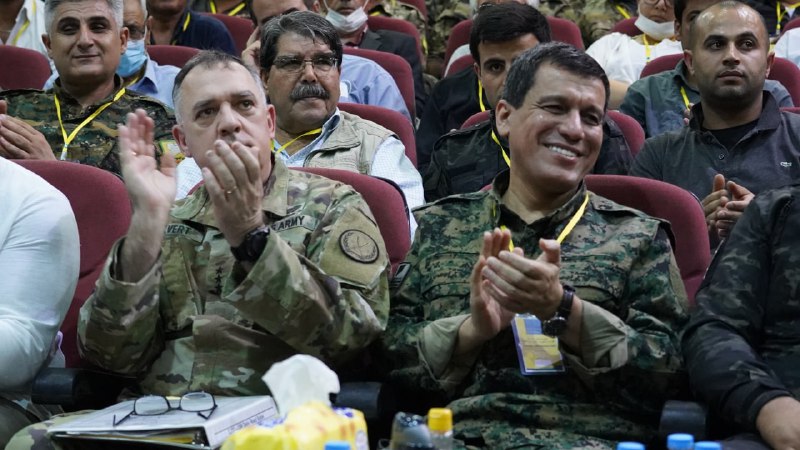 HASAKAH, Syria (North Press) – On Sunday, Paul T. Calvert, the United States Army lieutenant general who serves as the Commander of the Combined Joint Task Force – Operation Inherent Resolve (CJTFOIR), said that many world leaders are 100% committed to supporting the Syrian Democratic Forces (SDF) that are fighting the Islamic State (ISIS).
Along with leaders of the Global Coalition, Calvert attended the annual meeting of the military councils, which was held by the SDF in the city of Hasakah, northeastern Syria, on Sunday.
"ISIS was militarily defeated, and there is no longer an ISIS caliphate, but its members are still active in the region," Calvert said in the meeting.
"The Global Coalition supports the SDF that are 100% fighting ISIS. I am here to announce the permanent partnership between the SDF and the Coalition," he added.
Calvert pointed out that the achievements of the Coalition and the SDF are astonishing after years of coordination, and their partnership confirms the continued defeat of ISIS.
"The US Secretary of State, Antony Blinken, along with many global leaders, support the SDF, and they are committed to supporting them in the fight against ISIS every day," he stated.
The American commander indicated that "There are three successes we have achieved, which are sheltering the displaced, raising international awareness of the problems the people face in northeastern Syria, and continuing the fight against ISIS."
Speaking to SDF fighters and military leaders, he said: "It is an honor for me to speak in front of this wonderful gathering of those who sacrificed in the fight against ISIS."
"The graves of the martyrs on this land indicate the heavy price offered by the SDF to fight ISIS and stabilize the region."
He concluded that the Coalition is working to improve the protection of prisons in northeastern Syria that house ISIS terrorists, noting that "we will continue to emphasize the necessity of returning the citizens from Iraq and Europe to their countries."
Reporting by Hoshang Hassan