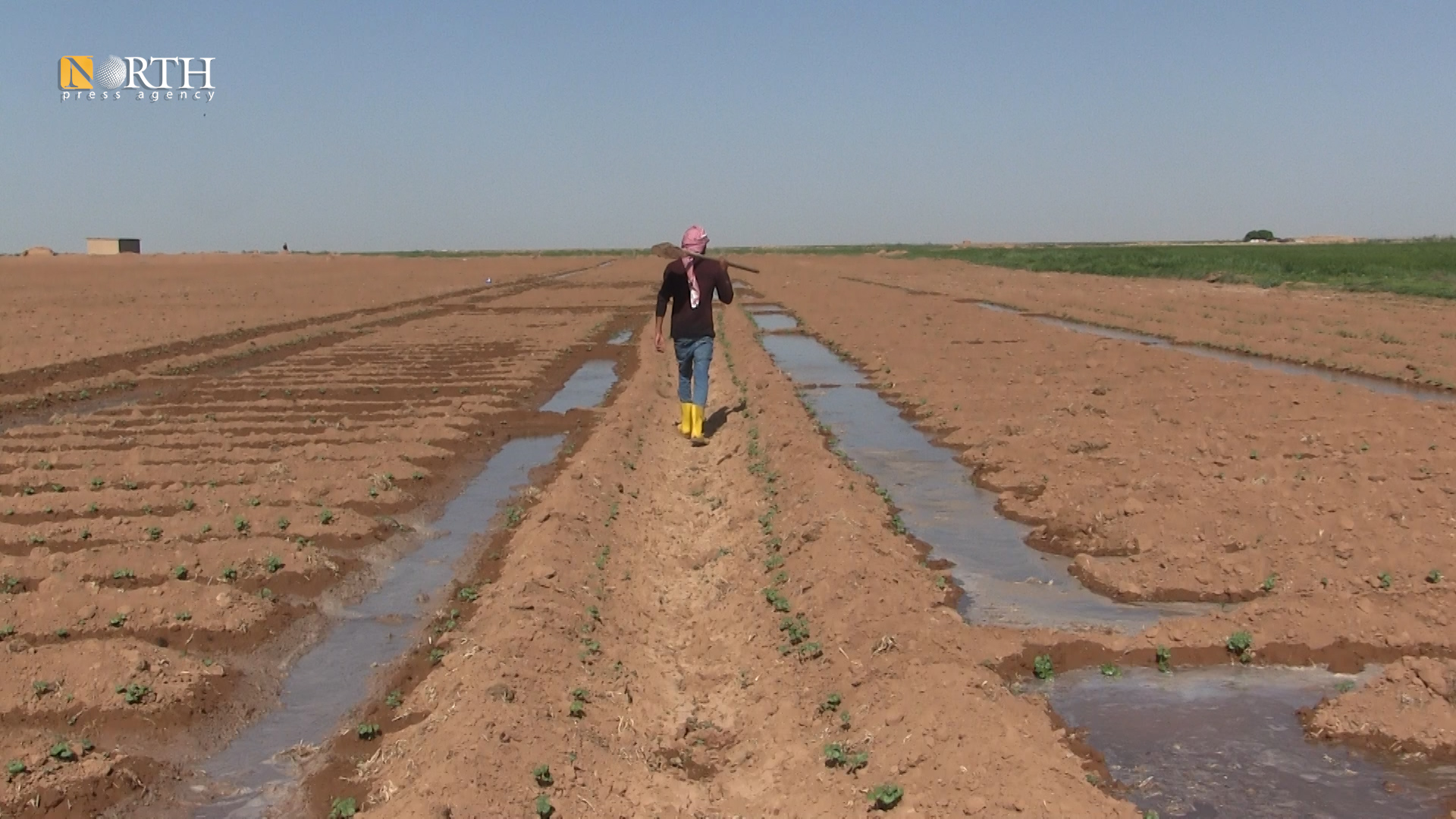 RAQAA, Syria (North Press) – Ali al-Abbas, a farmer from north of Raqqa, northern Syria, fears that the water will be completely cut off from the irrigation canals that lead to his field, after the Irrigation Corporation adopted a new program for lands that depend on water from the stations.
This year, and for fear of irrigation water cut-off, al-Abbas, who used to cultivate more than 50 acres, cultivated only 15 acres with cotton.
Meanwhile, his poor purchasing power prevents him from digging a well to irrigate his land, "digging a well costs a lot, our lands' fate linked to the irrigation canals," he stated.
Inappropriate solution
As a result of decreasing water flow from Turkey, Irrigation Institution in Raqqa decided to release water to stations for a whole day and cut it for the next two days, so that to irrigate some lands.
The new system does not suit summer cultivation that needs plenty of water in order not to be damaged, according to farmers.
The city of Raqqa includes 23 irrigation stations, of which ten are main stations.
Abd al-As'ad, a farmer from a village north of Raqqa, dug an artesian well as a result of the decreasing Euphrates water and warnings by the Irrigation Institution regarding a complete water cut-off.
Digging wells costs 10,000 Syrian pounds (SYP) for each meter, and you have to dig more than 100 meters in these areas to get water, in addition to other expenses such as metal insulators that are lowered into the well to avoid the risk of backfilling.
Al-As'ad, who cultivated his land of 60 acres with cotton, said, "Recently, my land has witnessed inappropriate and little amount of irrigation water."
Vast areas
Raqqa has an estimate of 240,000 acres of irrigated lands, of which 90,000 acres are irrigated via stations, according to Raqqa's Irrigation Institution.
Agricultural lands in Raqqa need 90 m³ water per second to be irrigated, "if this amount was drawn from the Euphrates River supply, no enough water supply is left for generating electricity, therefore, irrigation stations will stop," according to Nabi Khalil, head of the Irrigation Institution.
In case Turkey continues to seize water, this will lead to disastrous impacts on cultivation, stop pumps and keep only projects that are irrigated via mills.
For more than three months, Turkey has limited the flow of the Euphrates into Syria, depriving large numbers of people of usable water. Turkey reduced the flow of water from the Euphrates River into northeast Syria's dam gradually, reducing the amount of water received to unprecedented lows.
Turkey keeps water in six dams, the largest of which is Ataturk Dam, the second largest in the Middle East, with a storage capacity of 48 billion m³, violating the international agreement they signed with Syria in 1987 which stated that Syria's share of water coming from Turkey is 500 m³ per second.
The water flow to the Euphrates River is now limited to less than 200 cubic meters, according to the General Administration of Dams in Northeastern Syria.
Reporting by Ahmad al-Hassan