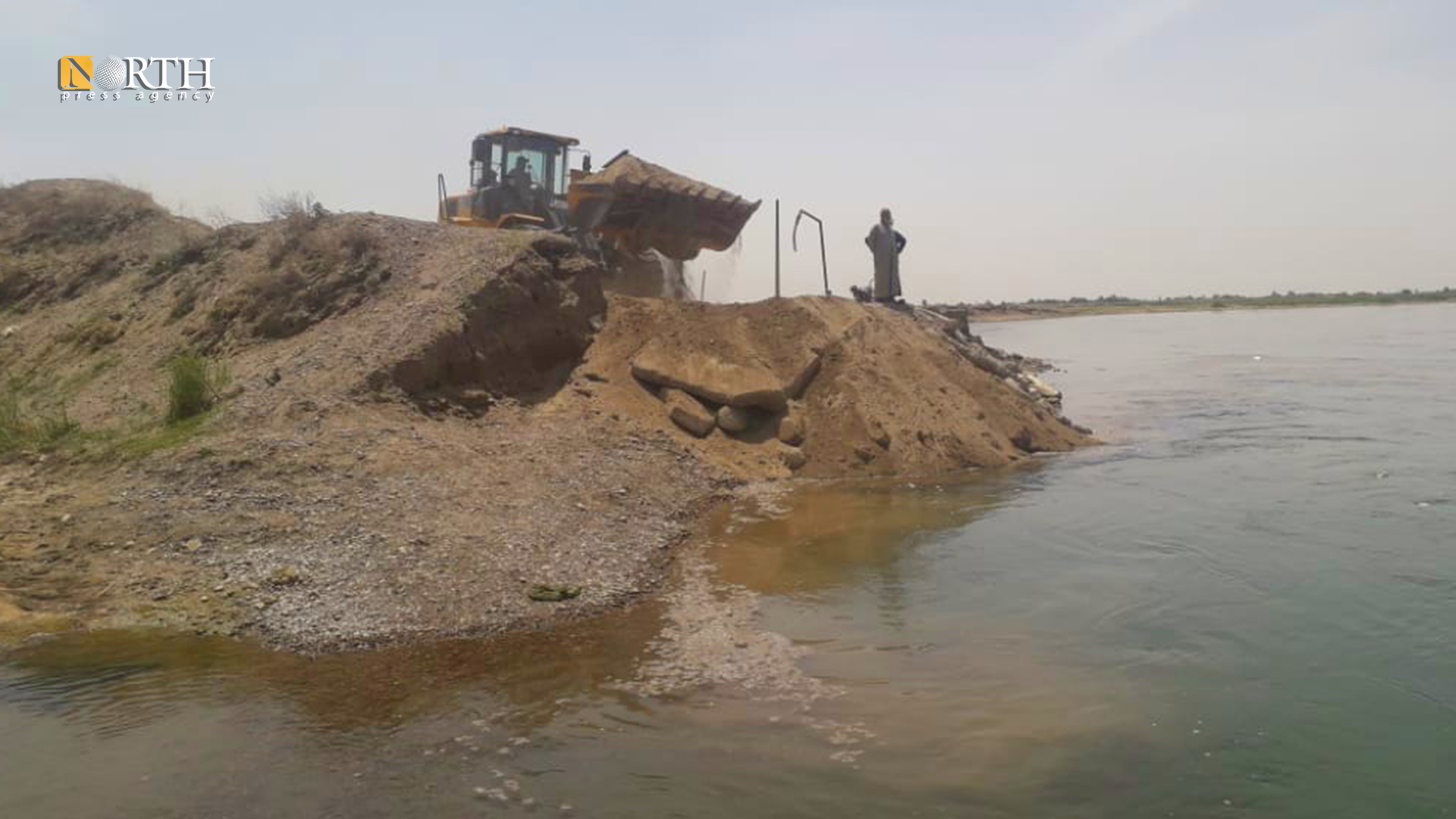 DEIR EZ-ZOR, Syria (North Press) – On Tuesday, the People's Municipality in an eastern town of Deir ez-Zor, east Syria, is using concrete blocks and soil on the bank of the Euphrates River to raise the water level and deliver it to the pumps of drinking water stations.
Abdulrahman al-Shaman, head of the Garage Department of the People's Municipality in al-Busayrah town, 35 km east of Deir ez-Zor, said that they have brought in the cement blocks on the banks of the river so that the water reaches all the pumps of al-Busayrah and al-Shuhail water stations.
"Al-Busayrah and al-Shuhail stations will run for specific hours so that the water in the reservoirs will not go down," al-Shaman added.
There are three drinking water stations in the town of al- Busayrah, and a station in the town of al-Shuhail in the eastern countryside of Deir ez-Zor.
Al-Busayrah and al-Sa'wah drinking water stations were out of service on May 2 due to the low level of the Euphrates River.
For more than three months, Turkey has limited the flow of the Euphrates into Syria, depriving large numbers of people of usable water. Turkey reduced the flow of water from the Euphrates River into northeast Syria's dam gradually, reducing the amount of water received to unprecedented lows.
Turkey keeps water in six dams, the largest of which is Ataturk Dam, the second largest in the Middle East, with a storage capacity of 48 billion m³, violating the international agreement they signed with Syria in 1987 which stated that Syria's share of water coming from Turkey is 500 m³ per second.
The water flow to the Euphrates River is now limited to less than 200 cubic meters, according to the General Administration of Dams in Northeastern Syria.
Reporting by Muayad al-Ibrahim