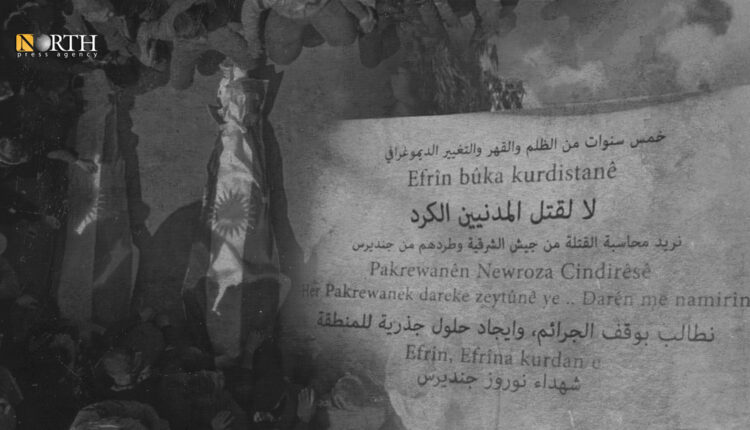 QAMISHLI, Syria (North Press) – On the eve of Newroz, March 20, members of Ahrar al-Sharqiya, a faction operating within the Turkish-backed Syrian National Army (SNA), opened fire on local residents celebrating the Kurdish holiday in Jindires town in the Afrin region, northwestern Syria, killing four. What could be categorized as another episode of otherwise near-systematic anti-Kurdish violence in Turkish-occupied areas of Syria may yet have profound consequences.
According to on-the-ground accounts, members of Ahrar al-Sharqiya, a large faction from Deir ez-Zor Governorate, eastern Syria, which controls the town of Jindires and its surrounding area, beat a young man for lighting a fire near his home on the eve of Newroz, the Kurdish new year's celebration. Afrin Post, a local news site, reported that the young man was insulted by the armed militants as an 'infidel'. His father and two of his uncles came to the young Kurd's aid and were themselves met with beatings. The militant then opened fire on the family, killing all four men. Three bystanders were injured.
The violence is shocking, though hardly out of the ordinary, as a recent North Press report outlines. Kurds in Afrin, which was occupied by Turkish forces and affilaited Syrian factions in 2018, are regularly and systematically exposed to violence as they celebrate the Kurdish holiday.
On the same Monday evening, Afrin Post reported that militants intimidated Kurds celebrating Newroz in the villages of Hajj Hasna and Miske (also in Jindires). In February alone, at least 10 civilians have been arbitrarily arrested by SNA factions in Afrin, the Syrian Observatory for Human Rights (SOHR), a local watchdog, reports. Turkey has pursued a policy of demographic engineering in the region for the past five years. Afrin's population was once near-homogenously Kurdish; today, it is majority Arab.
Unforeseen consequences
The aftermath of the killing, however, was out of ordinary. The bodies of at least three of the men were transferred to the hospital in Afrin city, 20km east of Jindires. There, the slain men's family members were driven away when they began to protest the killing. Eventually, a delegation comprising the family members, the dead bodies in tow, headed south, to the town of Atmeh, which is controlled by Hayat Tahrir al-Sham (HTS, formerly al-Nusra Front). The SOHR reports that they were driven there in cars owned by HTS. In parallel, protests against the killing formed in Jindires; some demonstrators demanded that the HTS enter the area.
In Atmeh, the delegation met with HTS leader Abu Mohammad al-Jolani. The details of the conversation have not been published, but all accounts suggest al-Jolani promised to hold the perpetrators to account. The delegation was then escorted by HTS militants back to Jindires in order to bury their loved ones.
HTS has maintained a presence in Turkish-occupied Afrin since it took control over large swathes of the region's southwest in October 2022, before a feigned withdrawal days later. The jihadist group has outposts in Jindires, as well as in the town of Sheikh al-Hadid, 15 km north, and near Bassouta, 14 km east.
The Syrian Interim Government, the SNA's political arm, initially attempted to deflect blame by arguing that the shooting was the result of a quarrel, not a targeted policy. Within 24 hours of the incident and HTS' take-over, the Liberation and Construction Movement (LCM), a coalition of factions headed by Ahrar al-Sharqiya, announced that they had arrested three young Deir ez-Zor-born men for the crime in a nearby camp for earthquake victims. The LCM stated that they were not "formal" members of Ahrar al-Sharqiya, according to Syria TV. No commanders have yet been implicated in the shooting.
These measures have been found wanting by the local Kurdish population, which has continued to protest throughout March 21 and 22. Thousands have travelled from various parts of Afrin to attend the popular demonstrations.
Why does it matter?
The killings in Jindires were likely incited by ethnic hatred against Afrin's indigenous Kurdish population. To what degree they were the result of a concrete policy has yet to be determined. The PYD, the largest Kurdish party in north and east Syria, described them as "a continuation of the policy of displacement, ethnic cleansing and demographic change pursued by the Turkish state." However, the incident on March 20 also points to a more insidious development. Namely, the exploitation of Kurdish grievances by HTS for their own gain.
Turkey's proxy factions in Afrin (as well as in Sere Kaniye, in Syria's northeast) have a long track record of human rights violations, especially against Kurds. Ahrar al-Sharqiya, the SNA faction behind the killings in Jindires, is a particular brutal group. Members of Ahrar al-Sharqiya executed Kurdish politician Hevrin Khalaf and her driver in 2019. In the aftermath of the February 6 earthquakes, the Kurds in Jindires, which is majority controlled by the militants from Deir ez-Zor, complained about widespread discrimination, as a previous North Press report outlined. Ahrar al-Sharqiya has been sanctioned by the US Treasury for its murder of Khalaf and for harbouring ISIS members in its midst.
This is also not the first time HTS has used the SNA's internal splits to widen its influence in the region. Rather than a unified opposition army, the SNA is a kaleidoscope of at least 33 armed groups, ranging from secular criminal enterprises to jihadist outfits. The HTS has often exploited infighting between the groups. In October 2022, it came to the aid of a number of factions fighting with the Levant Front (Jabhat al-Shamiya), one of the few groups that – like HTS – has a religious-inspired political project and whose punch carries some weight. In a region plagued by militia's overreach and infighting, HTS has attempted to sell itself as a harbinger of law and order.
Yet this is hardly the case. The HTS and its leader, al-Jolani, were part of al-Qaeda in Syria, or the al-Nusra Front, before rebranding. Their crimes are multiple. Like the Islamic State (ISIS), they have targeted ethnic and religious minorities. In 2015, the group forcefully converted a number of Druze, members of an esoteric religious group, before killing 20 of them in Idlib. That same year, it also kidnapped around 300 Kurdish civilians from Afrin. Only in recent years has it attempted to whitewash its image by, for example, reopening churches it once ransacked.
Today, HTS – and its civilian arm, the so-called Salvation Government – imposes a strict interpretation of sharia on the civilians under its control in Idlib, including bans on music and tight-fitting clothes for women. Several high-ranking ISIS members, including two of its leaders, have been found living in HTS-controlled areas. HTS has been largely successful at unifying control over Idlib not despite, but because of its brutality.
HTS and the Kurds
The attempt to take advantage of Kurds' plight, promising equality under an Islamist system, should be understood as another ploy of HTS to gain a foothold and popular support in Afrin. In truth, HTS is deeply intertwined with Turkey's project in the region. Despite Turkey formally categorizing HTS as a "terrorist group" and it not being directly under their control, like the SNA, the relationship between Turkey and HTS has "evolved into one of mutual co-dependency," writes the Rojava Information Center.
HTS militants act as guards for Turkish convoys in Idlib; since an operation in 2020, a chain of Turkish outposts in Idlib has protected HTS from Syrian government forces. Turkey also controls and arms the National Front for Liberation (NFL), a coalition of factions in Idlib. Since 2019, the NFL has cooperated with HTS via a joint operations room, which is funded and armed by Turkey. In 2021, Turkey formed and trained the 'Auxiliary Forces', an Idlib-based group in charge of protecting Turkish targets in the region. HTS' repeated incursions into Afrin have gone unpunished by Turkey; their ongoing presence is tacitly accepted.
For his party, al-Jolani has been vocal about his support for Turkey's invasion of Kurdish-majority territories in Syria. On the eve of the Turkish invasion of Sere Kaniye and Tel Abyad in 2019, al-Jolani said that he was "in favour of this region being liberated from the PKK … We would not stand in the way of an operation against an enemy of the revolution," referring to the People's Protection Forces (YPG), a group Turkey says is one and the same as the Kurdistan Workers' Party (PKK), against which it has fought a 40-year-long insurgency in Turkey. Kurds who in any way cooperated with the YPG-linked autonomous Kurdish administration which ruled Afrin between 2012 and 2018 are already being targeted for arrest and harassment by SNA militias. There is little chance this would change under HTS control.
HTS has repeatedly stressed that it wants to swallow up the remaining SNA militias to form a single opposition government. Most Turkish-backed groups still reject such a move. As of yet, HTS lacks the manpower or a green light from Turkey to take control of Afrin. However, it is being slotted by Turkey as a possible exit strategy, should the government in Ankara decide that its occupation of northern Syria is too costly. HTS' attempt to cajole the region's Kurds demonstrates that it is preparing for that day. Afrin's Kurds will suffer either way. For them, HTS rule would bring a salvation government in name only.
Reporting by Sasha Hoffman