IDP from NE Syria mourns loss of wife, daughter in Turkish invasion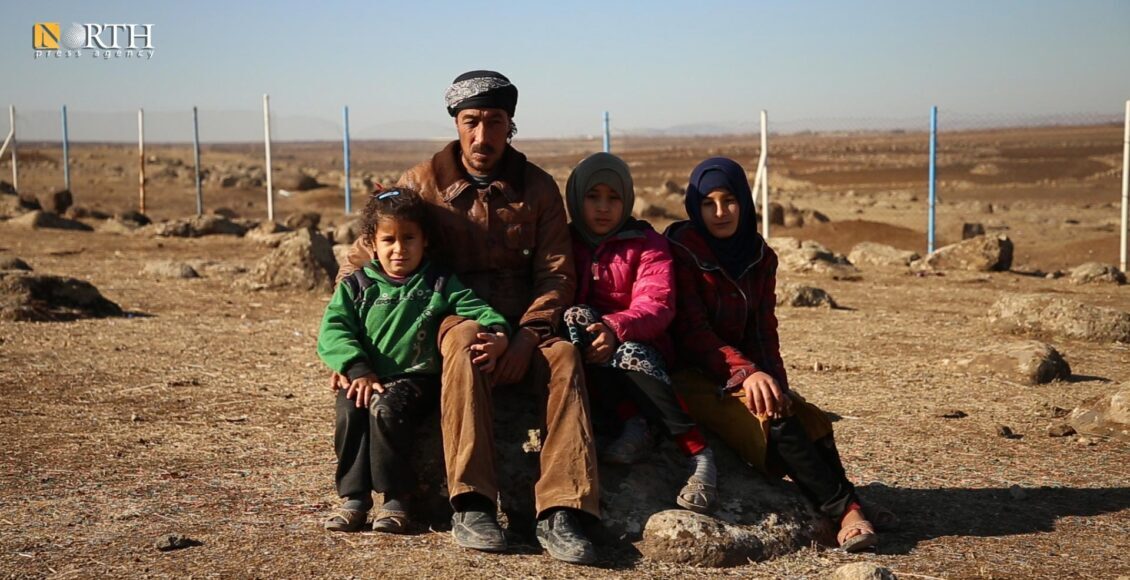 Abd Ibrahim with his daughters in Newroz camp in Derik (al-Malikiyah) countryside far northeast Syria - North PressAbd Ibrahim with his daughters in Newroz camp in Derik (al-Malikiyah) countryside far northeast Syria - North Press
DERIK, Syria (North Press) – In his tent in Newroz camp, in the far northeast Syria, the 36-year-old Abd Ibrahim, an IDP from Sere Kaniye (Ras al-Ain), is surrounded by his four daughters, taking role of their dead mother dressing and feeding them.
Four years have passed since Ibrahim lost his wife, he has become responsible for taking care of his daughters and securing their needs, doing his best to fill the gap left by the death of their mother, although he often fails to do so.
The father did not want to speak in the presence of his daughters, so he left the tent and sat on a rock; holding his tears while recalling the catastrophe.
It was not easy for him to talk about the moments when he lost his wife, who was stained with her blood being unable to save her. At the time, a barrage of Turkish shells was falling on his village of al-Sayatia in Hasakah countryside, northeast Syria.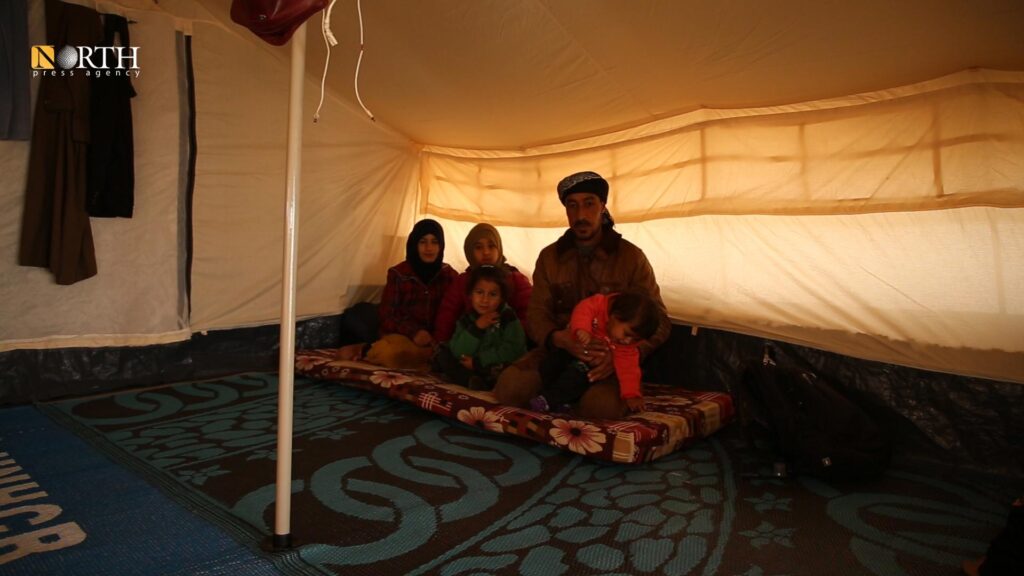 Early on that day, a day after the Turkish invasion of Sere Kaniye (Ras al-Ain) and Tell Abyad started in the year of 2019, Ibrahim went out to plow lands, but he was forced back due to the Turkish shells.
On the way back just before reaching his home, he came across his brother, who told him that his wife was injured as a result of a Turkish shell that fell on his house, while his children survived.
"When I arrived home, my wife was dying in front of my eyes. She passed away while I was trying to help her," the heartbroken father said.
In October 2019, the Turkish military and its affiliated armed Syrian opposition factions, also known as Syrian Nation Army (SNA), launched operation "peace Spring" and occupied the border city of Sere Kaniye (Ras al-Ain) and the town of Tel Abyad, leading to the displacement of about 300.000 original inhabitants.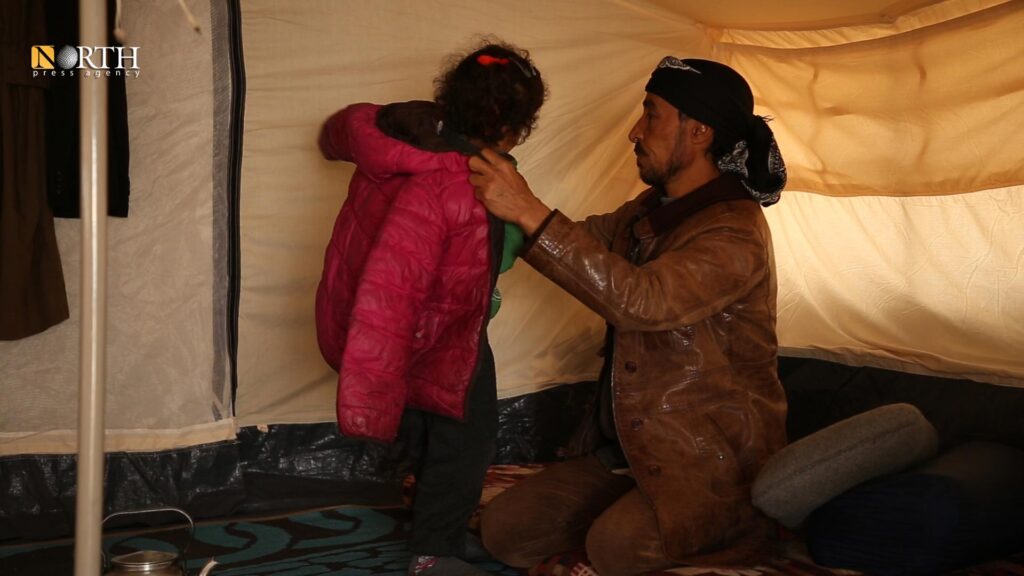 Under tents covered with dust in northeast Syria, IDPs of those areas live in dire conditions after leaving behind their properties and belongings.
Like most of the residents of his area, Ibrahim was forces to flee, leaving behind his house, properties and all his memories.
"I buried my wife at the village's cemetery, piece of me remained there," the distress husband said.
The Turkish operation at the time did not end only in taking control over Sere Kaniye and Tel Abyad, but rather it turned dozens of villages in the countryside of Tel Tamr, north of Hasakah, into frontlines, undergoing successive bombardment.
Ibrahim fled with his family to the area of Jabal Abdul Aziz in the countryside of Hasakah, they lived there in an abandoned house, hoping that the situation would calm and be able to return to their village.
While hoping for the return to homeland, the family again was heartbroken for the loss of one-year-old daughter, who was stung by a scorpion.
"I used to condolence myself over my wife's death by taking care of our little daughter I used to spend my time with her, but she also left," the grieving father says.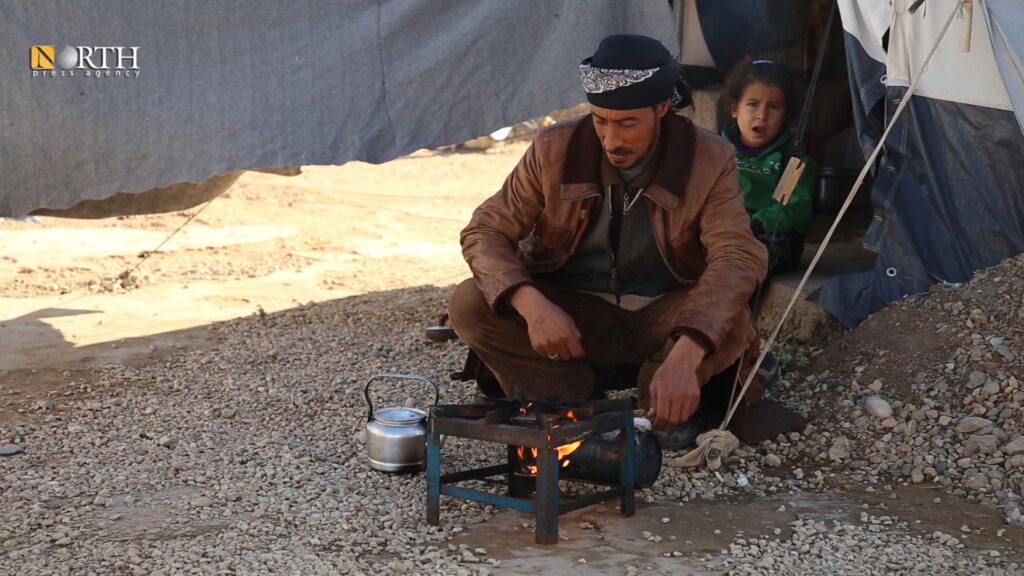 The father could not hold his tears back, as he remembered the little girl and the horror of the accident, "She was crawling next to her grandmother in front of the house, a scorpion stung her, they started screaming and calling me, I rushed and carried her, she died on my arms, I could not save her."
"My daughters are what is left of my family, they are my friends and relatives, they are all I have, my hope and my future, they give me the strength to fight in this injustice life," he sighed.
Fearing more calamities, the IDP decided to leave Jabal Abdul Aziz and resorted to Newroz camp, where displaced families from Sere Kaniye, Tel Abyad and Afrin are residing.
Since Nov. 20, Turkey has escalated its shelling on separate areas in north and northeastern Syria, this caused Ibrahim to live in a state of constant anxiety, as his family's life is still at risk, and they may embark on a new journey of displacement if Turkey carries out its looming ground operation.
Reporting by Halaz Abdulaziz