AIN ISSA, Syria (North Press) – The mere approach of winter perturbs Yazi amid lack of heating devices and appealing alternatives which can shield her from the harsh cold.
Yazi al-Khalaf, 60, lives with her daughter in the IDP camp of Tel Samen, north of Raqqa city in northern Syria, with no breadwinner to secure the family's needs. What makes the matter worse, is the approach of a breezing winter.
IDPs living in Tel Samen camp endure difficult living conditions amid lack of humanitarian aid, services, and heating devices and oil, notably at the start of winter.
The elderly woman lives under a tent that does not shield her neither from the heat of summer nor the breeze of winter. She feels compelled to live under such a tent, as she has no other options. She manages her expenses by selling her aid basket, which she receives every two months, to pay the debts, though rendered amounts are short of necessity.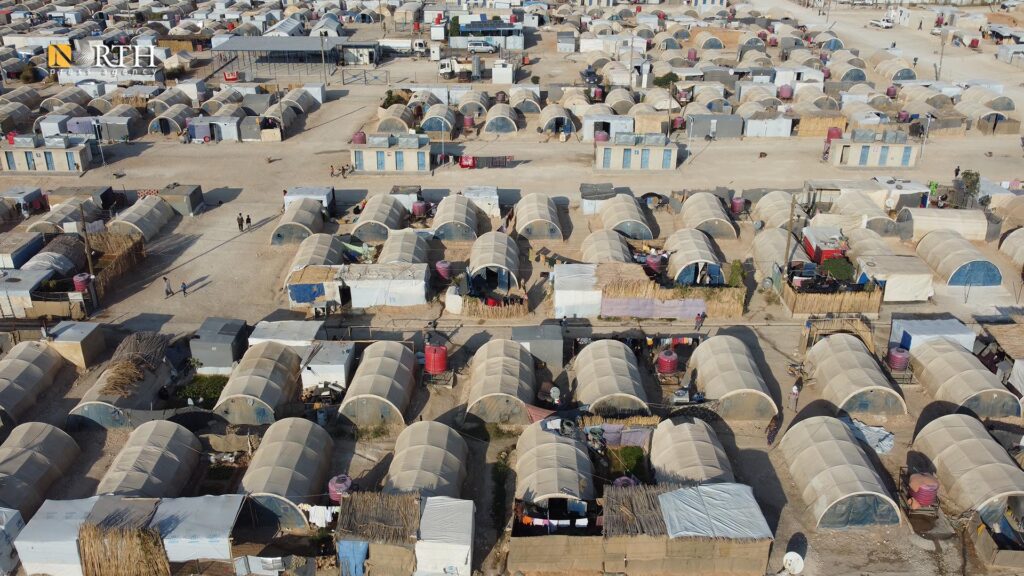 The vast majority of IDPs in the camp come from areas of Tel Abyad and its countryside. Relentless Turkish shelling on villages on the front line close to the M4 Highway, paves the way for new arrivals in the camp.
Amid difficulties, the woman finds herself unable to buy a heater stove. "If I could buy a stove how could I manage to buy heating oil?"
IDPs in the camp have not yet received their rations of heating oil though being pledged to take them soon.
In the camp, there are 6621 IDPs, making 1261 families, mostly elderly people, women and children.
However, al-Khalaf's plights are not limited merely to heating oil and a heater stove, as she lives in a worn-out tent which she patched of spares from her neighbors in the camp. Her tent lacks blankets too.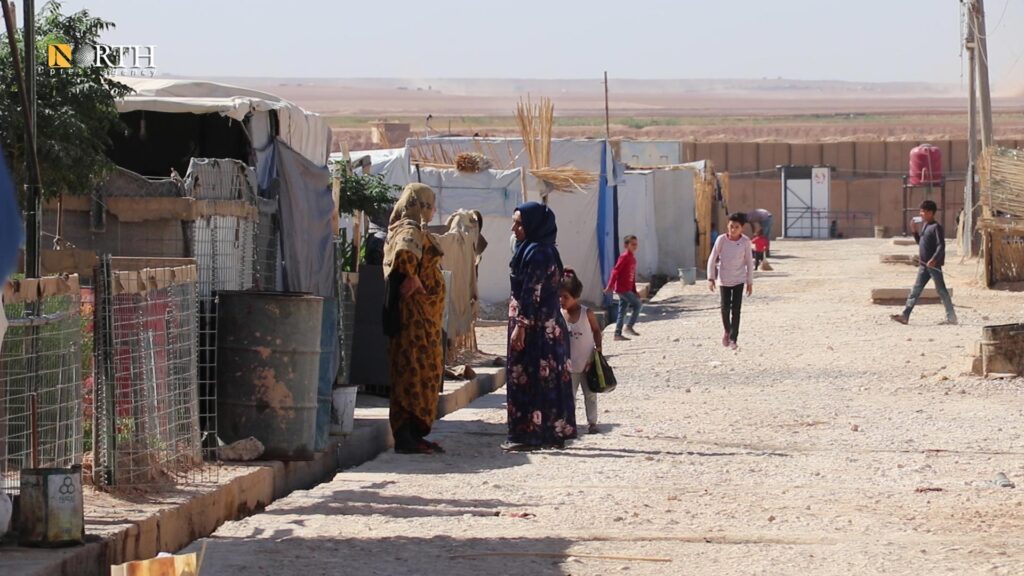 In Raqqa, there are more than 103.000 IDPs, dispersed into three regular camps and 58 makeshift ones. They all are short of humanitarian aid amid aggravating living conditions in the camp.
However, Khawla al-Taha, 34, an IDP from the countryside of Tel Abyad, maintains her family by selling her aids. She looks for a job but to no avail.
She depends on the monthly rendered aid. "They are simple and do not suffice," she said.
Most IDP rely on jobs, that could earn them a living, on seasonal crops by working on the fields. However, this is largely restricted to summer. In winter, it is very hard to find a job opportunity, which exacerbates their living conditions.
Al-Taha complains about poor services rendered at the camp and the delay in distributing heating oil. "The cold is killing us. We are leading a very bad life. We are stuck in a tent."
Echoing the same misery, Yassin al-Assaf, 50, an IDP who comes from the village of Haman al-Turkuman in the countryside of Tel Abyad, is perturbed by the idea of winter over his children. He lives under a bad tent that lets rain in.
On October 9, 2019, Turkish forces and the affiliated factions of the Syrian National Army (SNA) invaded Sere Kaniye (Ras al-Ain) and Tel Abyad in northern Syria. The operation, which was dubbed "Peace Spring", led to wide scale civilians displacement from both cities to the south in Raqqa and Hasakah.
According to the Syrian Observatory for Human Rights (SOHR), nearly 300.000 people were displaced, of which 175.000 were displaced from the area extending between Sere Kaniye and Tel Abyad where the Turkish President Recep Tayyip Erdogan alleged to establish a "safe zone."
It is the scenario of every winter, IDP wait to receive their rations of diesel fired stoves for their children. They cannot rely on other heating devices owning to safety measures.
Al-Assaf finds himself forced to await promises turned into actions. Children have been pledged to have winter clothes too. "We are forced to live this life. We await a breakthrough to return home."
Amid this status of the affair, Co-chair of the camp Aziza Hassan says they have contacted a number of NGOs to provide support. "However, no reply have been received up to date."
Hassan acknowledges that the rendered support is not enough. "We live in a desert region, forcing us to live a harsh winter and a scalding summer."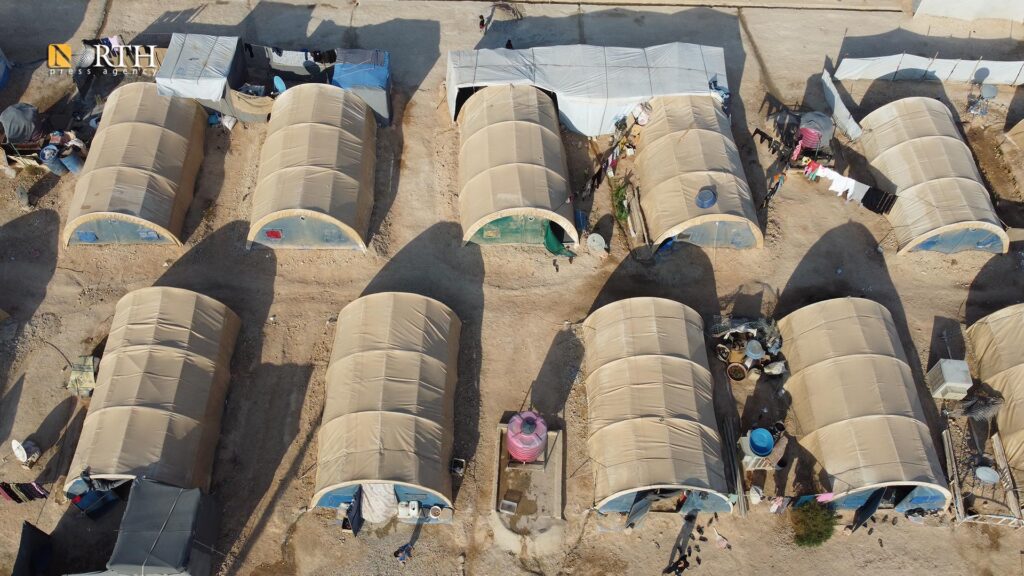 Nothing new has been introduced to the camp since it was established three years ago. Many tents and their water-proof covers, among other equipment, cannot do their job anymore. Tents ought to be replaced with new ones, according to Hassan.
However, Hassan adds they have no capacity to help the IDPs in the camp. They have prepared the rations lists, but no reply has been received up to date. A large number of the camp's residents are widows and children.
Late in June, the Autonomous Administration of North and East Syria (AANES) noted to the necessity that the United Nations bear its responsibility and provide support to the thousands of IDPs and refugees living in the camps located in the AANES-held areas.
On November 6, Ethan Goldrich, Deputy Assistant Secretary of State for Near Eastern Affairs, said they were preparing long-term plans to allocate a budget to support stability and in northeastern Syria and implement humanitarian projects in the region.
Ethan's remarks came in a meeting between officials of the AANES' Department of Foreign Relations while he was on a visit to the region.
Reporting by Fatima Khalaf