QAMISHLI, Syria (North Press) – First part of a new Turkish-sponsored and Palestinian-funded settlement was completed in Afrin region, northern Syria.
The settlement consists of 75 housing complexes to house 220 families, and lies in Jindires district in the west of Afrin city, Afrin Post reported.
The Istanbul-based Wafaa al-Mohsenin Charity Association implements the project. It announced on August 28 the completion of the first part of the complexes.
Afrin Post, a local website following up on the developments in Afrin after being occupied by Turkey, said that 32 complexes which accommodate 128 families have been completed.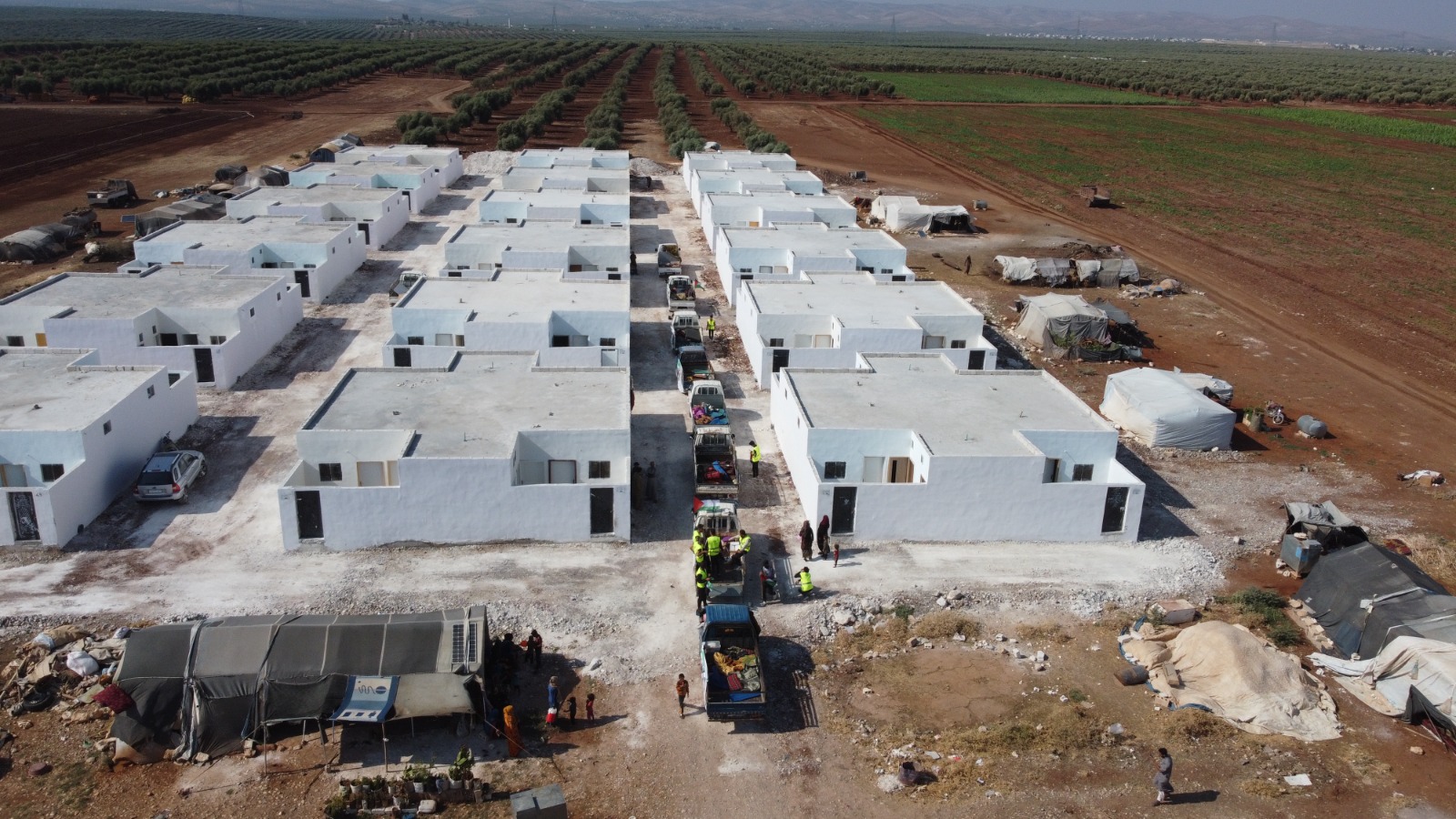 The city of Afrin, north of Aleppo, was occupied by Turkey in 2018 following a military operation called "Olive Branch" to push away the Kurdish People's Protection Units (YPG) under the pretext of protecting Turkey's "national security".
The operation caused the displacement of about 300.000 of the original inhabitants of the Kurds of Afrin who have been taking shelter in 40 villages and five camps in Shahba region since then.
The settlement project is directly funded by the residents of the village of al-Za'im, a Palestinian village in Jerusalem Governorate.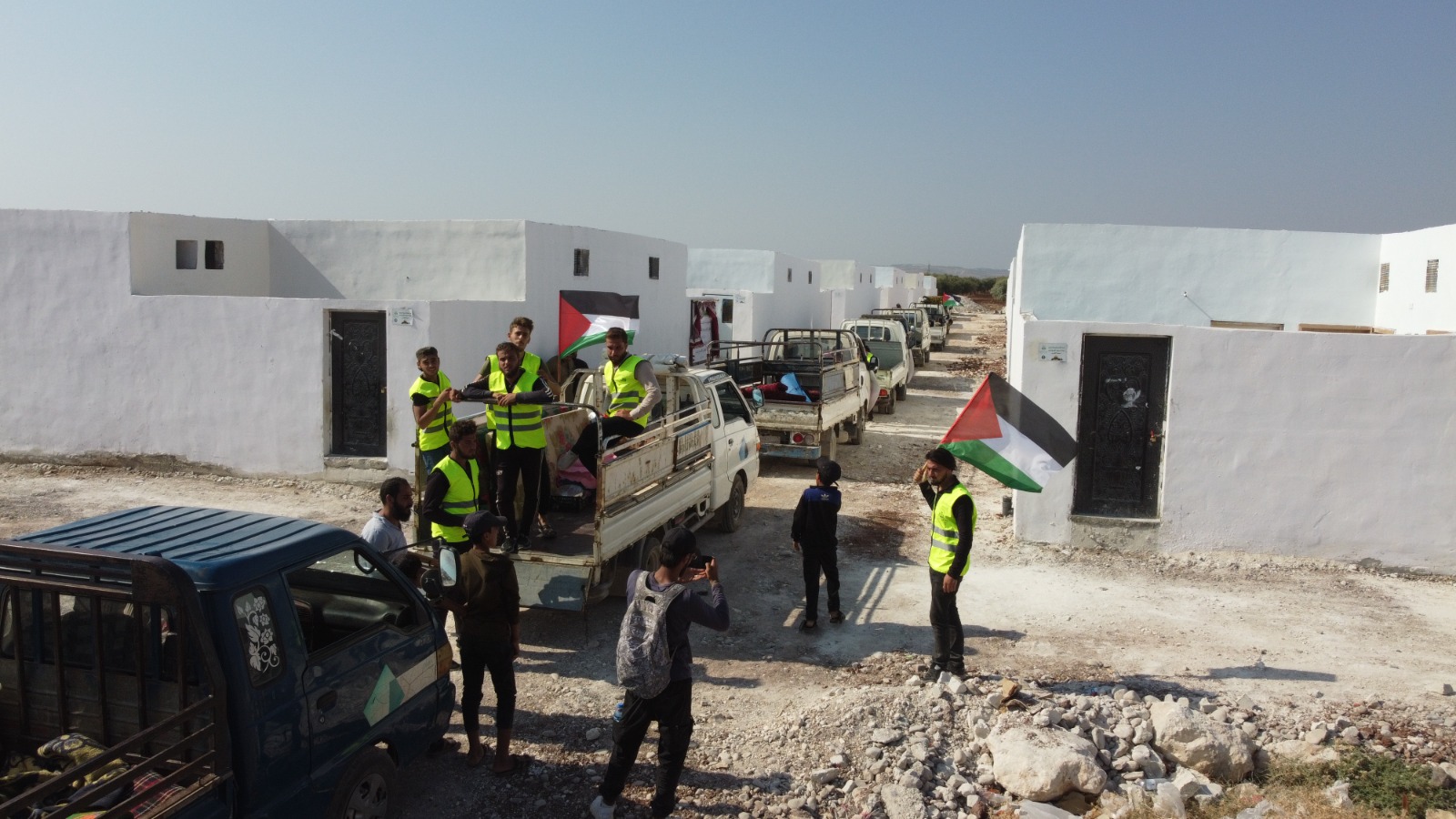 Since 2018, Turkey has built more than 19 settlements in Afrin region through using organizations like Living in Dignity Charity of the Arab citizens of Israel (48-palestien), White hands (Beyaz Eller), Rahma International Society, and other organizations which are funded by Qatar and Kuwait.
On May 3, the Turkish president disclosed about his plan to settle about one million Syrian refugees in 13 Syrian areas, which are not the areas the refugees are originally from, adjacent to the southern border of Turkey starting from Azaz in the west to Sere Kaniye (Ras al-Ain) in the east.
"We are preparing a new project for the voluntary return of one million Syrian brothers who are in our country as guests," Erdogan said.
The number of the settlements Turkey built in Idlib has reached about 50, most of them near Mashhad Rouhin area, north of Idlib, according to North Press correspondents.
While 45 settlements were built in Afrin, Azaz and Jarablus, north and east of Aleppo Governorate in the latter half of 2021 and the first half of 2022.
The number of settlements in Afrin has reached 19, four of them in Jindires district, three each in Sheikh Hadid (Shiye), Sherawa, Sharran, and Bulbul districts, two in Rajo district, and one west of Afrin city. 
Despite international and local reports that have spoken of widespread violations by Turkey and its affiliated factions since its control of Afrin in March 2018, and Ankara's pursuit of demographic change in a Kurdish region, Turkey continues to establish settlements under the pretext of providing refugee relief.
"The UN Security Council and the European Union must take a firm stance towards the implicit and coercive demographic engineering efforts across Syria. Additionally, they must ensure that humanitarian aid, reconstruction, and early recovery efforts do not turn these demographic changes into the status quo," said Syrians for Truth and Justice (STJ), a human rights organization.
In a report entitled "Housing Settlements in Afrin: Demographic Engineering or IDP Housing Projects?" the STJ added that these settlements could be established to be part of the systematic process of altering the demographic composition of Afrin.
Reporting by John Ahmad