Devastated family in Syria's Afrin fears escalation of Turkish shelling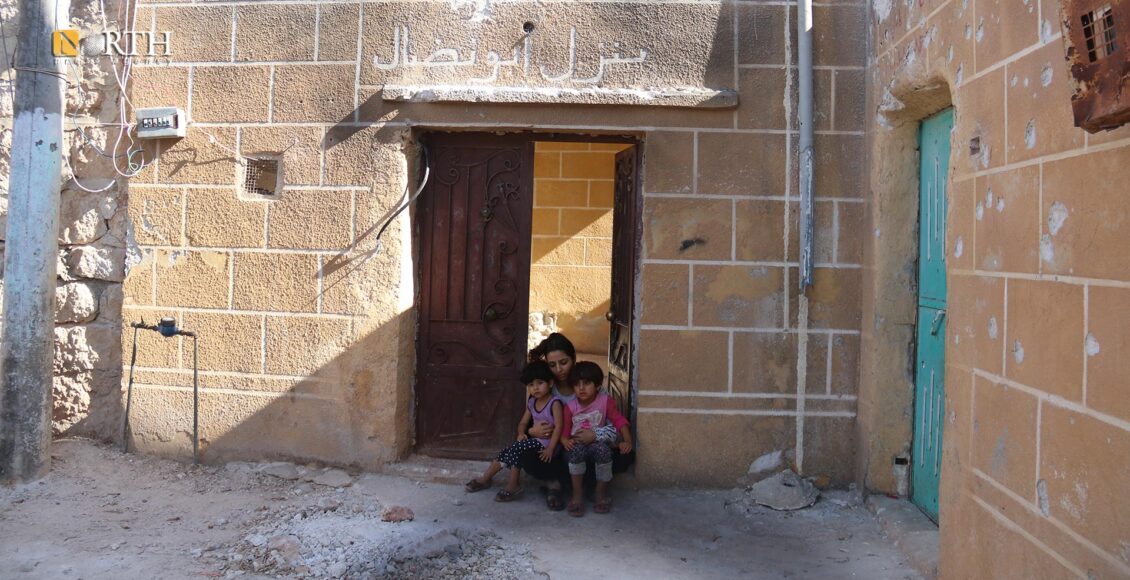 Yasmine with her daughter and niece in front of her shelled house – North Press
ALEPPO, Syria (North Press) – While the sound of the shells falling on the neighboring villages rises, the 23-year-old Yasmine Hassan sits embracing her daughter and niece in front of the family's house in the village of Ibbin in Sherawa district, south of the Turkish-occupied city of Afrin in northern Syria.
The young woman, who embraces the two children whenever she hears each shell falls, said, "We only want safety, we grew up without a father and we do not want our children to grow up without us."
Hassan thanks God that her daughter and niece did not get shrapnel when a shell hit their house on July 5, but it terrified them, as they started screaming whenever they hear any slight sound.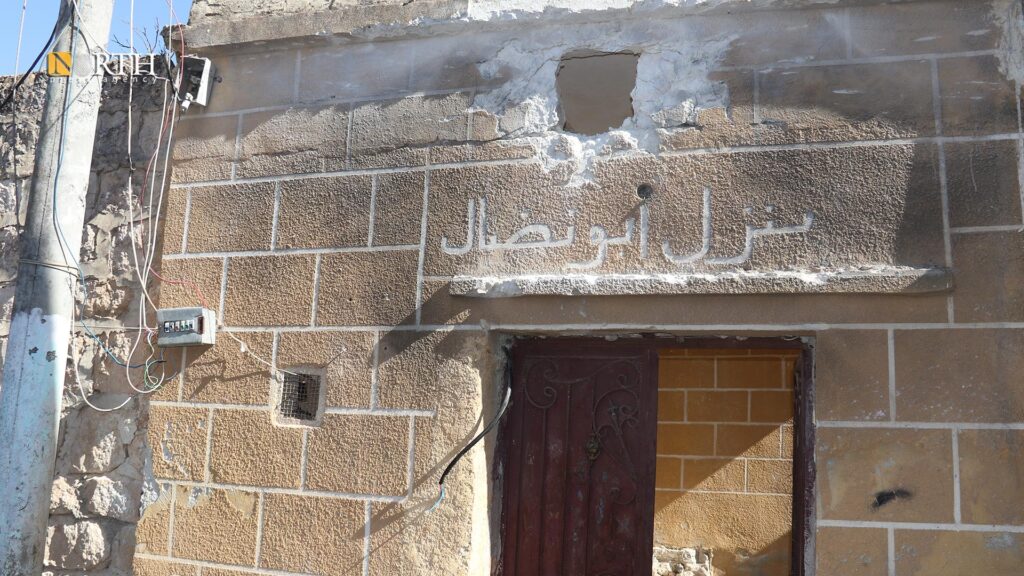 Sherawa villages including Soghana, Aqiba, Ziyara, Kheribka, Mayassa, Zarna'it, Burj al-Qas, Zouq al-Kabir, Ibbin, and Kalota, which are on contact lines, are subjected to continuous bombardment by Turkish forces and Turkish-backed armed opposition factions, also known as Syrian National Army (SNA), causing human casualties and damage to the property of the residents.
Ibbin, that is only 3 km from the contact lines, include 360 families, 107 of them are IDPs from Afrin, with a number of 1.161 individuals.
The young woman, throughout pointing with her hand to a hole above the door which is caused by a shell, said that she got a shrapnel in her back, but her injury was slight in comparison with her 22-year-old sister that got two shrapnel, one of them in her left shoulder and the other in her chest.
They stayed in Avrin Hospital in the town of Fafin, north of Aleppo Governorate, for a week for treatment.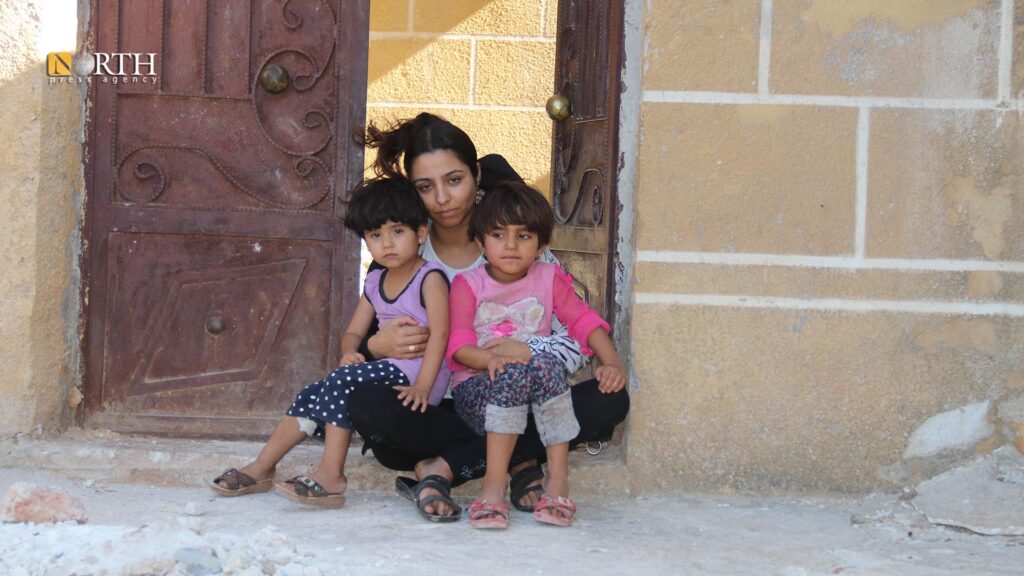 However, although the passage of weeks since the accident, still Nisreen, Yasmine's sister, unable to move or eat by herself and she has difficulty speaking and caring after her daughter.
In the light of the intensification of the Turkish bombardment, the sisters, who are divorced and live with their two daughters, mother, two little brothers and a little sister, are afraid of losing a member of their family, saying, "we can no longer afford to lose another person."
During the Syrian war, specifically in 2013, they lost their father, who got a shrapnel as a result of a warplane strike at al-Haydariya roundabout, in the city of Aleppo, while he was on his way to the city for treatment.
After three years of losing the father, the family was devastated again, as it lost the eldest son during the battles that took place between Kurdish People's Protection Units (YPG) and the SNA in the village of al-Malikiyah, in Sharran district in Afrin countryside.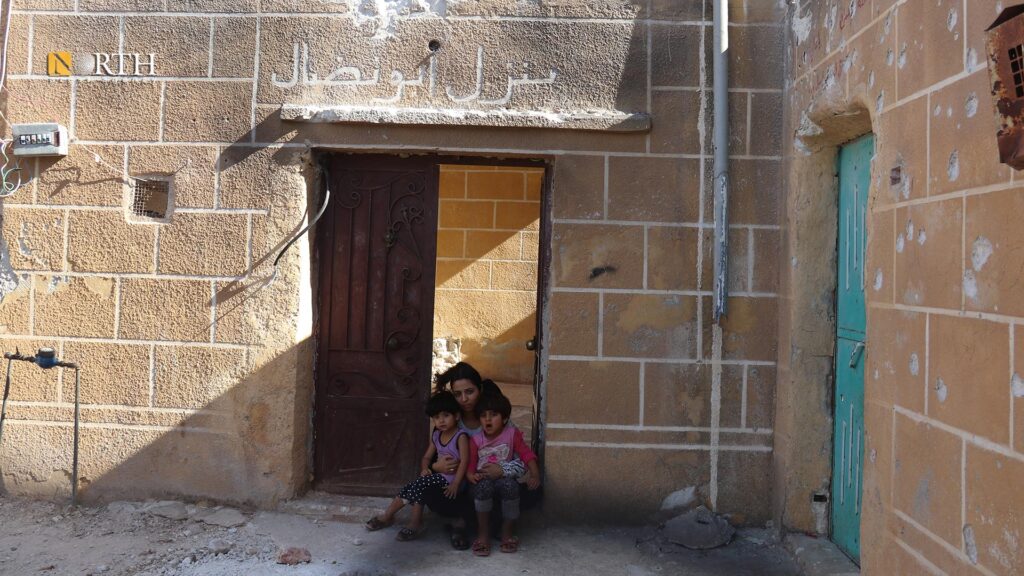 The family lives depending on the salary granted by Afrin Region Council, operating in the northern countryside of Aleppo, as the council helps families that do not have a breadwinner and do not have a source of livelihood through paying 10.000 Syrian Pound (SYP) per person per month.
Due to poverty, the mother was unable to buy all required types of medicine for Nisreen, so she only bought some of them.
Yasmine describes the state of panic that they feel whenever they hear any sound, saying, "If anything falls on ground and we hear a slight sound, we get afraid that something will happen to us, especially our children who are not to blame for this."
She wonders, "What will happen to these two children if something bad happens to us?"
The northern countryside of Aleppo governorate, also known as Shahba region, houses IDPs of the Kurdish city of Afrin which was occupied in 2018 by Turkey following a military operation called "Olive Branch" to push away the Kurdish People's Protection Units (YPG) under the pretext of protecting Turkey's "national security".
The operation caused the displacement of about 300.000 of the original inhabitants of the Kurds of Afrin who have been taking shelter in 40 villages and five camps in Shahba region since then.
There are about 16.000 displaced families from Afrin distributed over 42 villages and towns in Shahba region, in addition to 1.870 families, comprising 7.500 individuals, now living in the camps of Barkhodan, Sardam, Afrin, al-Awda, and Shahba, according to the Social Affairs and Labor Board of the Afrin region, currently operating in Aleppo northern countryside.
The area has been militarily protected by Russian and Syrian government forces since 2018.
Reporting by Faya Milad