Woman whose husband killed by ISIS in Syria's Manbij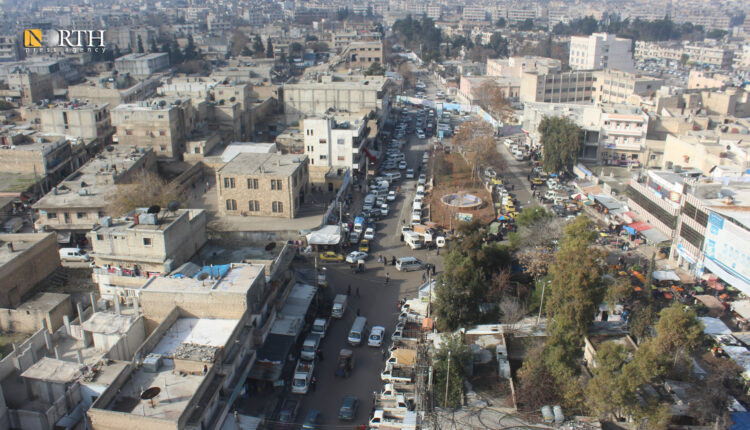 The city of Manbij in northern Syria – North Press
ALEPPO, Syria (North Press) – With the advent of Eid al-Adha, the 60-year-old Zakiyya al-Abd, who is from the village of Mishrafat al-Bweir, north of Manbij, northern Syria, is getting more miserable, due to watching her grandchildren without new clothes and unhappy powerless.
After the killing of her husband and children at the hands of the Islamic State Organization (ISIS) militants, al-Abd provides her dead son's children, two six-year-old girls and five boys, the eldest of who is 12 years old.
"We live in miserable conditions, only Allah knows this," al-Abd added.
She told North Press, "At Eid, everything we can do is crying, we do not have a breadwinner. Those children have the right to feel happy with Eid clothes, eat sweets and live happy moments like other children."
"What is their fault to be deprived of their most basic rights?" wonders the elderly woman, turning her hands, in reference to her inability to do anything that brings joy to the children.
Her husband and children were killed at the hands of ISIS militants six years ago, because they refused to leave their home, during the war against ISIS in 2016.
The Syrian Democratic Forces (SDF) supported by the US-led Global Coalition to Defeat ISIS liberated Manbij from ISIS in 2016 following fierce battles.
Years of sadness and tragic circumstances the children live in after they lost their breadwinners have exhausted the old woman.
Whenever Eid comes, the woman gets much sadder, especially when she watches those children without new clothes that make them feel their childhood which is ended once they lost their fathers.
Throughout recalling the scene of killing her husband and children and tears full her eyes, she said, "I lost my breadwinners and we started living on some alms from neighbors," she said.
She cannot forget the scene of killing, saying, "Thank Allah that I did not go mad, how a human mind can bear what I witnessed? Maybe it is Allah's will to stay and look after my grandchildren."
Al-Abd pointed out that humanitarian organizations are careless about their condition. She expresses that saying, "Why are we forgotten and nobody cares about us?"
She calls on the humanitarian organizations concerned with the affairs of war-affected people to look for needy people like them and support them, since families who lost their breadwinners are in dire need of humanitarian aid.
Reporting by Saddam al-Hassan