Displaced woman in Syria's Raqqa misses her children during Eid al-Adha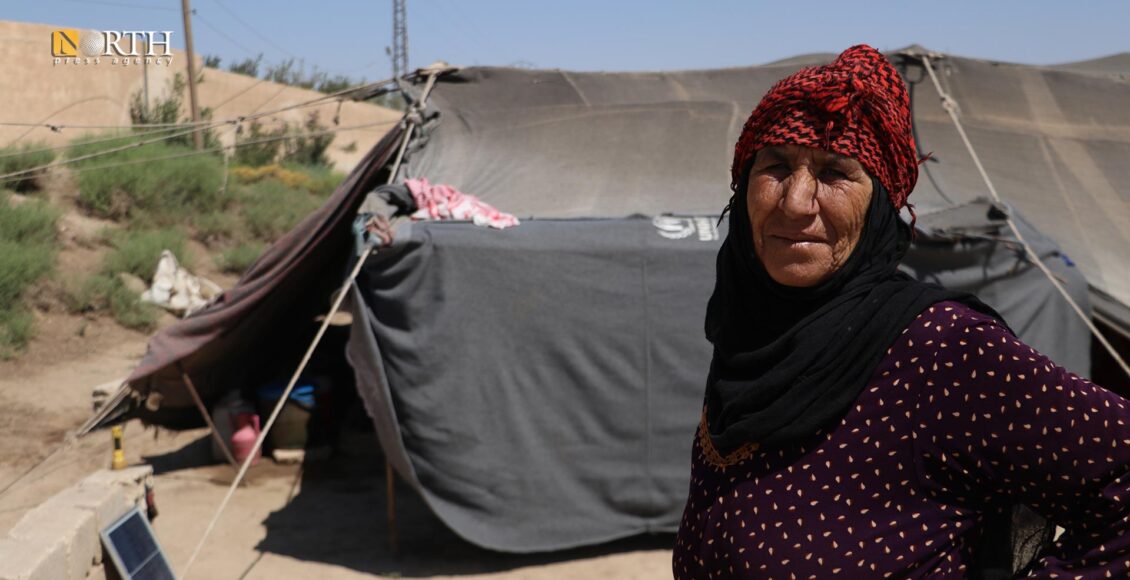 IDP from Syria's Homs – North Press
RAQQA, Syria (North Press) – Thiba Muhammad, is an IDP from the eastern countryside of Homs Governorate, but lives in a camp in the countryside of Raqqa. She almost remembers her age, saying "I am 60, or 63. Oh, I remembered, I am 70 years old."
At first, you may think that her memory is good, but when she could not remember her age, she said, "It is war, my son."
Muhammad, who currently lives in a tent made of blankets and grain bags that looks like shepherd's tents, also known as Bedouins left her village in the countryside of Homs in mid-2017 when battles took place between Syrian government forces and Islamic State Organization (ISIS).
The old woman is a mother of nine, seven males and two females, who were displaced and scattered among the camps of refugees inside and outside Syria, as most of them live with their families in squatter camps in Raqqa, north of Syria.
About 90,000 IDPs live in the squatter camps in Raqqa, where no relief or humanitarian assistance are provided, in light of difficult humanitarian conditions that are gradually getting worse.
The residents of these camps come from different Syrian areas such as Homs, Hama and Aleppo, who were forced to flee as a result of a long-running battles between the government forces and ISIS, and resorted to areas held by the Autonomous Administration of North and East Syria (AANES), including Raqqa.
The AANES was first formed in 2014 in the Kurdish-majority regions of Afrin, Kobani and Jazira in northern Syria following the withdrawal of the government forces. Later, it was expanded to Manbij, Tabqa, Raqqa, Hasakah and Deir ez-Zor after the Syrian Democratic Forces (SDF) defeated ISIS militarily.
"Eid, or any other occasion have become painful for me, especially when I recall the joyful moments we used to live together in the past," she said.
Things have been changed with the start of the Syrian war which has scattered her seven children, the oldest of whom is over 40-year-old.
Thiba Muhammad, a mother and grandmother, believes that it is almost impossible for her children to meet again, after they have become IDPs and refugees, as two of them work in agricultural fields in Lebanon.
Muhammad lives with her old husband and one of their sons. She has to take care of her grandchildren, as her son with his wife work in agricultural fields to earn a living.
IDPs in squatter camps in Raqqa live in bad conditions due to the lack of humanitarian aid that they get from civil organizations.
The IDPs have repeatedly called on officials in Raqqa to provide them with aid, but the officials say that the closure of al-Ya'rubiyah border-crossing prevents this.
The closure of al-Ya'rubiyah continues, depriving hundreds of thousands of IDPs in northeast Syria from their right of food and clothes.
Al-Ya'rubiyah (Tel Kocher) border-crossing is located on the Syrian- Iraqi border, which was the most official crossing between the two countries prior to the Syrian conflict in 2011.
Prior to the crossing's closure in 2019, which happed due to a Russian-Chinese veto in the UN Security Council, 103 medical facilities were receiving aid across this crossing according to a report by UN Secretary-General Antonio Guterres to the Security Council in the beginning of 2020.
The successive Russian-Chinese vetoes continued the closure of the border crossing ignoring the urgent needs of residents and IDPs in this part of Syria.
Officials of the AANES and the displaced repeatedly call for neutralizing the area from political disputes and reopen it after two years of closure.
"I wish I had died before this," she repeated several times, lamenting the good days before the war.
She told North Press how her life and her relatives' were overturned to become IDPs, leaving their areas and everything, like the case of millions of Syrians.
Muhammad hopes to see her children gathered even for once, but she knows that this is unachievable.
Reporting by Ammar Abdullatif