IDP from north Syria's Tel Abyad recalls life before Turkey's invasion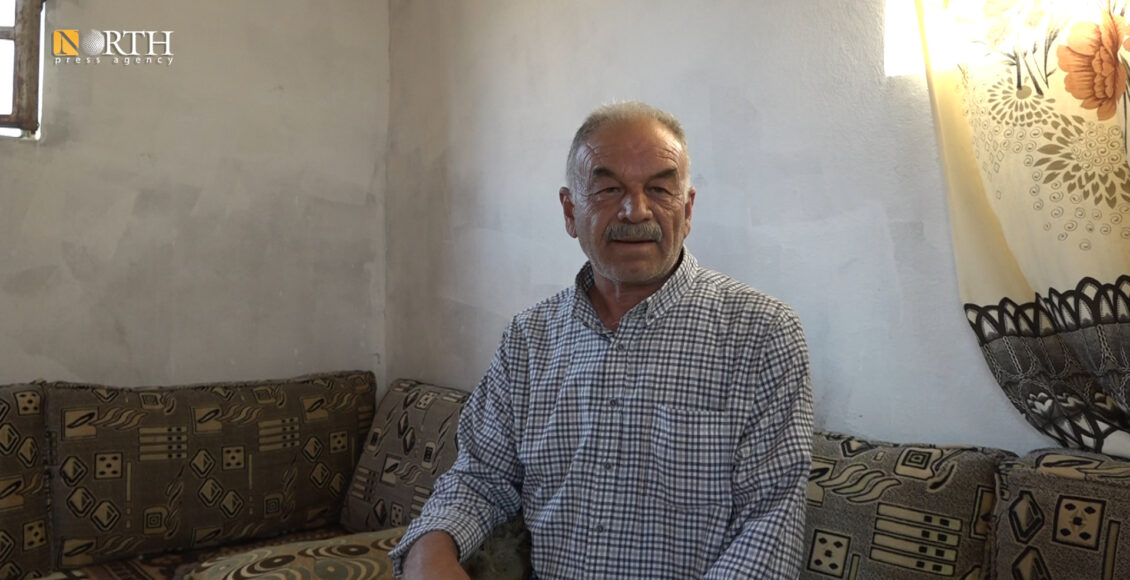 Khashman Shawkat, an IDP of Tel Abyad in his house in the countryside of Kobani city – North Press
KOBANI, Syria (North Press) – Holding his mobile phone, Khashman Shawkat, a displaced person from the Turkish-occupied city of Tel Abyad, northern Syria, looks at the photos of his family in his house, and recalls every detail, talking about what had happened to it after the displacement.
He said that his house is located on a hill in the village of al-Nazira, west of the city of Tel Abyad, as factions' militants have turned it a military headquarters after occupying the area.
In October 2019, Turkish forces supported by the Turkish-backed armed opposition factions, also known as Syrian National Army (SNA), launched the "Peace Spring" military operation and occupied the areas of Sere Kaniye (Ras al-Ain) and Tel Abyad.
About 300,000 original inhabitants of those areas were forced to flee their houses and headed to other areas.
Many of them displaced to camps established by the Autonomous Administration of North and East Syria (AANES), some settled in shelter centers, while others were distributed in cities and towns in northeastern Syria.
The AANES was first formed in 2014 in the Kurdish-majority regions of Afrin, Kobani and Jazira in northern Syria following the withdrawal of the government forces. Later, it was expanded to Manbij, Tabqa, Raqqa, Hasakah and Deir ez-Zor after the Syrian Democratic Forces (SDF) defeated ISIS militarily.
According to some people, who are still living in the village, the houses of his cousins and those of his neighbors have also become headquarters for the SNA factions.
Far from his home and the village where his family had settled since 1975, Shawkat lives with his family in a rented house in the village of Kharab Kurt, east of Kobani.
"We share the same tragedy of other 300,000 people who fled with us due to the Turkish invasion three years ago," he said.
Despite the passage of three years since his displacement, the man is unable to accept his second house and hopes to return to his home.
"I want to return to my homeland as soon as possible, but the security chaos and the practices of the armed factions against those who stayed in their homes, prevent me from that, I have to think twice before making any step in this regard," he added.
"In case I return I will be forced to deal with the factions' militants, their families, and the settlers who came from Idlib and Ghouta," he noted.
"Those who stayed there, are being harassed and live in constant fear due to the human rights violations practiced against them by the factions' members," he told North Press.
Some of my villagers told me that the factions' militants steal livestock and all the possessions and things they encounter.
"There is no safety there," He said.
Whenever he has the opportunity, Shawkat contacts his relatives and other villagers those who remained in the village to get all the news about his village.
"They told me that the armed factions had seized my property and the properties of those who displaced," Shawkat told North Press.
He added that "They told me that there were about 150 battalions and armed groups with different names in Tel Abyad that seize and share the area's property and homes."
Like other displaced families, Shawkat's family spend their days facing deteriorating living conditions and scarcity of relief aid, whether food or medicine.
The man fears not to be able to return to his hometown in the future, as Turkey continues to build settlements and settle residents from outside the region in their lands and homes, so that, with the passage of time, "Our properties will become their property."
On May 3, Turkish President Recep Tayyip Erdogan disclosed about his project to settle about one million Syrian refugees in 13 Syrian areas, which are not the areas the refugees are originally from, adjacent to the southern border of Turkey starting from Azaz in the west to Sere Kaniye (Ras al-Ain) in the east.
On May 23, Erdogan said "We will soon take new steps regarding the incomplete portions of the project we started on the 30-km deep safe zone we established along our southern border."
After three years of displacement, Shawkat hopes that the United Nations will intervene to stop the construction of settlements in his area describing the project as a "humanitarian disaster that will prevent us from returning to our homes forever."
Reporting by Fattah Issa