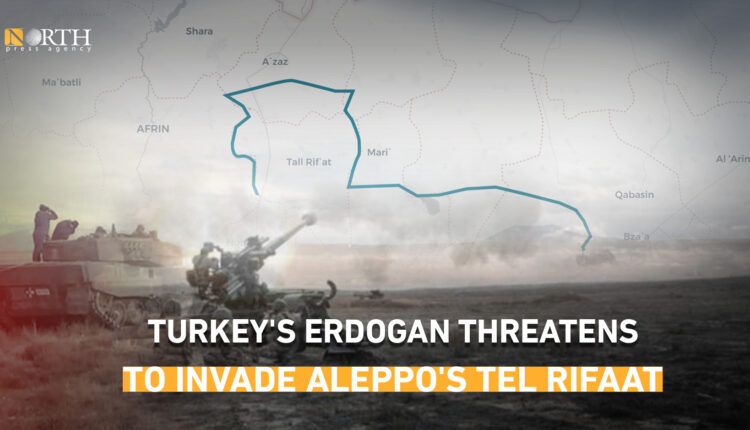 QAMISHLI, Syria (North Press) – Once again, a possible Turkish military operation against northern Syria has become the talk of the hour. This time in the town of Tel Rifaat, north of Aleppo Governorate, under the pretext of the presence of Kurdish People's Protection Units (YPG) fighters whom Turkey sees as a branch of Kurdistan Workers Party (PKK), which is classified as a terrorist organization in Turkey, Europe and the US.
Under this pretext, Turkey launched three military operations against northern and northeastern regions of Syria. The first was "Euphrates Shield" operation in 2016 where it occupied Jarablus, al-Bab and Azaz, the second was "Olive Branch" operation in 2018 where it occupied Afrin region, and the third was "Peace Spring" in 2019 which resulted in the occupation of the two cities of Sere Kaniye (Ras al-Ain) and Tel Abyad with their countryside.
In a speech made to MPs of the ruling Justice and Development Party (AKP) on May 25, Turkish President Recep Tayyip Erdogan said the "Turkish military would continue to rid its neighbour of terrorists" referring to the YPG.
"We are taking a new step in establishing a 30km security zone along our southern border," Erdogan said. "We will clean up Tel Rifaat and Manbij."
The town of Tel Rifaat, which is 35 km to the north of the city of Aleppo, was controlled by then Free Syrian Army (FSA), armed factions affiliated with Turkey which turned to be Syria National Army (SNA), in 2012 following the withdrawal of Syrian government forces.
The FSA factions in Tel Rifaat and Azaz, southeast of Afrin, always fired shells at Afrin countryside which became a source of panic and horror among the civilians and led to casualties and material damage. This forced the YPG to launch an operation in 2016 to wipe away the FSA factions from Tel Rifaat and the surrounding villages.
Tel Rifaat has nothing to do with Erdogan's 30 km safe zone; rather threatening the town has other dimensions i.e. to push Turkish forces deeper into Syrian territory.
"It will be carried out when it is a must. It cannot be undone," Erdogan said in November 2021 when spoke about a military operation against northern Syria.
On May 23, Erdogan announced taking steps to complete the so-called remained portions of the safe zone plan along Turkey's southern border saying, "We will soon take new steps regarding the incomplete portions of the project we started on the 30 km deep safe zone we established along our southern border."
The Turkish president has threatened to invade the Syrian SDF-held areas seven times between October 2019 and May 2022, according to a statistic released by Syrian Observatory for Human Rights (SOHR).
The town of Tel Rifaat has been a shelter for Afrin displaced people since 2018 following the Turkish invasion of Afrin and its countryside which resulted in the displacement of about 300,000 of the original inhabitants.
Since then, the town has been subjected to frequent shelling and drone attack by the Turkish forces and their affiliated SNA factions.
Some of the Afrin IDPs are distributed among five camps, which are al-Awda, Afrin, Barkhodan, Sardam, and Shahba, while others settled in 42 villages and towns in Aleppo northern countryside, also known as Shahba region.
Reporting by Jwan Shkaki