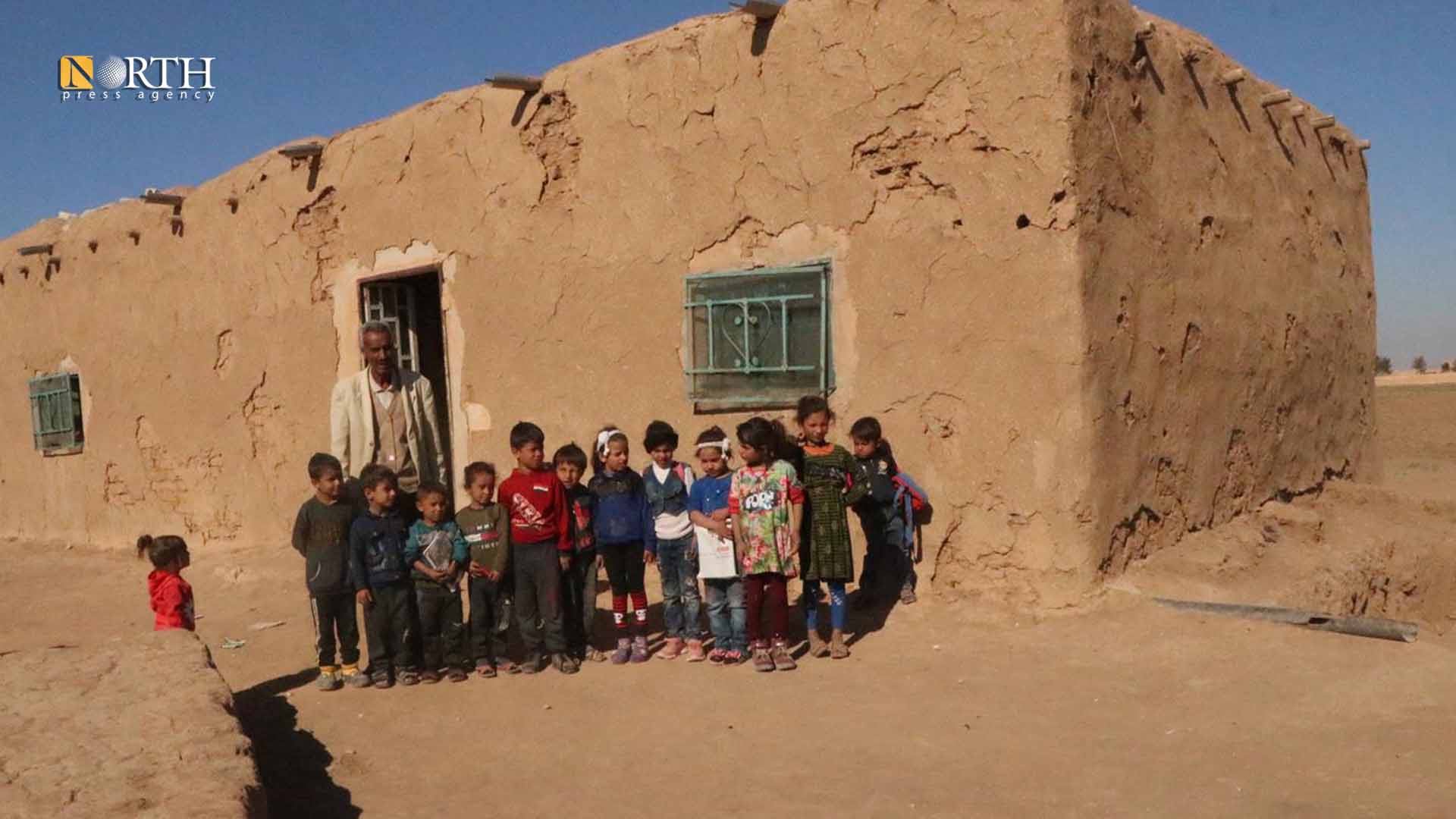 TEL TAMR, Syria (North Press) – In a mud crooked house in a village north of Tel Tamr town, northeast Syria, the teacher, Izzaddin al-Eleiwi, is teaching the alphabet to students after they have been away from school for two years due to the Turkish shelling that caused them to fled their houses and devastated their schools.
As a result of the frequent Turkish shelling of the countryside of Tel Tamr, north of Hasakah, many schools, which were targeted in villages adjacent to the frontlines, went out of service.
As for the Tel Tamr Educational Complex, they converted some abandoned houses to schools in those villages in an attempt to help students complete their education and to counter long-term dropout of schools.
Bombarding schools
"As a result of the shelling, our school has been targeted twice, and students were transferred among several schools that were targeted later on," the teacher said.
Recently, an owner of a house in the village has denoted his house, which is located on the outskirts of the village about two kilometers from the frontlines, in order for the students to be able to complete their education.
"However, due to the conditions, children of villages near the frontlines have been deprived of education for three years," al-Eleiwi added.
"Now, we are attending in this school with two shifts and we have 67 students," al-Eleiwi noted.
The mud house, which was turned into a school, lacks electricity in light of the scarceness educational supplies and school sanitation.
Adapting to circumstances
Following a military attack by Turkish forces with support of Turkish-backed armed factions on Sere Kaniye (Ras al-Ain) and Tel Abyad in October 2019, dozens of villages in the countryside of Tel Tamr town have turned into frontlines.
Meanwhile, teachers and students in schools near the frontlines witness the shelling despite the ceasefire agreements signed between Turkey and Russia on one hand and between Turkey and the US on the other.
Thus, residents in those areas try to adapt to the current circumstances that the region has been undergoing for two years.
Al-Eleiwi, like other teachers, insists to convey his message in completing to educate the students on frontlines.
"School attendance depends on the circumstances so that we always monitor the conditions, if there is shelling, we send students to houses," the teacher noted.
Emergency solution
"As a result of the conditions the region is going through in general and Tel Tamr in particular, there are schools that were completely destroyed," Bahiya Ma'mo, official in Tel Tamr Educational Complex told North Press.
In light of the shelling that targets new villages, those in charge of the educational field fear that the remaining students will be deprived of their rights to learn.
"So that we were forced to convert some houses to schools as an emergency solution so that students can complete their education," Ma'mo said.
"We want to help student to, at least, learn how to read and write during this crisis that the region is undergoing," Ma'mo added.
Reporting by Dilsoz Youssef