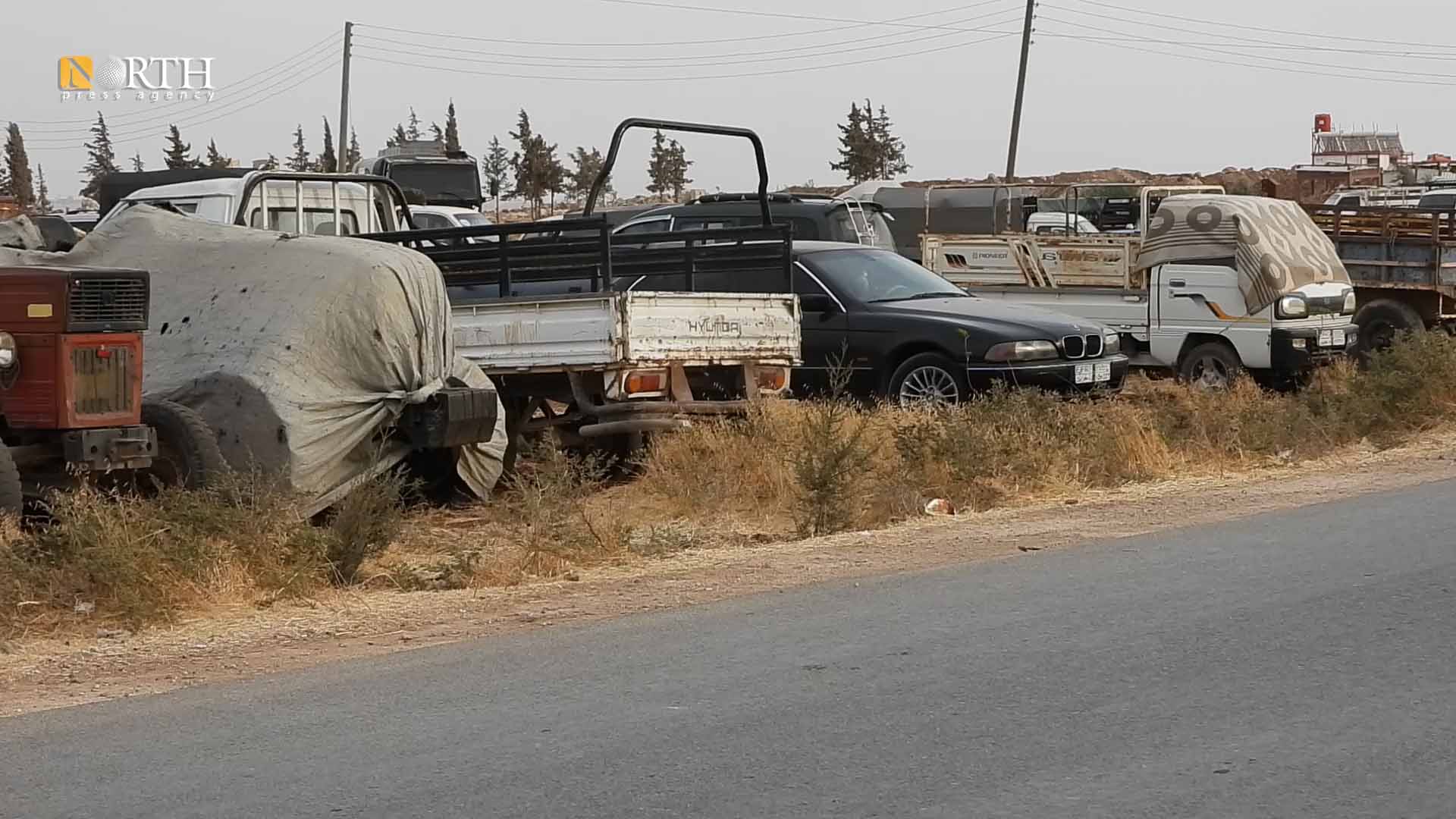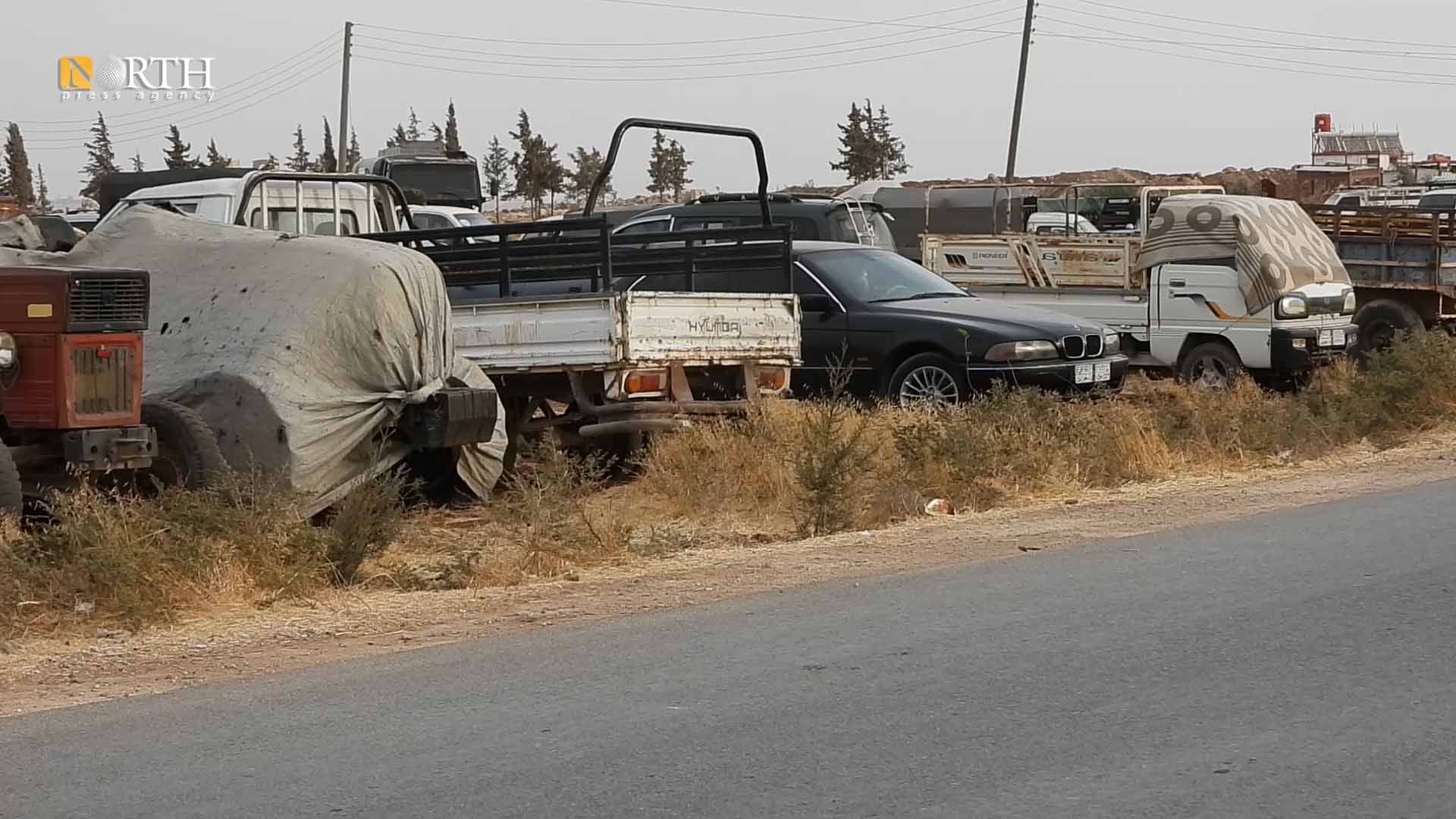 ALEPPO NORTHERN COUNTRYSIDE, Syria (North Press) – In a parking near Sardam Camp, in the northern countryside of Aleppo, the 47-year-old Muhammad Oso, an IDP of Afrin Region, northern Syria, parked and covered his car as most of cars' owners did, due to lack of fuel and its increasing price in the black market.
In front of the houses, on streets, in squares, and near fuel stations, you can see covered cars that abstained from working.
"I do not use my car unless there is an important issue since each liter of diesel is sold at 4,000 Syrian pounds in light of the lack of job opportunities," Oso says while standing next to his car.
It is worth mentioning that in 2018, Turkish forces with the support of Syrian opposition factions caused the displacement of more than 300,000 people from the Afrin region towards the northern countryside of Aleppo, according to the Human Rights Organization-Afrin.
Some of the displaced sought refuge in the camps of al-Awda, Afrin, Barkhodan, Sardam and Shahba in the northern countryside of Aleppo. While some others were distributed among 42 villages and towns in the same area.
About 2,000 families are distributed to the five camps and about 140,000 people are residing in the villages and towns of Shahba region (the northern countryside of Aleppo), according to a statistic by Social Affairs and Labor Board of Afrin Region that is operating in the northern countryside of Aleppo.
Ongoing siege
Since November 2020, Syrian government has prevented fuel, gas, medicine, flour, and consumables from entering Shahba regions.
Last winter, the government checkpoints near the city of Manbij did not allow fuel to pass from Jazira Region, northeastern Syria, to the northern countryside of Aleppo, but only allocations of the first batch, which did not cover the IDPs needs.
Fears of Afrin IDPs in the northern countryside of Aleppo are increasing with the onset of winter due to their inability to secure their supplies of diesel and heating oil as a result of the imposed siege by the Syrian government checkpoints.
Meanwhile, black markets in areas in the northern countryside of Aleppo are witnessing increasing prices of fuel reaching 3,500 SYP, while each liter of gasoline is between 4,000 and 5,000 SYP that IDPs said to be a "very high price."
Oso pointed out that he is forced to either delay all his affairs including visiting doctors, buying their requirements, and others in order to fulfill them in one go via his car or to wait for hours for a car to hire to pick him to his destination.
Hiring a car will cost him a lot because each ride for a short distance costs more than 2,000 SYP, according to him.
"The amount of fuel that reaches the region meets only 30% of these needs, amid the continued siege by the government forces," Mustafa Muhammad, the official of the Fuel Committee in the area told North Press in a previous statement.
Distribution halted
The government checkpoints near Manbij city do not allow the entry of good quality diesel, kerosene and gasoline into the area, and only allow the entry of gas and heating oil, an official of Dijla Fuel Company of the AANES, Bangin Abdo, said.
Recently, the company has stopped providing cars and shops with diesel in order to "to cover the schools, bakeries, generators and hospitals," Abdo told North Press.
The official pointed out that, now, they are storing the received quantities of diesel for winter's requirements. 70,000 barrels of diesel is needed to cover the IDPs and residents of villages and town's requirements, according to Abdo.
Abdo believes that traders are extorting the shortage of fuel in the area and they "increase the prices."
The 72-year-old butcher Aziz Barakat, an IDP of Afrin residing in Fafin town, said "Electricity is not always available and I need diesel for my work."
"I have a generator, but there is no diesel available to operate it," Barakat added.
"I sell each kilo of meat at 22,000 SYP, which is a high price for the residents here," the butcher noted.
Reporting by Dijla Khalil