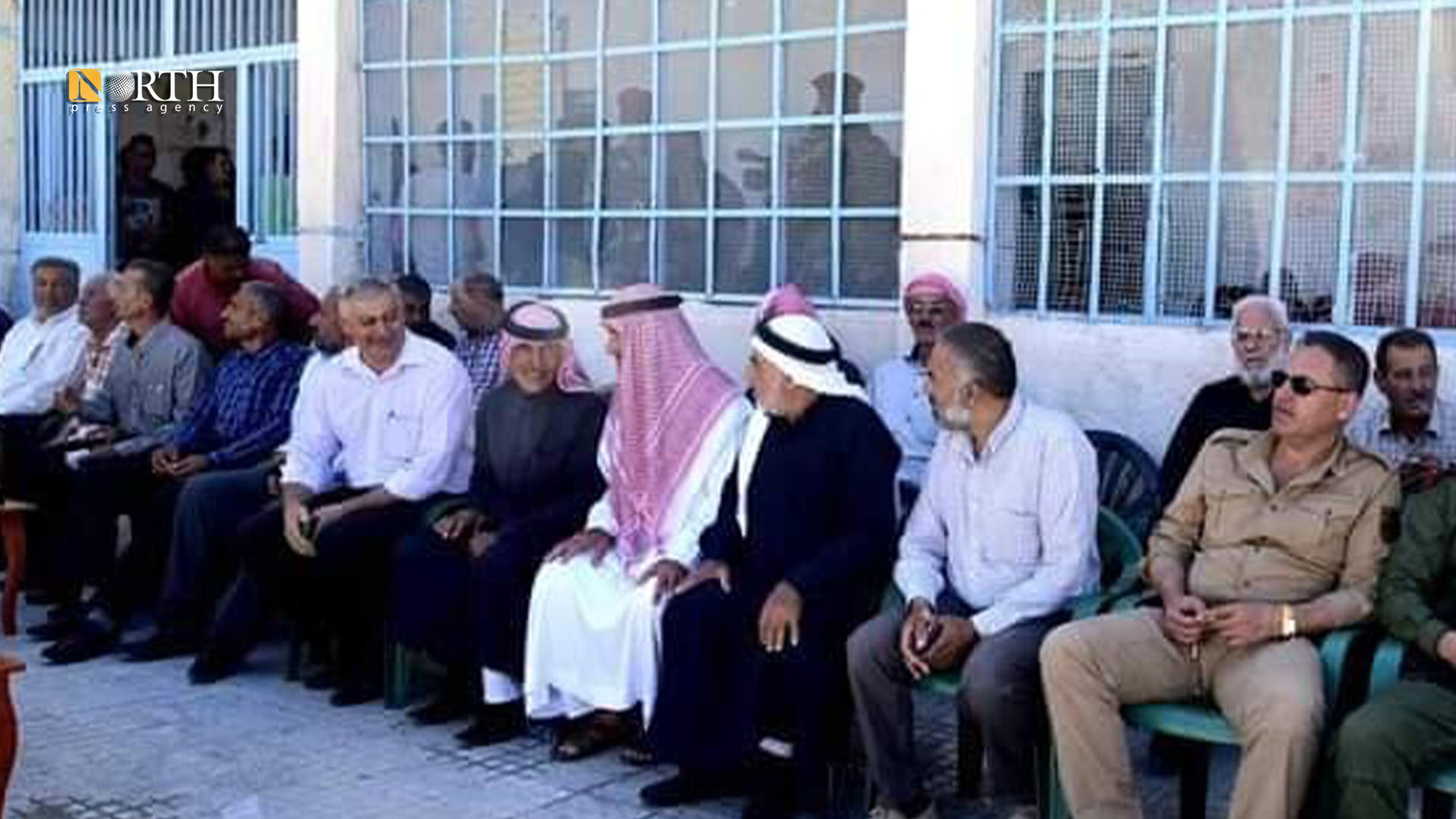 DARAA, Syria (North Press) – On Sunday, government forces entered Syria's al-Shajara, in the Yarmouk Basin area near the Syrian-Jordanian-Israeli triangle.
The security services of the government forces arrived in the town of al-Shajara and established a center to settle the cases of some residents in a secondary school. The flag of Russia and the Syrian government were raised above the high school, local sources told North Press.
The settlements that started today will include villages of al-Shajara town, which are al-Qusayr, Abedin, Beit Ara, Nafia, Jamla, Kuya, and Ma'ariyah, and light weapons will be delivered, without specifying the number.
The government forces will deploy in these villages according to the agreement concluded between the notables of the region and the government forces under Russian auspices, according to the sources.
On Saturday, the Syrian government forces, accompanied by the Russian military police, entered the town of Sahem Golan in the Yarmouk Basin area and established a center to settle the situations of those wanted in Ziyad School in the town and in all the towns and villages of the Yarmouk Basin area.
This coincided with reports of the deployment of Syrian government forces in the villages of Heit, Jellin and al-Muzayra'a in the Yarmouk Basin in the western countryside of Daraa, hours after the completion of the settlement of the cases of dozens of militants in the settlement center established in the village of Sahem Golan.
These steps come as a continuation of the agreement held early in September between the Central Committee and the government forces brokered by Russia.
Al-Shajara is a strategic town located on the triangle between Syria, Jordan and Israel, where it about 7 kilometers from the Israeli border and only 6 kilometers from the Jordanian one.
The government forces entered the Yarmouk Basin area in July, 2018, after an agreement between the government forces and the Khalid bin al-Walid Army, which pledged allegiance to ISIS controlling the area at the time, and the agreement stipulated the transfer of ISIS fighters to the Syrian Badia.
Reporting by Ihsan Muhammad