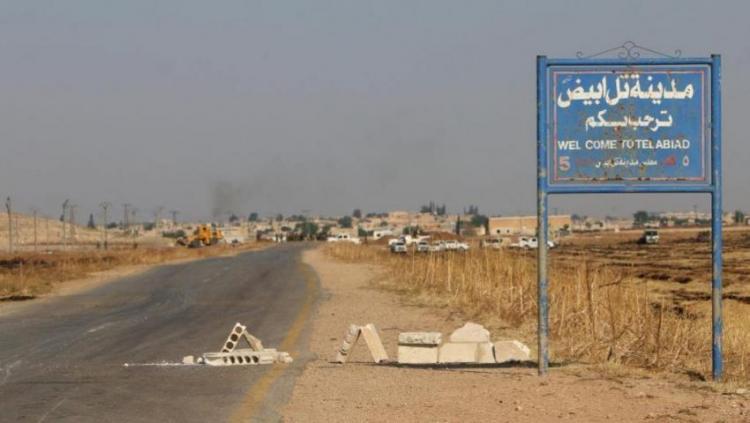 AIN ISSA, Syria (North Press) – On Monday-Tuesday night, Turkish-backed armed Syrian factions and members of Turkish intelligence arrested seven notables and elderly people from a town south of Tel Abyad, north Syria.
Turkish intelligence agents and militants of the factions arrested seven notables and elderly people, one of whom is a cancer patient, from their homes in a raid late at night, according to a source from the town of Ali Bajliya, 30 kilometers south of Tel Abyad.
The arrested individuals are "Ismail Issa al-Mosa, Saleh Khalil al-Hemish, Khalil Rahil al-Hawash, Younis Muhammad Jasim, Mustafa Ahmed al-Mahmud, Sarhan Sheikh Ahmed, and Jasim Sheikh Ahmed," the source told North Press.
Most of the arrested individuals hail from the Abu Assaf and Abu Khamis clans, according to the source.
Khalil Rahil al-Hawash is a cancer patient, and Mustafa Ahmed al-Mahmud is over 80 years old, the source pointed out.
Turkish forces and the Turkish-backed factions have been running the city of Tel Abyad and parts of its countryside, including Ali Bajliya, since 2019.
Those areas run by the factions and supervised by Turkish military security authorities are witnessing broad-scale violations and attempts at Turkification, according to international and local reports.
Two days ago, Umm al-Kharatim checkpoint of the Turkish-backed Ahrar al-Sharqiya faction kidnapped a woman and a mother with two children, whose fates are still unknown.
Reporting by Gulistan Muhammad