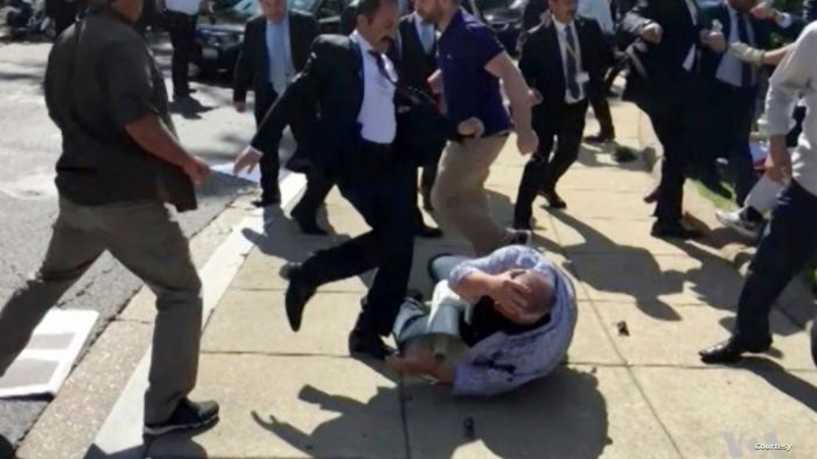 WASHINGTON, US (North Press) – A US federal appeals court has rejected an attempt by Turkey to dismiss a lawsuit by protesters who were attacked by Turkish security officers in May 2017 during a visit by Turkish President Recep Tayyip Erdoğan to Washington DC.
Yesterday, a three-judge panel of the DC Circuit Court of Appeals unanimously decided to allow the lawsuit on behalf of the victims to move forward, and affirmed a lower court's decision from February 2020 that Turkey is not entitled to immunity under the Foreign Sovereign Immunities Act.
The Circuit Judge Karen LeCraft Henderson said that the excessive use of force by Turkish security officials "was not justified as a security measure to protect the Turkish president."
The court considered that the conditions of an "exceptional situation" do not apply to the case of Erdogan's bodyguards beating the American citizens who demonstrated when the Turkish president arrived at the Turkish ambassador's residence in Washington, where neither he nor his bodyguards were in danger that made them defend themselves.
The US court's decision represents a key victory for the victims, who saw federal criminal charges against over a dozen Turkish security officers largely dropped by the Department of Justice under the Trump administration a year after the assault, in March 2018, which coincided with the return of the American pastor held in a Turkish prison.
The cameras of the demonstrators documented the Turkish security forces' attack on American peaceful demonstrators, mostly Kurds and Yezidis, protesting against Erdogan's visit at the time to Washington in 2017.
Reporting by Hadeel Oueiss