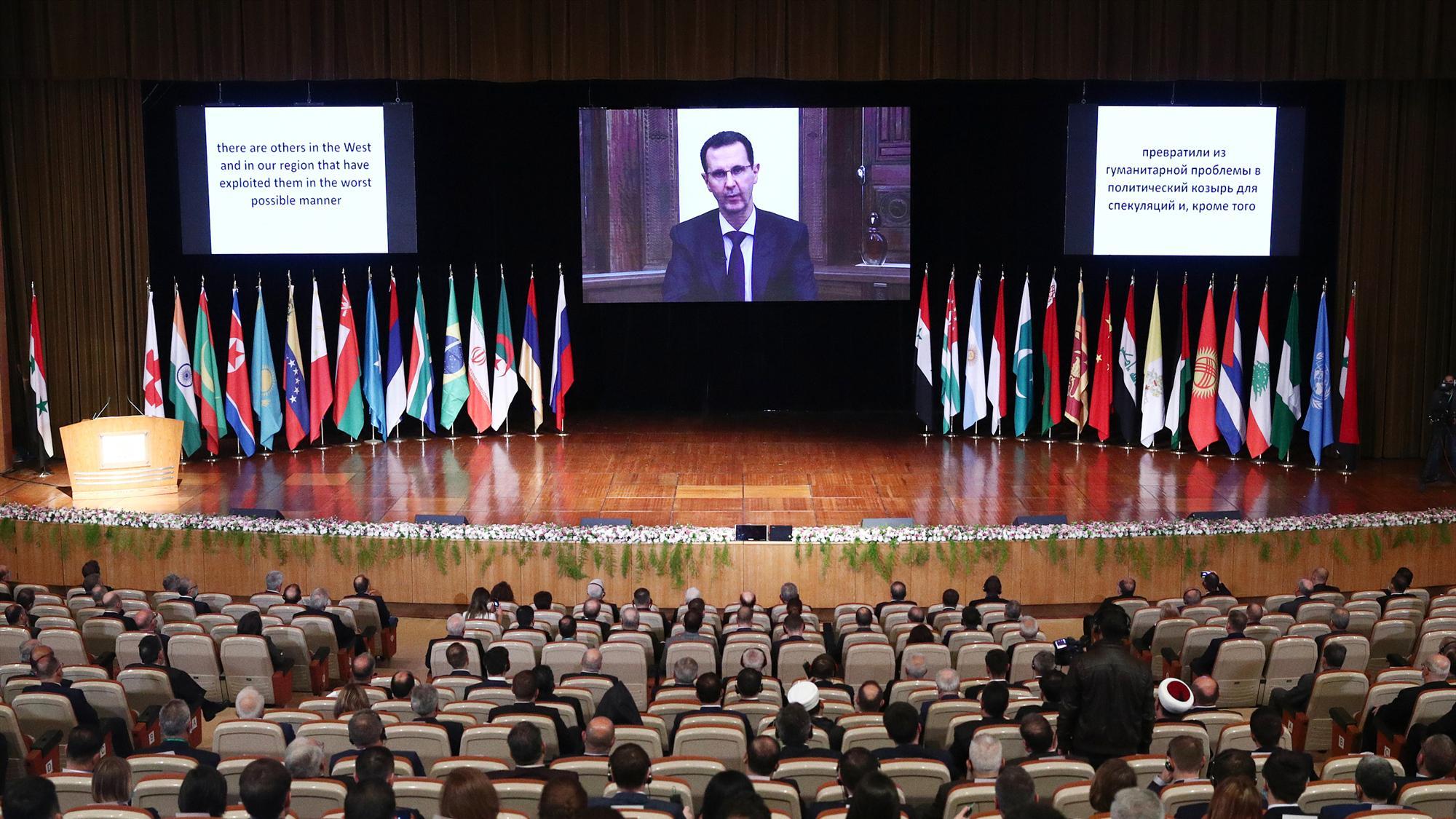 ALEPPO, Syria (North Press) – An official in the northern countryside of Aleppo said on Monday that the Damascus government seeks to polish its image globally, and that it should first work on the return of the internally displaced people (IDPs), before directing its rhetoric to refugees abroad.
On Monday, meetings to follow up on the works of the international conference on the return of Syrian refugees, which held its first round last November in Damascus, began.
Representatives from Russia, Lebanon, Iran, Pakistan, Oman, and China participated in the first round, amid a noticeable absence of European countries, Jordan, and Turkey, which all host a large number of Syrians.
Suleiman Ja'afar, the co-chair of the Legislative Council of Afrin (an administrative division that includes the provinces of Afrin and Shahba), said that the Damascus government seeks to show itself as the controlling and decision-making power in Syria.
He added in a statement to North Press that the refugee conference will not produce any results due to the lack of stability and continuation of the decade-long war in the country.
Large areas of Syria are witnessing the continuation of military operations and population displacement, especially in the de-escalation zone between the Damascus government forces and the Turkish-backed armed opposition groups in the northwest of the country.
The number of Syrian refugees exceeds six million people spread over 126 countries, according to a report issued by the United Nations High Commissioner for Refugees in 2019.
Turkey hosts 3,600,000 Syrian refugees, Lebanon 910,000, Jordan 654,000, Iraq 245,000, Egypt 129,000, Germany 572,000, and Sweden 113,000, according to UNHCR.
Ja'afar pointed out that Syrian refugees are losing confidence in the Damascus government in light of the continuation of the failure to provide guarantees to bring security and stability to their areas. "The instability and spread of unemployment, as well as queues in front of bakeries and gas stations and the poor economic situation will prevent the return of refugees and IDPs to their countries," he added.
"There are thousands of IDPs living in camps on Syrian territory, such as Afrin's IDPs, who cannot return to their homes because of the Turkish forces and armed factions' occupation."
He pointed out that the Damascus government should work on returning the displaced inside Syrian territory, and then direct its rhetoric speech towards refugees abroad.
"If Russia was serious about returning the refugees, why did it not respond to the demands of the displaced people of Afrin, who set up several demonstrations in front of its headquarters demanding their return to their city, as the Russian military said at the time that this was outside their powers?"
Observers of Syrian affairs believe that Russia is mobilizing for the return of refugees in order to obtain funds for the reconstruction of Syria.
Reporting by Dijla Khalil