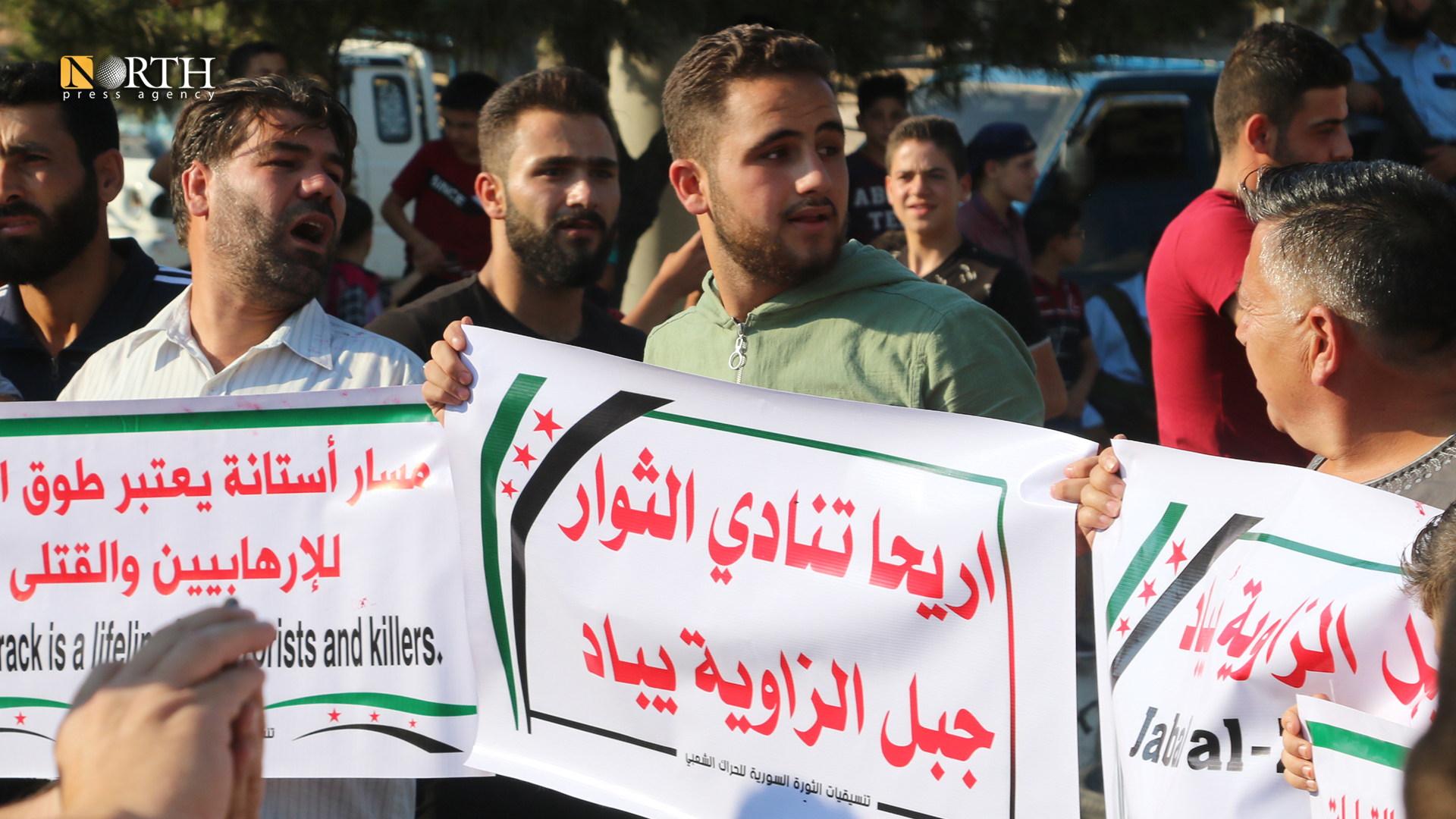 IDLIB, Syria (North Press) – On Sunday, dozens of residents of the Zawiya Mountain area, south Idlib, protested against the Turkish forces deployed at several points in the area.
The protesters, who went out on the highway Aleppo – Latakia highway road, accused the Turkish forces of watching the bombing without taking any action.
Dozens of residents of Ariha and the villages and towns of the Zawiya Mountain demonstrated against the "Turkish guarantor" of the ceasefire, Yarub al-Idlibi, a media activist in the area, told North Press.
The demonstrators blocked the road and set tires on fire. They also expressed their anger at the continued military escalation in northwest Syria, especially the Zawiya Mountain area, in which dozens of civilians were killed and wounded, he added.
The bombing targeted civilian homes, and it also targeted the vicinity of Turkish points, which were set up under the Sochi Agreement and the Astana understandings between Russia, Turkey and Iran.
Although Turkey is one of the guarantors of the de-escalation agreement in Idlib, in addition to being part of the ceasefire agreement concluded with Russia in March 2020, its position is absent regarding the recent escalation in the Idlib region.
Two weeks ago, the three guarantor countries (Turkey, Russia and Iran) held the 16th round of Astana meetings, whose final statement announced the establishment of a ceasefire, but what happened was quite the opposite.
Slogans raised by the protesters included a demand for the international community and Turkey to take action to stop the "military escalation by the regime and Russia."
The protesters' chants also questioned the heavy weapons owned by the military factions, which have been almost completely absent from the recent confrontations.
The demonstrators also demanded the leaders of the factions open the fronts against the government forces to restore the areas that they controlled over the past years, so that the displaced return to their homes, otherwise to step down because they are not qualified to lead the stage.
Reporting by Bara' al-Shami