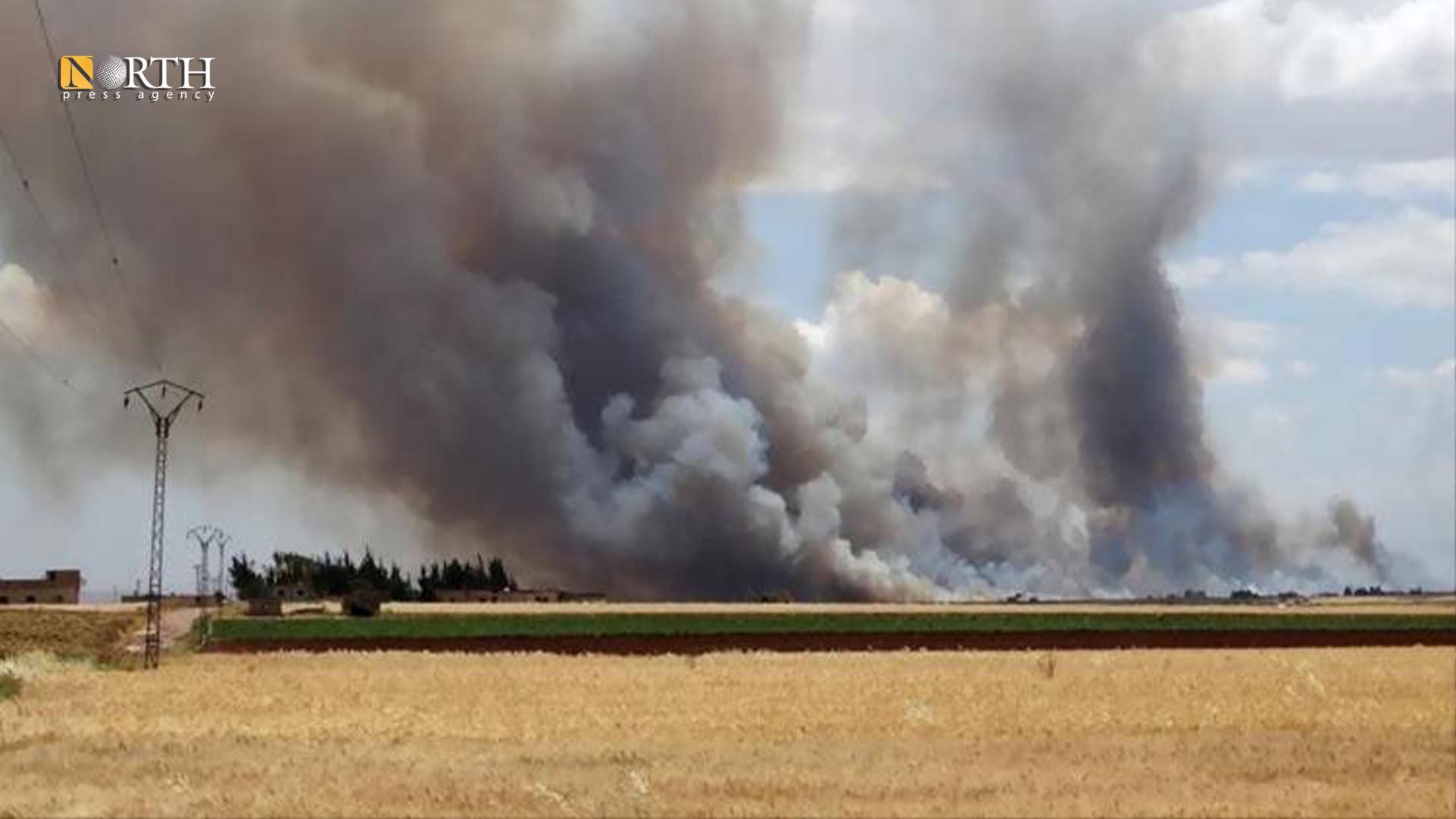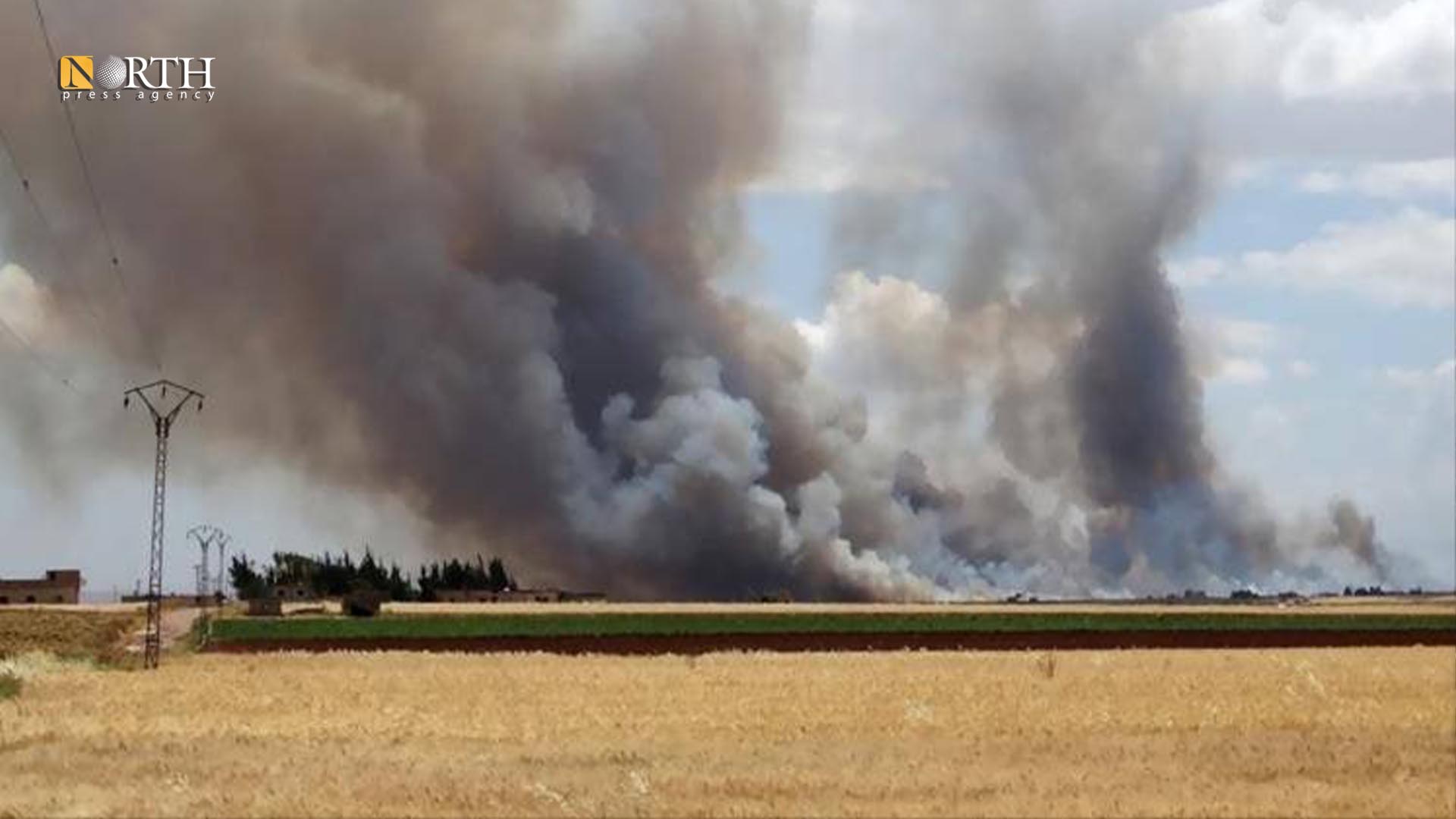 ALEPPO, Syria (North Press) – Mustafa Nabo, a resident from the village of Kalotah in Sherawa district, south of Afrin, is no longer able to graze his livestock on the outskirts of the village for fear of dropping shells or being targeted by Turkish forces and Turkish-backed armed groups, specially such incidents have successively occurred in his village and the neighboring ones.
For more than three years, Nabo has not been able to pick olive crop or even cultivate his land, which is located on the outskirts of Turkish forces and armed groups-held town of Barad, and he is now relying on cultivating a small piece of land in the garden of his house with vegetables.
Kalotah and other villages, which are run by Syrian government forces, are exposed to almost a daily artillery shelling, leaving human and material losses.
Yesterday, villages of Zarna'it, Mayasa, Soghana and Aqiba in Sherawa district subjected to artillery shelling causing panic for the residents.
Last week, villages in Sherawa witnessed intensive shelling by Turkish forces and armed groups stationing in the neighboring villages.
As a result of targeting Kalotah with dozens shells by Turkish forces, the 14-year-old girl child lost her life, while her father and the 11-year-old brother were wounded.
On March 18, 2018, Turkish forces and Turkish-backed armed groups took control over the city of Afrin, displacing more than 300,000 indigenous people towards Shahba region, Aleppo northern countryside.
Meanwhile, Turkey did not manage to seize several villages in Sherawa district including Soghana, Aqiba, Ziyara, Ibbin, Kalotah, Mayasa, Zarna'it, Zouq Kabir, Burj al-Qas, Bashemra and Khereibka, and then to be seized by Syrian government forces following the withdrawal of People's Protection Unites (YPG) from there.
Continuous shelling
Last week, the Turkish shelling against the village of Aqiba killed dozens of livestock and caused material losses to residents' property in addition to fires that erupted in a nearby forest.
"Turkish artillery and missile shelling caused massive destruction in our village, as our source of income is threatened as a result of dropping Turkish shells," Nabo indicated.
Days ago, Turkish forces stationing in the Scientific Research Center, shelled the village of Deir Jamal of Sherawa district with more than 15 artillery shells.
Meanwhile, farmers in Ibbin town cannot harvest their crops as a result of shelling residents in those lands by Turkish base in the neighboring village.
"Despite the risks of the shelling, we managed to cultivate the lands northwest the town at the beginning of the current season," Jamil al-Ghobari, a resident from the town, said.
However, with the onset of the harvest time, Turkish forces in the military base intensified their artillery shelling targeting the town and the neighboring areas with heavy and medium machineguns.
"Carrying out harvesting works in lands near the Turkish presence is impossible as we cannot bring in harvesters for fear of being targeted by Turkish forces and armed groups," he added.
"Turkey is targeting our source of living causing farmers massive losses," al-Ghobari added.
In February 2020, three civilians lost their lives and three others were wounded as a result of targeting the village of Aqiba by the Turkish forces and armed groups with dozens shells.
Meanwhile, ten civilians including eight children lost their lives and more than 13 others were wounded in a Turkish shelling against the town of Tel Rifaat on December 2, 2019.
Evacuating attempts
After being used to pick grape leaves at these days of each year, Hassan Osman, farmer from Soghana, is no longer able to go to his grape vine to the west of the Turkish forces-held village of Kimar.
"This is my work, through which I used to secure my family's basics," Osman said.
Turkey is continuing the construction works of separating wall, which started after it took control over Afrin city, with 50 kilometers long extending from the village of Kafr Janneh, east of Afrin, reaching to the village of Bosoufane, southwest of Afrin, according to local residents.
Osman, who was sniped with a bullet that would have killed him, said that after Turkey accomplished fortifying the wall, which it reinforced with high guard points and snipers, "grape vines and olive lands, which sniping bullets can reach, become dangerous."
As a result of the intensive shelling against Soghana in 2019, more than 190 families fled from the village.
In August 2019, the armed groups targeted the village with more than 100 mortars wounding four individuals including a child from the same family, while a shelling in late February of the same year left about the same number of wounded.
Additionally, the Turkish-backed armed groups set fire to agricultural crops in the village and opened fire at residents, who get close in "futile" attempts to extinguish it.
"The ongoing Turkish shelling against villages in Sherawa are attempts to drive people to evacuate the area as what happened in other districts of Afrin," he added.
"We are all always threatened and endangered of being killed or wounded whether at homes or in the lands," he elaborated.
Reporting by Najm al-Saleh