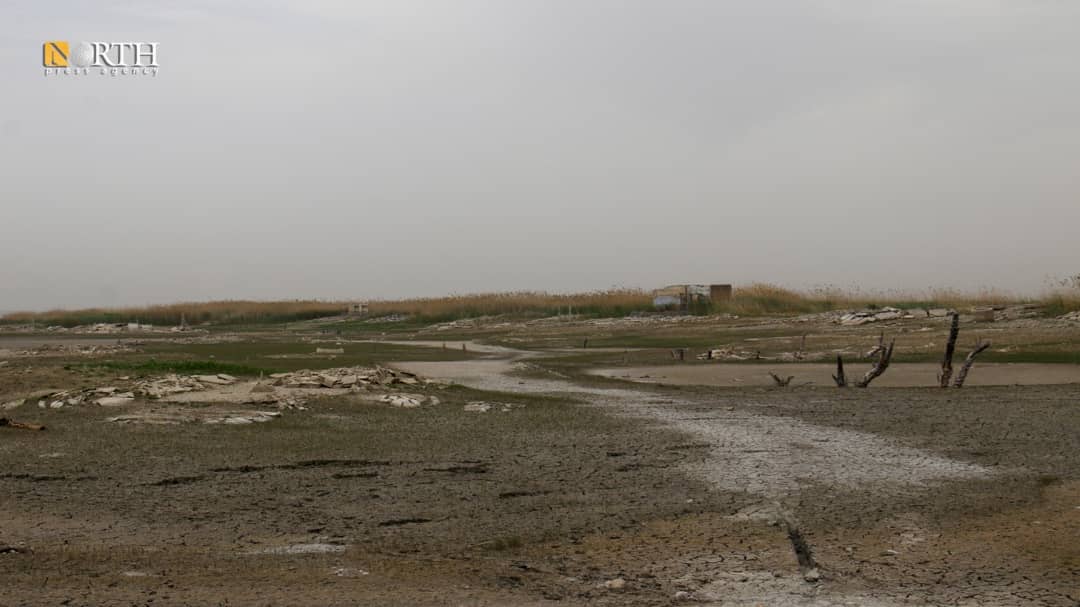 RAQQA, Syria (North Press) – Turkishseizure of Euphrates River water threatens to destroy lands that rely on the river water if its level continues to decrease, according to supervisors of cultivation in the villages of Raqqa, north Syria.
Turkey's use of water as a pressure card against the Autonomous Administration in North and East Syria may lead the region into environmental disasters, agricultural engineer Ahmed al-Hammoud told North Press.
Since mid-February, Turkey has been reducing the volume of the Euphrates River's water flow into Syria.
Meanwhile, six out of eight turbines in Euphrates Dam, near the city of Tabqa, north Syria, are shut down as a result of the water seizure by Turkey, according to administrators in the dam.
According to the agreement signed between Syria and Turkey in 1987 related to the Euphrates River, Syria's share of water coming from Turkey is 500m³ per second, and Syria now receive only 200m³, according to administrators in Tishrin Dam.
The Turkish water seizure decreased water level in the lack of Euphrates River by about seven meters, destroying many irrigated crops which mainly rely on the river water, al-Hammoud pointed out.
Most of the agricultural land in the west Kobani countryside and villages near Raqqa, Tabqa, and Deir ez-Zor draw water directly from the Euphrates River or from wells that are affected by the deceasing level of its water.
The decreasing water level affects health, especially pollution levels in water is increasing and most of the drinking water stations rely mainly on the river to supply cities and villages on and near the Euphrates River with water, al-Hammoud said.
In a previous statement to North Press, the administrator at Tishrin Dam, southeast Manbij, north Syria, Hammoud al-Hamadin, warned about the impacts of the increasing level of water that "may risk the health of people who rely on untreated river water."
On Tuesday, the Farmers Union in Raqqa released a statement denouncing Turkey's practices of decreasing the Euphrates' water flow to Syria.
The statement added that decreasing level of irrigation water has affected several agriculture lands and damaged many agricultural swaths.
Additionally, the statement called on the Food and Agriculture Organization (FAO) to follow the issue of the Euphrates River and pressure Turkey in international forums to gain Syria's share of the Euphrates.
Reporting by Amar Abdullatif