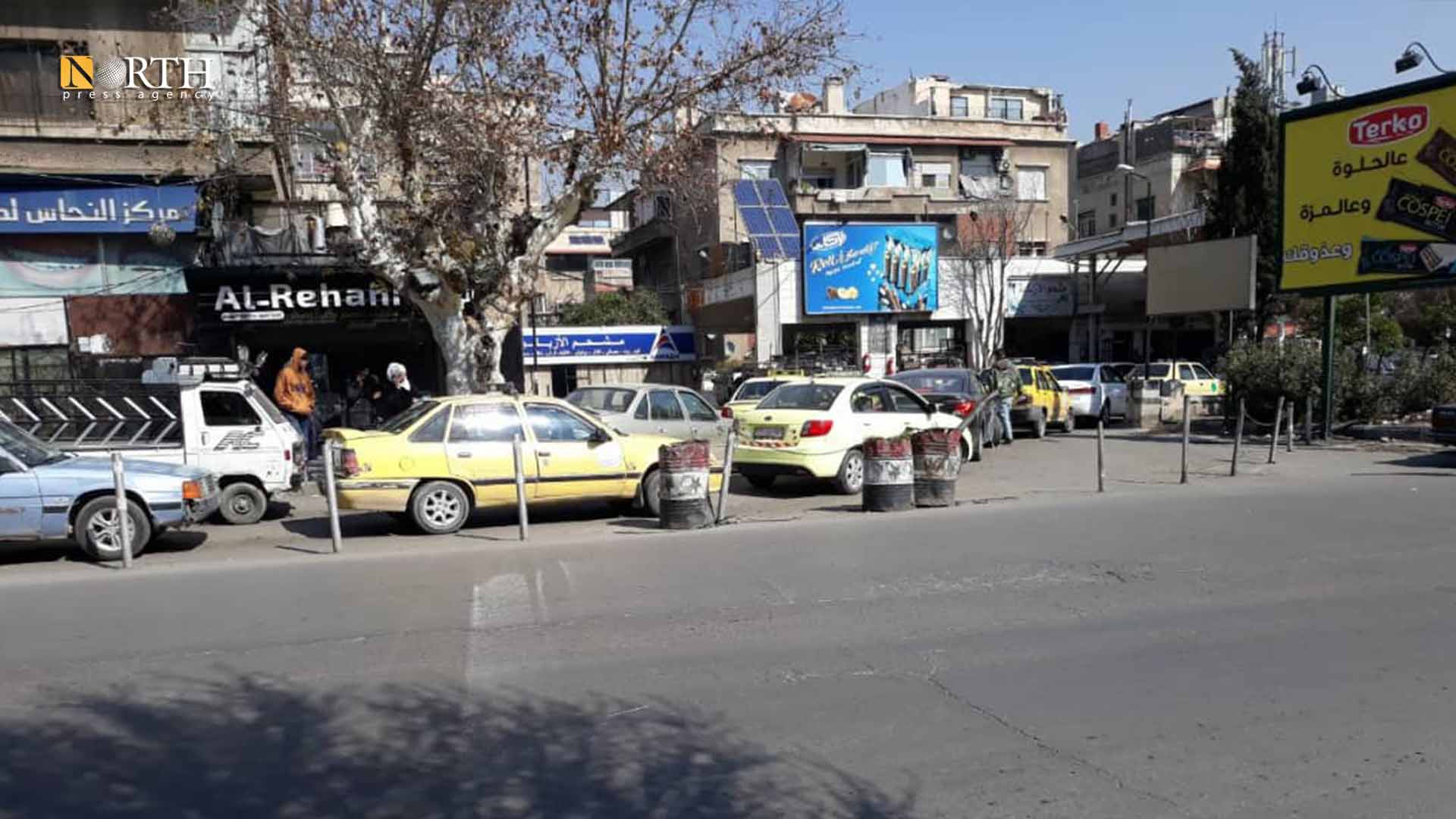 DAMASCUS, Syria (North Press) – On Thursday, residents of Damascus expressed their dissatisfaction with the Syrian government's Consumer Protection patrols closing nine petrol stations in Damascus and its countryside, despite the worsening fuel crisis.
A statement issued by the Internal Trade and Consumer Protection Directorate in Damascus stated that 9 fuel stations were closed with red wax due to "cases of counter tampering and fraud in sales."
Residents in Damascus pointed out that the closure would worsen the crisis, accusing the government of failing to find solutions to the months-long fuel problem.
"The closure is not a solution, because it contributes to increase the current crisis and allows fuel station owners to sell their allocations in the black market," Omar Hamid, a taxi driver said.
"The stolen quantity is resold by the stations at the black market price, which ranges between 1,200 and 2,000 Syrian pound (SYP) per liter, depending on the severity of the crisis", he added.
Sa'id Salem, 44, an employee in the private sector, told North Press that "The situation is no longer acceptable, and waiting in the fuel station for two hours has become almost daily."
"Above all, the gasoline stations steal gasoline and obstruct the allocated quantity in order to receive the tip," he added.
Rima al-Hassan, a pharmacist, told North Press that she had to buy gasoline from the station several times at the black market price as a result of her need of fuel before it was filled up according to the smart card system.
"When I reached the pump, I told the worker that it was not time for filling up according to my car yet, so he offered me to fill my car for 1,500 SYP per liter," she added.
She mentioned that she agreed even though the official price of unsubsidized gasoline is 650 SYP, but she accepted that due to the crisis at the stations and the fuel shortage.
The allocations for a private tourist car with an engine capacity of less than 2 liters, are 75 liters according to the supported price of 450 SYP, 125 liters at a price of 650 SYP, and 40 liters for each filling process for every 7 days.
The allocations for public cars are 350 liters according to the supported price at 450 SYP per liter, and 40 liters per filling process for every 4 days.
Reporting by Zayd Mousa