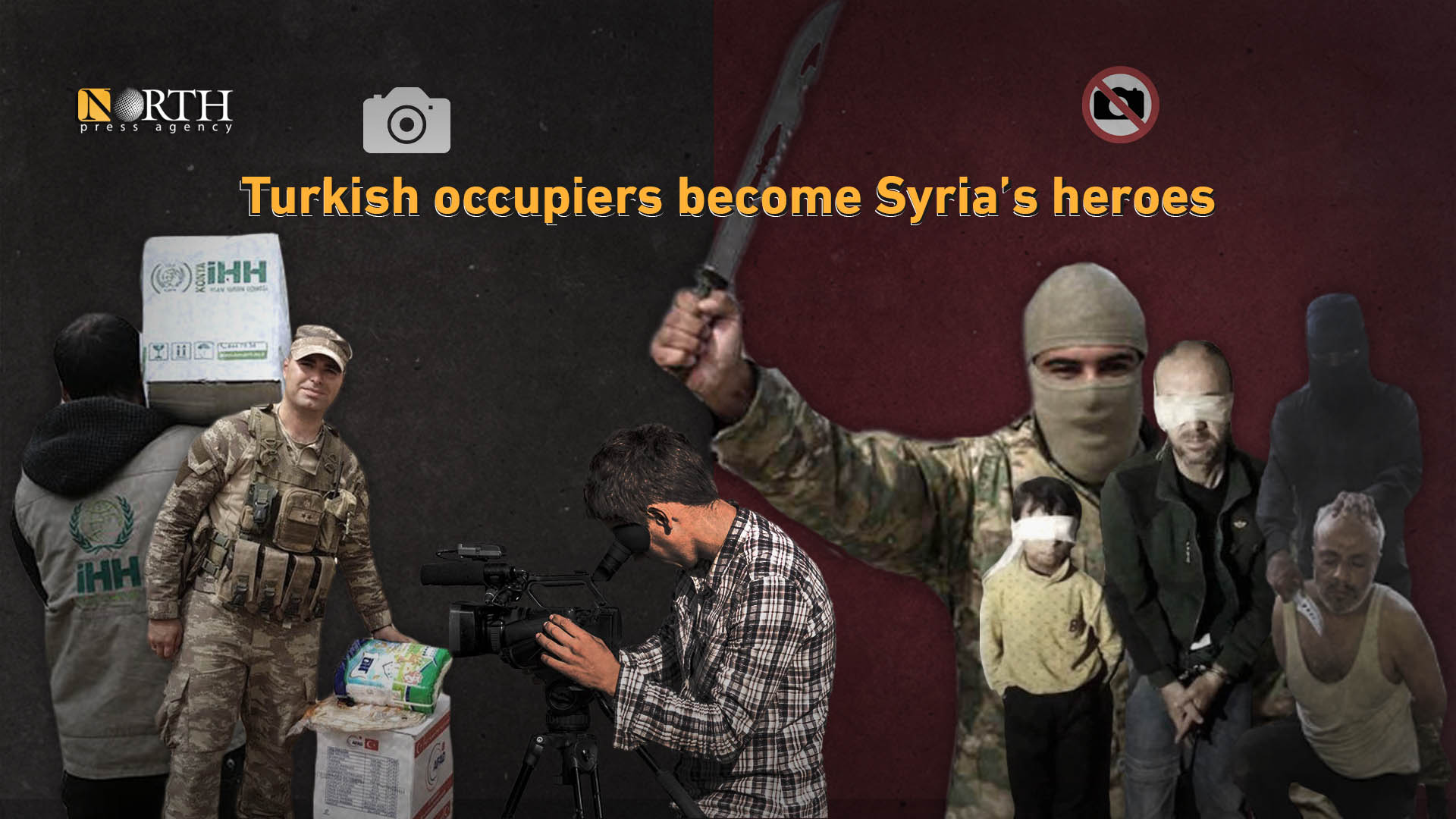 On Tuesday, the New York Times published an article with the headline, "Turkish Forces in Syria Protect 5 Million People." The article, the result of a Turkish-initiated propaganda tour of Afrin by several journalists, is by any metric an ode to the Turkish invasion and occupation of the once-peaceful Kurdish-majority enclave in Syria's northwest.
Since the start of the Turkish invasion in 2018, human rights violations and violations of international law by Turkish and Turkish-backed forces in Syria have far more often been the rule than the exception. So how does a piece praising Turkey as the defender of Syrians end up in one of the mostly widely read news outlets in the world?
A sea of violations
Through the course of the article, the narrative is that "[t]he Turks' control" is "welcomed by many Syrians who have fled from Mr. Assad's government," and that "Syrians under their charge…were glad the Turks were there, at least for now."
The article also very briefly mentioned "accusations of human rights violations" by Turkey, perhaps as a half-hearted attempt at impartiality, and detailed the abhorrent living conditions of many in the northwest. It failed to note, however, that much of this is caused by Turkey's refusal to allow international NGOs to assist, and the fact that most international aid groups there must coordinate with groups such as Hayat Tahrir al-Sham, a jihadist group designated as a terrorist organization by the United States, in order to enter and work.
For hundreds of thousands of its native sons and daughters, Afrin is far more of a hell on earth than it is a safe haven.
Since the start of the Turkish invasion, local groups such as the Human Rights Organization – Afrin – which is made up of activists and researchers displaced from Afrin and based in the northern countryside of Aleppo – and international organizations such as Human Rights Watch and the UN Independent Commission of Inquiry on Syria alike, have recorded violation after violation committed by Turkey and its proxies in the region.
Listing all violations committed by Turkish forces and their proxies in three years of occupation is impossible. Yet these crimes are well documented: theft; the burning of agricultural land; destruction, theft, and sale of crops and trees; destruction of historic and religious sites and/or their use as mosques or military bases; the forbidding of native-language education and imposition of Turkish; the changing of place names to Turkish or Arabic; kidnapping and arbitrary detention; forced displacement of civilians from their homes; forced marriage (including of children); assault, extortion; torture; rape; and murder.
Turkish forces have also engaged in the transfer of Syrian citizens arrested and detained in Syria to Turkish prisons for trial and imprisonment, which constitutes an egregious violation of international law under the Geneva Convention.
Some of the most heinous violations possible are carried out right under the noses of Turkish officials, whom the media permits to be paraded around before the world as the defenders of Syria.
Journalism and politics
There can be no debate about the humanitarian situation in Afrin. So how was it whitewashed? When dealing with Turkey, journalists would rather maintain access by reproducing state narratives rather than maintain impartiality.
According to American journalist Lindsey Snell, who has covered and written extensively on the Middle East, Turkey's actions are seen as acceptable by mainstream western media, as Turkey is both an ally of the US and a member of NATO.
Snell told North Press that this issue extends far beyond Afrin. She wrote extensively on last year's conflict in the Armenian-majority Nagorno-Karabakh/Artsakh region between Armenia and Turkish-backed Azerbaijan, and believes that the same pattern occurred there.
"After dozens of videos of war crimes emerged, the lion's share from the Azerbaijani side […] Amnesty International published a quick initial report that featured more Armenian war crimes than Azerbaijani ones," Snell explained.
"This report was championed by officials linked to the Azerbaijani government as proof of Armenia's greater guilt. Turkish propaganda outlets are now sharing the NYT Afrin piece in the same way."
Outside of the media's tendency to ignore or gloss over Turkey's violations in Afrin, the tendency to present Turkey as a defender of Syrians against Assad also promotes a false narrative. Turkey has withdrawn from multiple observation posts in Syria's northwest which were meant to act as a deterrent to an advance of Assad's forces. Multiple individuals interviewed by North Press in August of last year were also highly skeptical of Turkey's ability to protect them.
One IDP from the Zawiya Mountain region of Syria's Idlib even stated, "the people of the area and the opposition didn't gain anything from the entrance of Turkey. On the contrary, all the agreements that Turkey made were against them…Turkey only cares about its interests and nothing more."
Further demonstrating the absurdity of this narrative, the NYT piece in particular fails to mention that the Turkish invasion of Afrin did nothing at all to displace the brutal Assad regime, but rather, overthrew a Kurdish-led Autonomous Administration that prioritized ethnic pluralism, mother-language education, women's rights, and local governance, and itself took in thousands of IDPs from all areas of Syria fleeing Assad.
No journalists allowed
The article also reveals how journalists who manage to gain incredibly rare access to the region are presented with a filtered and watered-down version of its reality.
"Turkish officials recently escorted journalists on a rare visit to Afrin […] the Turks were keen to show their achievements in infrastructure, education and health services," the article explains.
A place with the infrastructure, security and stability that Turkey boasts it has brought to Afrin would surely not need Turkish officials to "escort" them. Moreover, if the aforementioned narrative was true, then journalists would have documented this reality before now. But they haven't.
"It is clear that no one can work in areas occupied by Turkey and the armed opposition groups," co-chair of North and East Syria's Free Media Union Bangin Sido told North Press when asked about the state of journalism in Afrin.
"Journalists, or 'semi-journalists,' and media activists who work in these areas are affiliated with those Turkish-backed armed opposition groups. They are working for these groups and promote their existence there and their radical ideas. We can't consider them journalists or media activists. They are just tools to promote the occupation and terrorism there," he explained.
It should come as no surprise that Turkey restricts media coverage within the areas it occupies in Afrin. Turkey itself has an abysmal record when it comes to arresting and imprisoning journalists. Amnesty International reported that in 2016, one-third of all imprisoned media workers in the world were imprisoned in Turkey, and that 180 media outlets had been closed after an attempted coup.
Lindsey Snell explains: "Turkey is quick to expel foreign journalists who report in a way that is contrary to the desires [of the] Turkish state and makes access difficult for the journalists' outlets in the future. And it's all about access. If you play Turkey's game, you can go to these occupied parts of Syria. You can paint yourself as a hero, going to this 'dangerous' area with this 'rare' access."
Prepared by Lucas Chapman