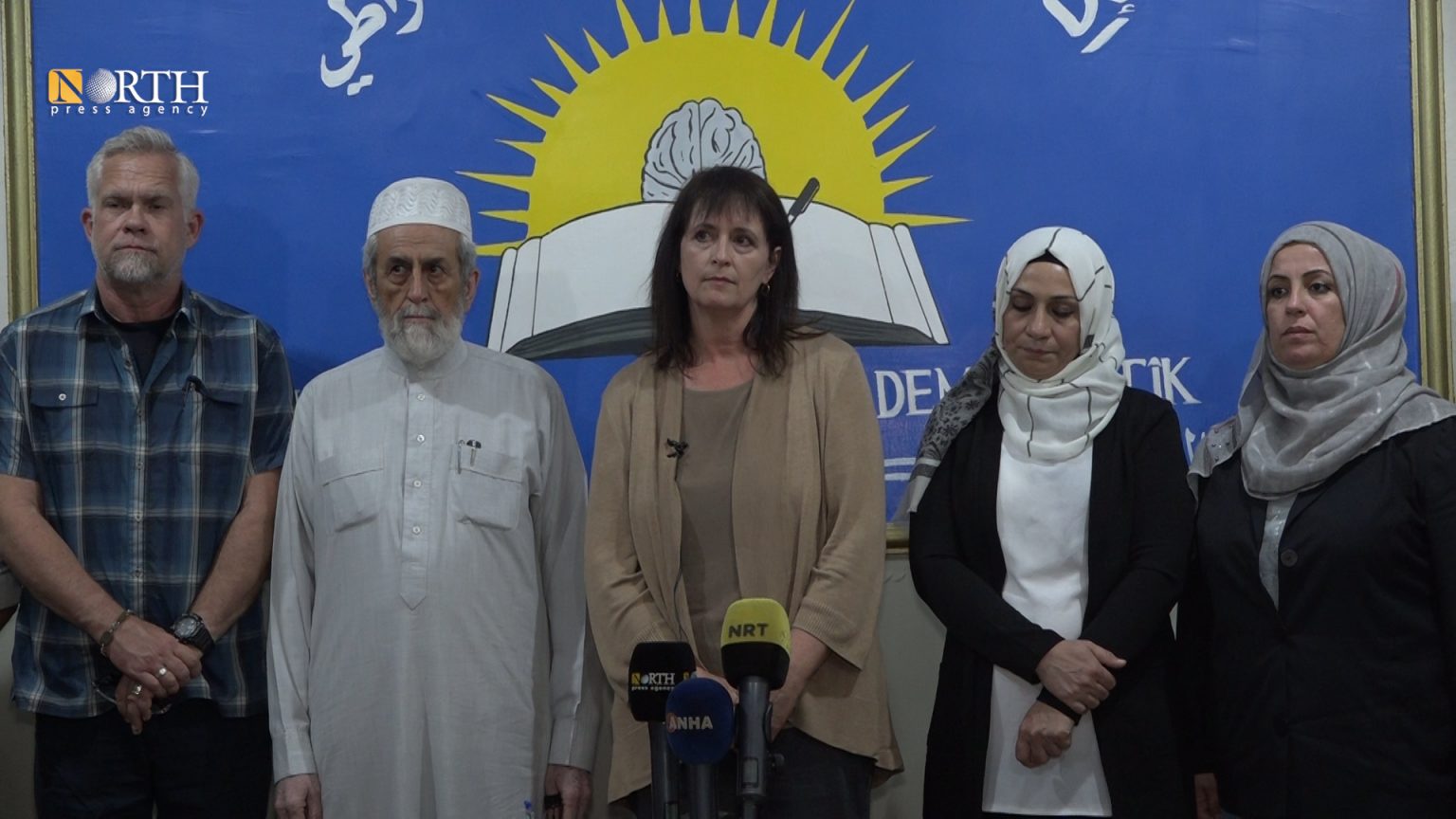 QAMISHLI, Syria (North Press) – Vice Chair of the United States Commission for International Religious Freedom (USCIRF) Nadine Maenza said on Friday that the USCIRF will pressure the US government to officially recognize the Autonomous Administration of North and East Syria (AANES).
Maenza is visiting the Autonomous Administration regions of northeast Syria along with Evangelical pastor Steve Berger in an individual capacity, and held a closed meeting on Friday with the leadership of the Academy of Democratic Islam.
Mazen Harouni, a member of the Academy of Democratic Islam, said that the USCIRF promised during the meeting to pressure Congress to recognize the Autonomous Administration.
Harouni added that the visiting delegation also promised to work for the representation of the Autonomous Administration in the political negotiations to find a solution to the crisis in Syria.
During a press conference on Friday in the city of Qamishli, Maenza stated that it was "heartbreaking" to visit with Yezidis and Christians who had formerly fled ISIS terrorism and are now again fleeing the Turkish invasions of Afrin and Sere Kaniye.
Maenza added that the Autonomous Administration areas exhibit "remarkable religious freedom conditions" compared to areas under Turkish occupation. "They are able to promote this really remarkable culture of tolerance where they all deeply believe their religions, but also accept each other's religions…it's a model not just for the Middle East, but for the world," she explained.
Maenza also elaborated on the violations Turkey has committed against the areas of Syria they occupy, confirming that the fact that Turkey is a member of NATO should not give them an excuse to carry out war crimes. "Being a NATO ally should mean that they should be held to a higher standard," she said, adding that Turkey will continue their actions "unless somebody stands up and calls [them] out."
The USCIRF representative met with the leaders of the Autonomous Administration in the city of Raqqa on Wednesday, and expressed their support for the administration and the "values ​​of gender equality, religious freedom, and human rights."
Maenza added that she is preparing a report on the general situation in northeastern Syria, with the aim of submitting it to Congress at a later time.
US President Donald Trump appointed Maenza to the USCIRF, which is the highest government religious committee in the United States, in 2018.
In June, Maenza criticized Turkey during a virtual hearing attended by prominent regional experts to discuss the reality of religious freedoms in areas invaded by Turkey.
Reporting by Hosheng Hassan and Lucas Chapman