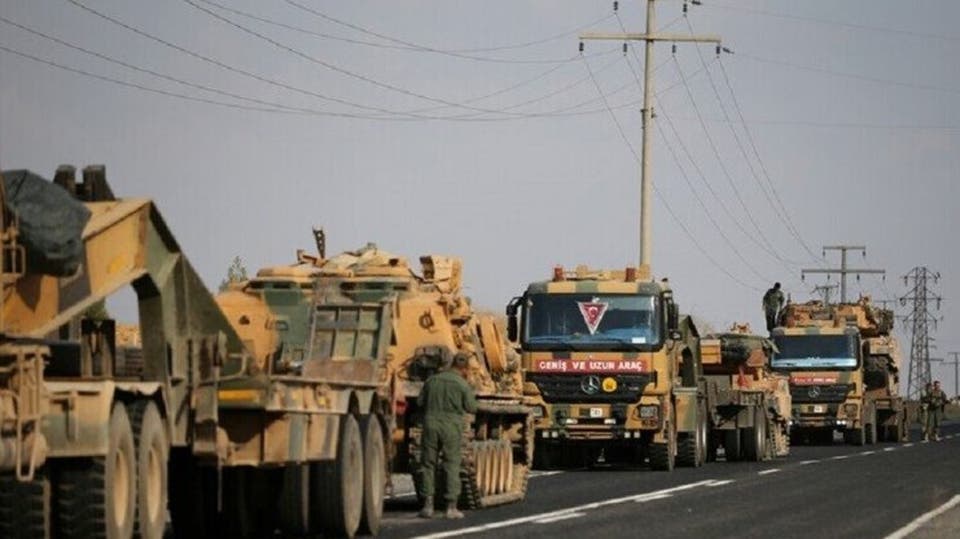 QAMISHLI/ISTANBUL (North Press) – Turkey intends to establish a new military base in Jabal al-Arba'in in the southern countryside of Idlib, northwestern Syria, whose mission is to manage military operations in the region, local sources reported.
"Turkey has continued sending military convoys, that enter from the Kafr Losin military border crossing, for several weeks," field sources told North Press.
The last of those convoys was on Wednesday, with the aim of reinforcing its points in more than one area in and around Idlib, according to the sources.
On Thursday morning, Turkish forces started establishing a new military point south of Idlib in conjunction with the arrival of a massive amount of Turkish military reinforcements to the de-escalation zone.
A military source told North Press that Turkish forces are establishing a military point on the hill of the village of Qaqfin, south of Idlib, on the front lines with Syrian government forces.
"Turkey will establish more military bases in the region, and it will also increase its military convoys to push them to the region," Ayham Abu Faris, who is close to the Hayat Tahrir al-Sham (HTS), told North Press.
"There is no talk about withdrawing or reducing its military forces in the region. These words were only uttered by Russia, which requested that," Abu Faris added.
Another source close to the Syrian National Army (SNA) groups, called Abu Ubada al-Idlibi, said, "Despite the Turkish reinforcements and mobilizations to bring in more soldiers and equipment, this does not negate the existence of initial understandings about a number of areas that are of interest to Russia, such as Jisr al-Shughour."
"I think Russia is determined to enter Jisr al-Shughour, and there must be an understanding with its partners on the issue, as happened with regard to the Aleppo-Damascus highway," al-Idlibi added.
Regarding the importance of Jisr al-Shughour to the Russians, al-Idlibi said, "This area is connected to mountains overlooking the Kassab region, in addition to being on the last transit road that passes from Idlib."
Al-Idlibi believes that the whole south side of the Aleppo-Lattakia highway was "fallen since the announcement of the Safe Passage Agreement on March 5."
On March 5, Russians and Turks reached an agreement providing for a permanent ceasefire in Idlib and the conduct of joint patrols on the Aleppo-Lattakia highway.
In September, Russia called on the Turkey to reduce the number of its observation points in the region.
However, Turkey insisted on keeping its points but it showed clear flexibility, as it withdrew part of its forces with heavy weapons after several meetings between Russian and Turkish military delegations in Ankara, according to several sources.
Reporting by Sardar Hadid