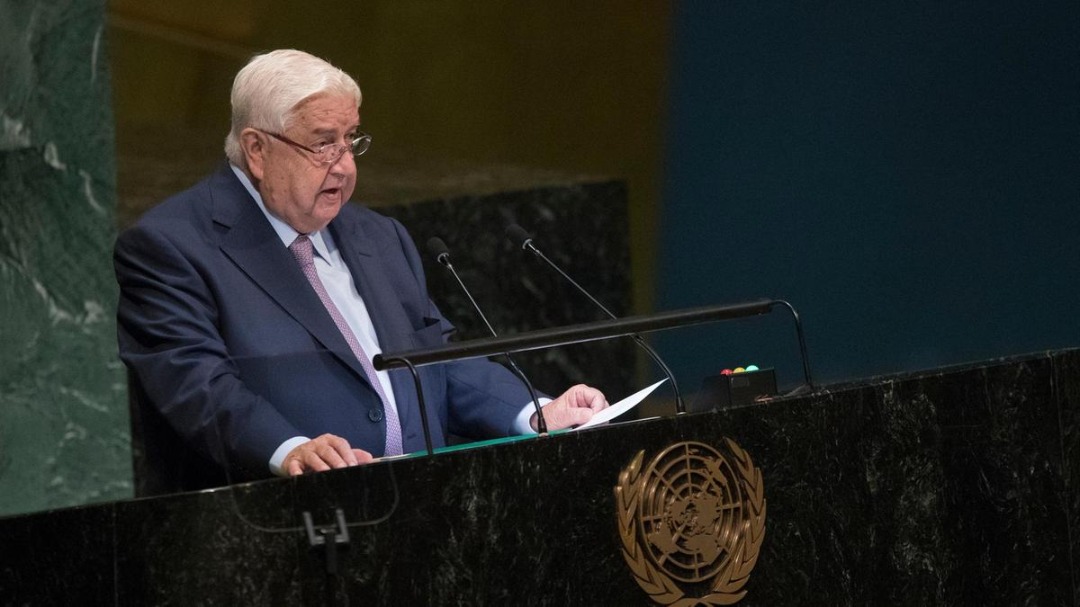 NEW YORK, USA (North Press) – Walid Muallem, Syria's Deputy Prime Minister and Foreign Minister, accused US President Donald Trump's administration on Saturday of attempting to suffocate Syrians with sanctions.
Addressing the United Nations General Assembly's annual debate via a pre-recorded video, being held virtually this year due to the coronavirus pandemic on Saturday, Muallem likened the effect of the sanctions to the death of George Floyd, a black American who died in May after a white police officer knelt on his neck.
On May 25, Minneapolis police officers arrested George Floyd, a 46-year-old black man, after a convenience store employee called 911 and told the police that Mr. Floyd had bought cigarettes with a counterfeit $20 bill.
Seventeen minutes after the first squad car arrived at the scene, Mr. Floyd was unconscious and pinned beneath three police officers, showing no signs of life.
"The situation today does not bode well for the future we want, nor does it reflect the United Nations we need," Muallem said.
The Foreign Minister maintained that his country wants a secure future, free from terrorism, occupation, and inhumane sanctions.
"Today's imperative is that we combat this pandemic together through multilateral joint action to build a more equal world, better equipped to withstand crises and achieve real sustainable development for all," stated the Syrian official.
Muallem referred to the consequences of the US Caesar Act, when life-saving medications and medical equipment were blocked in the middle of a pandemic, and all efforts to rebuild Syria after its destruction by a nearly decades-long war were obstructed.
The Caesar Act, also known as the Caesar Syria Civilian Protection Act, became law in the United States in 2019.
The Act entails a series of sanctions aimed at targeting the Syrian government and any individuals or states which aid it.
The act was named after a defector from the Syrian intelligence services, a military photographer codenamed Caesar, who submitted about 55,000 photos documenting the massacres and war crimes committed by Syrian security services against civilians and demonstrators in Syria since 2011.
"Unilateral coercive measures imposed by some countries clearly violate international law," Muallem said of the sanctions, calling them false claims intended to cover their inhumanity.
The Foreign Minister called on countries to close ranks and reject such measures through cooperation, coordination, and concrete political, economic, and commercial means.
Terrorism
Turning to the issue of terrorism, Muallem asserted that the current Turkish regime is a sponsor of terrorism in Syria.
He called Turkey one of the main sponsors of terror in the region, adding that it has facilitated the entry of tens of thousands of foreign terrorists into his country, supported terrorist groups that have massacred Syrians, and carried out Turkification and forced displacement policies in the Syrian territories it occupies.
"The current Turkish regime has become a rogue and outlaw regime under international law," he explained, warning that its policies and actions "must be stopped."
Moreover, the "illegitimate presence of American and Turkish forces on Syrian soil meets all the legal conditions of an occupation", he continued, referring to their actions as "a flagrant violation of Syria's sovereignty, independence, and territorial integrity."
Finally, Muallem reaffirmed Syria's support for Iran "against the US policy" to undermine the nuclear agreement and destabilize the region.
Washington says the sanctions aim to cut revenue for Syrian President Bashar Assad's government and push him back into U.N.-led talks to end the more than eight-year-long conflict.
A crackdown by Assad on pro-democracy protesters in 2011 led to civil war, with Moscow backing Assad and Washington supporting the opposition. Millions of people have fled Syria and millions are internally displaced.
(Reporting by Mohammed Khier Ahmed)