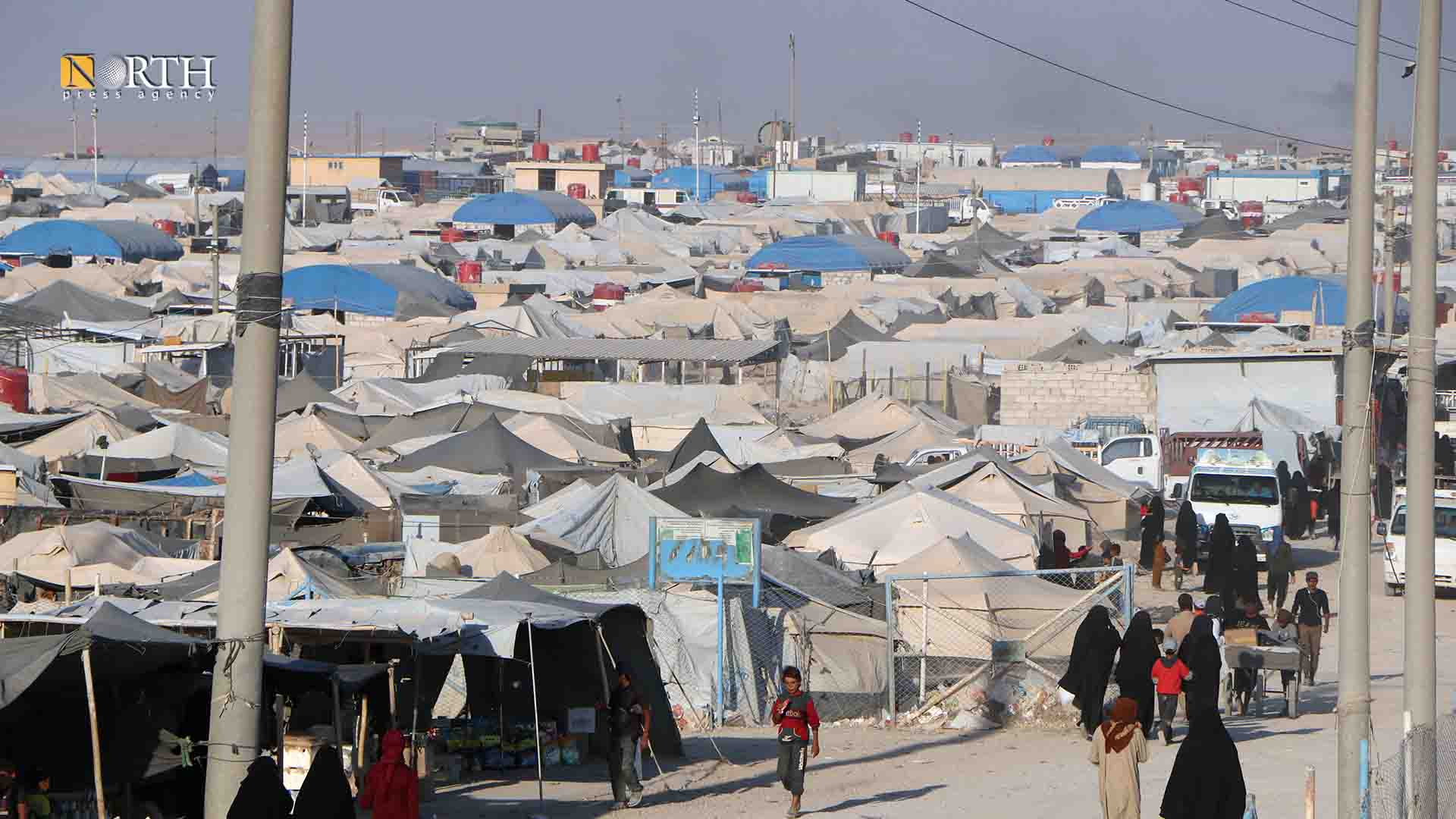 HAWL, Syria (North Press) – IDPs in Syria's Hawl camp, north of Hasakah, called on the Iraqi government to reopen the door for their return and facilitate their arrival to their families, and denied belonging to the Islamic State (ISIS).
Most of them were displaced during the battles between the Iraqi armed forces and ISIS.
The Iraqi government stopped repatriating Iraqi families displaced to Hawl camp between 2019 and 2020 due to the security situation, coronavirus outbreak, and the fact that some Iraqi tribal leaders accused them of belonging to ISIS.
Hawl camp houses about 65,000 people, including Iraqi refugees, Syrian IDPs, and ISIS families, living in 13,000 tents, according to the camp administration.
Separated families
Umm Muhammad, from Iraq's Anbar province, was displaced with her three daughters six years ago. She called on her relatives in Iraq, the tribal sheikhs, and the Iraqi government to let them return back to their areas.
She said that she, with her three daughters, put their names on the lists of those to be repatriated and provided all necessary documents, but the trips had stopped.
"They told us that the Popular Mobilization Units (PMU, an Iranian-backed military force in Iraq), which were fighting alongside the Iraqi army, would punish all those living in the areas controlled by ISIS, so I fled to Syria," she added.
Living conditions
The Iraqi refugees, who number about 36,000, including 14,000 children and more than 20,000 women, live in four sectors in Hawl camp, which suffers from a shortage of humanitarian aid.
A refugee who introduced herself as Umm Ahmad said that her family of seven depends on selling vegetables and ice blocks in the camp, to maintain their livelihood.
She added that she would like to return to Iraq to live in her country with her family.
She stated that her husband died in prison in 2012, and that three years ago they had to flee from Anbar in Iraq.
'We are not ISIS'
Azraa Mahmoud, an Iraqi refugee from Anbar, said that she arrived at the camp a year and a half ago, adding, "I had to stay in Baghouz because I have two children with special needs and my mother is an old woman."
Mahmoud stated that her husband is imprisoned by the Syrian Democratic Forces, "and I do not know anything about him."
"We appeal them to sympathize with us. We have no work, no men, we have no power," she said, calling on her government to act.
Hawl camp includes the largest number of women and children of ISIS militants in Syria and Iraq, whose number reaches about 11,000, according to the camp administration.
Hawl camp witnesses occasional escape attempts by ISIS families, in addition to assassinations and the burning of tents, according to the camp administration.
Escape attempts
Suleiman Hammadi, head of the Iraqi Refugee Council in Hawl camp, said that there are Iraqi families who fled the camp and others who want to reach their areas through the Kurdistan Region of Iraq.
"This is because of the bad conditions that these families are going through, amid the lack of aid, especially food, provided to them by the organizations working in the camp," Hammadi said.
The coordination between the Autonomous Administration and the Iraqi government resulted in nine repatriation trips for Iraqis in 2017 and 2018.
The total number of returnees at that time was about 7,500, according to Hamadi.
Hamadi added that they had registered the names of 250 families of about 1,500 people wishing to return before the Iraqi side stopped receiving flights.
Reporting by Jindar Abdulqader