DAMASCUS, Syria (North Press) – Syrian government mass media has recently launched a campaign of incitement against Syrian Kurds and the Syrian Democratic Forces (SDF) that control northeast Syria.
The campaign intensified after the signing of an oil agreement between SDF and the American Delta Crescent Energy company to invest in oil fields in the eastern Euphrates regions.
Shivan Ramadan, a Kurd from Qamishli who lives in Damascus, said that "since the announcement of the American oil agreement with the SDF, Syrian government news outlets started an offensive against the Kurds and SDF, accusing them of being betrayal."
Ramadan indicated that government channels hosted a lot of loyal tribal and party figures who insult and use inappropriate language against the Kurds and promoted the "tribal resistance against the Kurdish occupation."
Earlier in July, Republican Senator Lindsey Graham told US Congress that that SDF Commander Mazloum Abdi informed him of the signing of the agreement with the American oil company, considering the agreement as the best way to help everyone in that region.
In his turn, Secretary of State Mike Pompeo expressed the US Administration's support of this step, surprised that it took such a long time to be achieved.
Kadar Abdullah, who lives in Damascus, said "The regime official media began to incite against the Kurds two years ago," adding that "describing Kurds as traitors indicates the moral bankruptcy of this media."
"Only in the Syrian official media is it allowed to insult a Kurd and to be described as a separatist and an agent. Then the presenter, the reporter and the guest all participate in insulting and betraying the Syrian Kurd," he added.
The hate speech of the official Syrian media against the Autonomous Administration regions has become troublesome for Kurdish families and students residing in Damascus. According to these families, Kurds in Damascus suffer from harassment as a result of the hate speech by news outlets."
Helin Khalil, who works in a medical equipment company in Damascus, told North Press that "as a result of the Syrian media's anti-Kurdish speech , the relationship between me and my pro-Syrian government co-workers, friends, and neighbors has been affected negatively."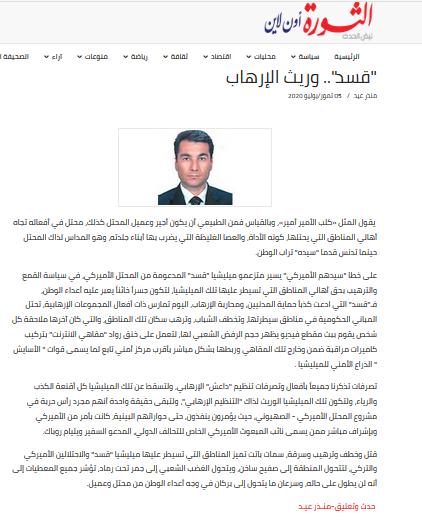 Rabi Salem, a lawyer residing in the Mazraa neighborhood in Damascus, attributed the aim of these campaigns to the government's fears that the SDF will be presented as an alternative to the military establishment of the Syrian regime.
SDF's acceptance of various religious and ethnic communities within its military ranks provokes the fears of the regime that these forces may gain the trust and the support among the supporters of the Syrian government, especially in light of great resentment of the government's recent performance, he added.
The Syrian capital Damascus has witnessed two rounds of talks between the Syrian Democratic Council and government officials over the past two years, with neither resulting in a political agreement.
Reporting by Wahid Atar