Reports
Children forced to work due to bad living conditions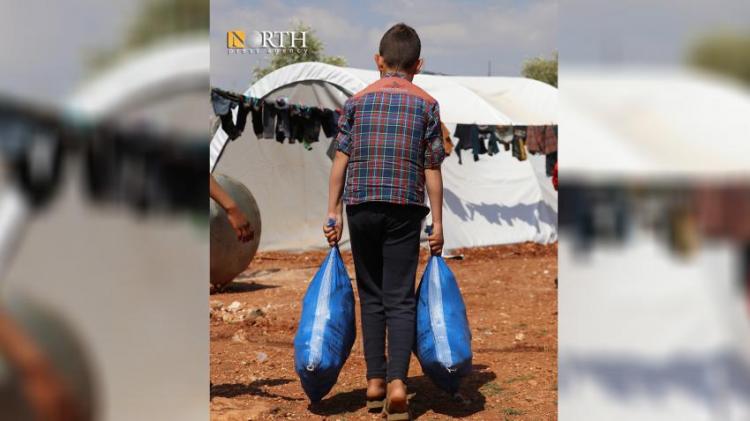 IDLIB, Syria (North Press) – 11-year-old Jamal Bakour heads for the blacksmith workshop in Idlib city every morning, where he has been working for four months in order to learn the profession and help his parents financially.
Like other children, Bakour used to go to school, but after the Idlib Education Directorate of Syrian Salvation Government (the political wing of Hayat Tahrir al-Sham/HTS) closed schools on March 14th due to the coronavirus pandemic, he looked for a way to make use of his free time and make a source of income as well.
Bakour has started working after the coronavirus outbreak, which another example the recent increase in child labor in Idlib. "For every three children, there is one child who works," according to the region's local institutions.
Poverty, bad life conditions, and some fathers' inability to secure their family's needs all lead to the increase in child labor.
Bakour, who dropped out of his elementary school, describes his suffering due to bad living conditions. "My father cannot work in construction anymore after he was wounded by artillery. I work to help him to secure our daily bread."
"I would not return to school even if it reopened, because I want to work to support my family and myself," Bakour said.
The level of child labor in Syria rose to 49% during the war years, while more than half of the Syrian families depend on their children to secure their living, according to a study conducted by High Institute for Demographic Studies and Research in 2016.
Maryam Haj, a mother, said that "I am obliged to rely on my underaged child because we live in a state of poverty, homelessness, rising prices, and lack of job opportunities. Nobody cares about us."
Jobs which children do in Idlib vary. Some are very difficult, including construction, car maintenance, blacksmithing, and carpentry.
The percentage of students dropping out of schools is 21% for elementary school, 37% for middle school and 45% for high school, according to the Education Directorate of the Salvation Government in Idlib.
According to civil organizations concerned with childhood issues, those children face psychological problems and maltreatment at work, as they bear responsibility at a young age and are forced to skip their childhoods.
13-year-old Omar Mawas, who has recently taken up smoking, said that "I feel bored at home, so I go out to meet my friends who smoke, the reason that made me imitate them just for fun, what is the problem in that? I am not a child anymore."
Although schools reopened in early June, most students did not go back and continue their education; rather, they chose to work to meet their families' needs.
More than 2,000,000 Syrian children do not go to school while about 1.3 million face the risk of dropping out of school, according to statistics made by United Nations Children Fund (UNICEF) until 2019.

(Reporting by Razan Sayed, editing by Lucas Chapman)