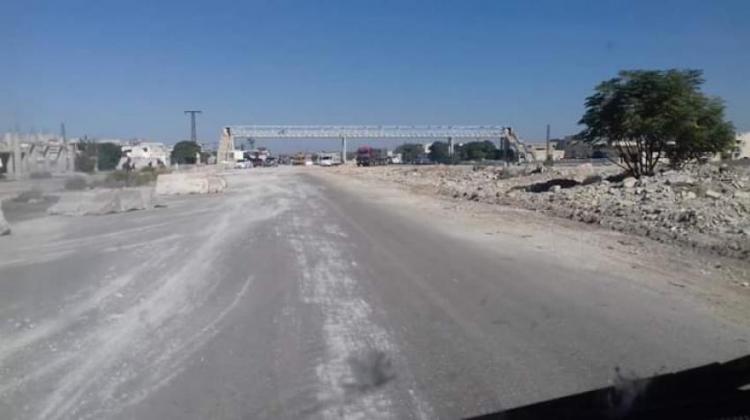 Idlib – North-Press Aency
Aous al-Shami
Hayat Tahrir al-Sham (HTS), one of the largest militant groups in Idlib governorate and north-west of Syria, and controls all military, security, administrative, and civilian aspects via its political arm, the Salvation Government. It was officially announced on the 17th of September, 2017, following several sessions held at Bab al-Hawa border-crossing, to administrate Idlib governorate and areas controlled by the HTS, which earns substantial sums of money from the taxes it imposes on goods and people passing through the crossing.
Bab al-Hawa border crossing with Turkey is the most important one, from which Turkish goods, gas and European gasoline, food and other items enter Idlib, in favor of Watad company which is directly affiliated with the HTS. According to a trader who refused to mention his name, those who are in charge of Bab al-Hawa crossing impose about 10 to 30 dollars per ton on goods from Turkey. In addition to taking 5% of relief items from relief organizations operating there, for their members.
The salary of security personnel at the crossing and at the checkpoints leading to the crossing, ranges between $150 to $200. While the monthly income of the crossing is estimated at about $100 million.
The second crossing, which is supervised by the HTS, is al-Rashideen crossing, west of Aleppo, as it is often used for exchanges of prisoners or corpses between the Syrian government forces and the armed opposition groups.
While, al-Eis crossing in southern Aleppo, is a commercial crossing which links the Syrian government-held areas with areas under control of HTS and other armed opposition groups in Idlib and southern Aleppo. It is the only operating crossing currently between the two sides to exchange goods, and it's fully controlled by the HTS, where it imposes taxes on entering and leaving trucks.
In addition, Kafr-Lossin Crossing, a military crossing in north countryside of Idlib, controlled by Failaq al-Sham, and it's used for the entry of Turkish military reinforcements, which are being sent periodically by Turkey towards its observation points in the south and east of Idlib, northern and western Hama, and south and west of Aleppo.
Moreover, Abu Dhour crossing east of Idlib, through which the Syrian government forces invite those who want to leave Idlib towards their areas of control.
There were several civilian and commercial crossings linking it with Syrian government-held areas in the governorate of Hama, which are also controlled by Hayat Tahrir al-Sham (HTS).