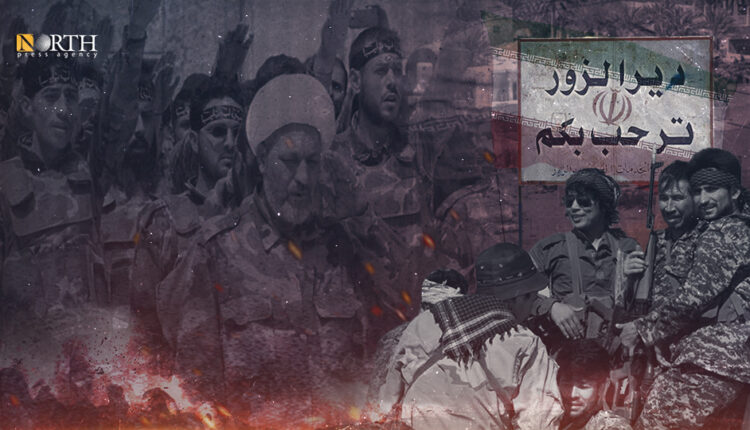 RAQQA, Syria (North Press) – Along with infiltrating the Syrian community in eastern Syria, Iran also lured businessmen and capital owners in Deir ez-Zor Governorate, eastern Syria, through its military militias.
Iran made use of the mutual benefit between businessmen and capital owners, in addition to backing pro-Iran figures in the region to become one of the biggest capital owners in Deir ez-Zor.
North Press obtained, via over 30 security sources and eyewitnesses in areas under the control of Iranian-backed militias, the names of the businessmen and capital owners who deal with the Iranian-backed militias.
Some people and capital owners made fortunes in tandem with the displacement, lack of job opportunities, and food insecurity the locals experience.
Who are they?
Farhan al-Marsoumi is the biggest associate of the Iranian-backed militias in Deir ez-Zor and Damascus. He contributed to buying real estate for the militias affiliated with Iran's Islamic Revolutionary Guard Corps (IRGC) in Abu Kamal and its countryside and in Muadamiyat al-Sham in Rif Dimashq Governorate.
Al-Marsoumi is famous for being one of the biggest businessmen affiliated with the IRGC. The militias assist him in his smuggling operations of cigarettes, captagon, and artifacts.
Raeef Obeid, deputy chairman of the Deir ez-Zor Chamber of Commerce, is one of the businessmen who became known after the Iranian-backed militias took control of the region. He concealed unlawful business transactions executed by these militias and granted entry to Deir ez-Zor for Iranian companies to engage in construction projects under false identities and with Iranian financing.
Muhammad Badran al-Sheikh was appointed recently as head of Deir ez-Zor pharmacists' union. He obtained a tender to manage a pharmaceutical company called Sobhan for Pharmaceutical industries. Al-Sheikh and his business partner Fahed Khalil al-Dawoud had the mission of monopolizing medicine and selling them in Deir ez-Zor.
Reem Shuwaish al-Suleiman, the widow of Brigadier-Syrian President General Muhammad Suleiman, former military adviser to Bashar al-Assad, took advantage of her husband's connections to Iran and licensed a charity organization named Truthful Promise in 2013. The organization's purpose is to use the needs of poor people to infiltrate the communities.
Khalaf Mahmoud al-Mashhadani, owner of the Mashhadani International Group for exhibitions and production, is an associate of the IRGC to dominate local markets of the oil, plastic, and automotive trade. He is considered a member of the Syrian-Iranian Commerce Chamber.
Madloul Abdulaziz, aka Abu Zabah, is a former commander in Hayat Tahrir al-Sham (HTS – formerly al-Nusra Front) who currently serves as a member of Syria's People's Assembly (Parliament). The Iranian-backed militias supported him and stopped the Syrian government's pursuit of him. He now holds the position of director of Deir ez-Zor's al-Futwa club.
Iran was able to influence the local community by purchasing the loyalty of prominent figures, including Saad al-Azal al-Dandal, a leader of the al-Hassoun tribe, Abdulmajid al-Sarawi from the town of al-Shamitiya who convinced many young men to convert to Shiism, Saleh Muhammad Ismail al-Baaj from the tribe of al-Baajin in the city of al-Mayadin, Khalouf al-Shawi and his children from the city of Abu Kamal, Faysel al-Kasar, leader of the al-Jeghayfa tribe, Jamal al-Hardan, a notable member of the al-Hassoun tribe, and Hussein al-Ali al-Jaghifi, a notable member of the al-Jeghayfa tribe and one of the biggest smugglers in the region.
Reporting by Zana al-Ali