People drink unsafe water due to water shortage in Syria's Hasakah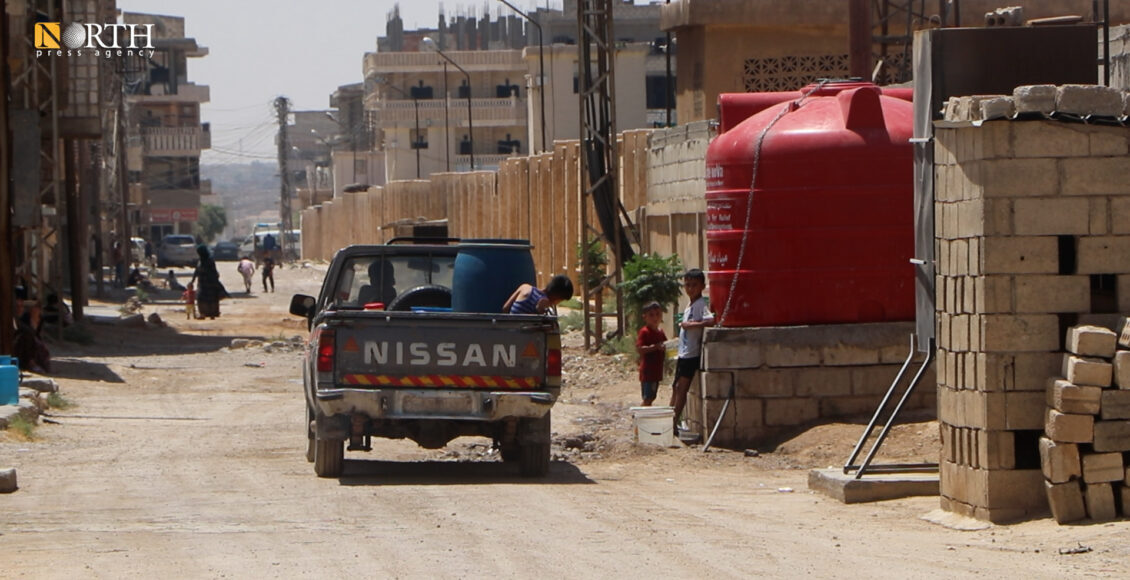 A child drives a car in search for water in Hasakah northeast Syria - North Press
HASAKAH, Syria (North Press) – The children Judy and Hassan embark on a daily routine in search of water in Hasakah, northeast Syria. They load their old-fashioned car with empty plastic containers and drive to other neighborhoods, hoping to find a source of water.
Despite the sweltering heat, Judy and Hassan brave the conditions to find water. They scour the neighborhoods, searching for tanks installed by NGOs to secure their daily water needs.
Some organizations have installed tanks where they fill them with water periodically, so that residents can later fill household containers.
The difficulty of providing potable water means people are forced to rely on unsafe water sources causing waterborne diseases and feeding in their outbreak. More than half of the people living in Hasakah rely on alternative and often unsafe water sources to complement their daily water needs.
Like the most of the Hasakah's residents, the family of the two boys no longer thinks about whether the water is treated and safe to drink or whether it is salty or bitter, since their main goal is to get some water even if it was from the untreated water sources like local wells.
With the intense heat wave and extreme high temperatures during summer, the residents have faced reduced access to water for nearly four years, due to repetitive and sustained disruptions of water provision from Alouk water station, the main feeder and the only source of drinking water for Hasakah, Tel Tamr and their countryside, which is occupied by Turkey and Turkish-backed armed opposition factions, aka Syrian National Army (SNA).
Manal Shami, mother of Judy and Hassan, expressed her concern for her children's daily struggle to secure water. She revealed that if they fail to find fresh water, they bring back bitter water, even though they know it is not safe to drink.
She added that they are forced to do so due to the lack of other options, which highlights the dire need for a sustainable solution to the ongoing water crisis in Hasakah.
Since Turkey and the SNA occupied Sere Kaniye (Ras al-Ain) and Tel Abyad in 2019, "residents of Hasakah suffer from a lack of water," the mother said.
In 2019, the Turkish forces and the SNA launched the so-called "Peace Spring" military operation where they occupied Ras al-Ain and its countryside.
Limited access to clean water
Due to the lack of water tanks installed in Kalasah neighborhood, the two children face difficulty in securing water.
"Sometimes they [the children] fail to find water," Shami said.
"All we care about is securing water; the only problem is securing water. My little son suffers from backache because he carries heavy containers full of water," Shami added.
"We spend half of our day searching for and securing water. We even neglect our children and housework for that," she noted.
Shami believes that the authorities in the region, as well as local and international organizations, must take responsibility for finding solutions to end the ongoing suffering of the people in Hasakah.
"We hope to find solutions, whether through pumping water from Alouk station or secure water by organizations," she added.
The mother criticized Turkey, saying, "Where is humanity? Where is Islam? Turkey pretends protecting Islam, what Islam is Turkey calling for?"
On July 3, the Water Directorate of the Autonomous Administration of North and East Syria (AANES) announced Hasakah Governorate a disaster area because of Turkey's water cut-off from Alouk station.
With the sharp devaluation of the Syrian pound, the high fees for water trucking from al-Humma wells region to Hasakah increases the price of water delivered to houses.
"Each household water tank is filled with 15,000 SYP. The residents cannot shoulder any extra burdens, the smallest family needs 150,000 SYP to buy water every month. What shall people do?" the exhausted mother said.
In Hasakah, people have also been significantly affected by waterborne diseases due to the poorer quality of water.
"The water we buy from mobile tankers is unsafe for drinking, but people are forced to buy from them although they know that this water is not healthy, they cannot afford bottled water," the mother concluded.
Reporting by Robin Omar