Introduction:
After the Turkish invasion of Sere Kaniye (Ras al-Ain) and Tel Abyad in 2019 and the forced displacement of over 300,000 individuals, Turkey and the US announced on October 17, 2019, a ceasefire agreement followed by a Russian-Turkish agreement on October 22, under which the Syrian Democratic Forces (SDF) withdrew from the region. Subsequently, Turkey initiated drone strikes from within its own borders against northern Syria. In 2020, the first such attack targeted Syrian government forces in Idlib, followed by strikes on civilians in northeast Syria, where its first two victims were recorded in the city of Qamishli.
Turkey's drone warfare began in 2020 but reached its peak in 2022 following Turkey's desire to carry out a new invasion against north Syria which was met with rejection from the international community. The number of drone strikes in 2022 reached 90 strikes that targeted the population, civilian objects, and infrastructure.
Although the total number of civilian casualties was relatively small compared to the number of military personnel from the Syrian government forces and the SDF, the drone strikes directly targeted civilians which resulted in deaths and injuries, including women and children. These attacks have inflicted significant psychological, physical, and economic harm on the affected individuals and their families.
The dangerous and systematic Turkish violations of human rights in Syria, not abiding by and implementing its extraterritorial obligations, threatening the security and stability of north Syria, carrying out deadly operations, and violating the civilians' right to life, are all a violation of the international human rights law and international humanitarian law and must be investigated and held accountable for.
Casualties of drone attacks
During the first half of 2023, Turkey attacked north Syria with 34 drone strikes, leaving behind 73 casualties, killing 44 individuals and injuring 29 others. The number of civilian victims constituted 27 percent of the total toll of victims.
Our department recorded 20 civilian casualties of these drone strikes. Among these, 12 were killed, including six women and a child, and eight were wounded, including a woman and three children.
The drone attacks also killed a Russian soldier and injured three others, and left behind 28 casualties among the SDF, including 20 dead and eight wounded. The government forces also suffered 17 casualties, including 10 dead and seven injured.
The attacks occurred in various locations, such as Hasakah with four strikes, Raqqa with two strikes, and Qamishli with seven strikes. Turkish drones also carried out 13 strikes in the northern countryside of Aleppo, parts of which are under the control of government forces and others are managed by local administrations affiliated with the Autonomous Administration of North and East Syria (AANES), and shelled four locations in Kobani and Manbij.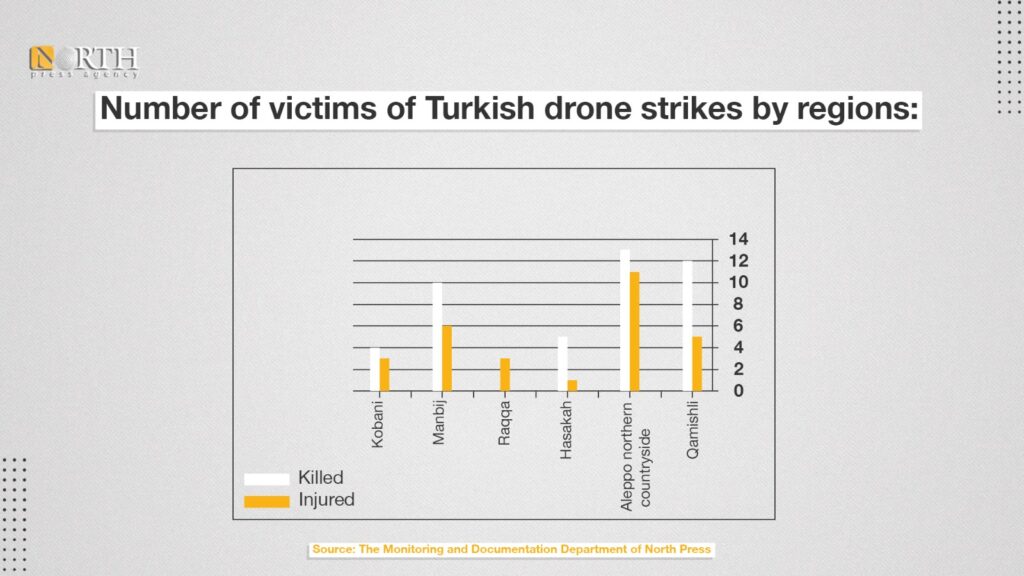 Turkey attacked north Syria with nine drone strikes in January, three strikes in February, two strikes in April, five strikes in May, and 15 strikes in June, which is the highest number during the first half of 2023.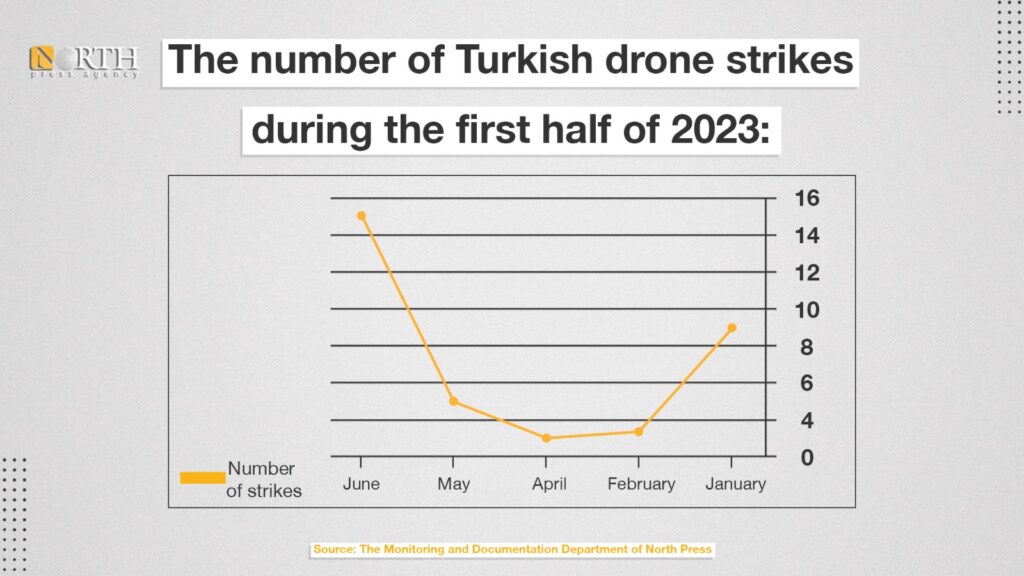 Civilian victims
On January 3, 2023, the first victim of drone strikes, a woman, died of wounds caused by a drone strike on a poultry farm in the countryside of Qamishli on December 24, 2022. This was followed by the injury of two children and one man by an attack on the town of Ain Issa and another on the main road near the village of Mashouq in the eastern countryside of Qamishli. Following these strikes, nine other attacks against civilians occurred. Based on databases of the Monitoring and Documentation Department of North Press and analysis of numbers of civilian victims, Turkish drone strikes left behind at least four civilian casualties every 20 days during the first half of 2023.
In the latest drone strike, Turkey targeted members of the Qamishli Region Council, affiliated with the AANES, killing three individuals, including two women, and injuring another.
Nidal Ibrahim, husband of Yusra Darwish who was co-chair of the Qamishli Region Council and was killed in the latest drone strike, said, "My wife was a civilian working in social institutions that served the locals. She did not carry weapons and did not fight. Why are civilians so brutally attacked?"
Dozens of civilians have been killed or injured in northern Syria, despite Turkey's claims of fighting terrorism in the region. The absence of international accountability has allowed these deadly operations to continue, with the number of victims steadily increasing.
The Turkish indiscriminate shelling of northern Syria violates international law, including the International Covenant on Civil and Political Rights (ICCPR). As a state party to this covenant, Turkey's deadly operations against individuals outside its borders constitutes a violation of international humanitarian law, the Fourth Geneva Convention, and the rules of customary international law that prohibit attacks on civilians and civilian objects, as well as indiscriminate bombing of cities and villages. These laws require the protection of civilians and prohibit attacks on their fundamental rights, including the right to life.
Therefore, the international community has a responsibility to investigate these illegal actions. This investigation should be conducted through effective and transparent accountability mechanisms to ensure that those responsible are held accountable and that justice is served. Furthermore, the affected individuals and communities must be provided with appropriate compensation for the harm they have suffered as a result of these violations.