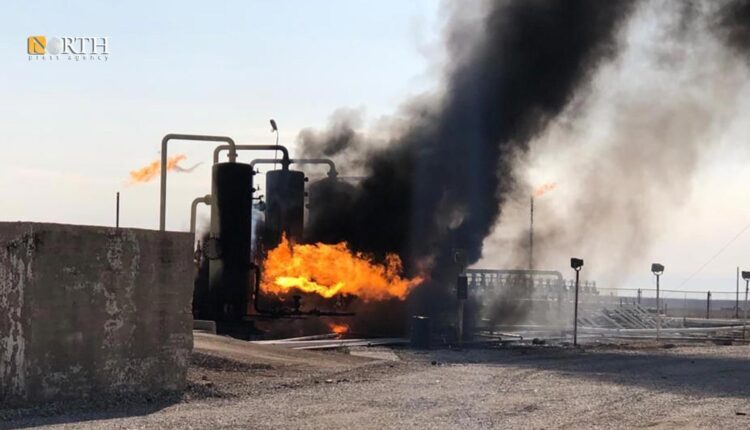 QAMISHLI, Syria (North Press) – For years, Turkey has deprived thousands of people of water. Now, it seeks to destroy vital facilities that used to provide northeast Syria with basic items of every days life such as gas, electricity and diesel, declaring a war against the region though in different ways.
Water
In October 2019, Turkish forces and their affiliated armed opposition factions of the Syrian National Army (SNA) took control of Sere Kaniye (Ras al-Ain) and Tel Abyad, causing tens of thousands of people to leave their homes behind and be settled in rapidly-created camps while the operation was ongoing. However, they have remained in those camps until today.
Since that date, Turkey and its affiliated factions have repeatedly cut off water from the Allouk water station, in the countryside of Sere Kaniye, to the city of Hasakah and its countryside, depriving nearly a million people of drinking water.
All mediation bids by Russia to solve the water issue of Allouk have fallen to the ground.
By August 3, 2020, Turkey had cut off water 13 times. Pumping water to the station had been reduced from 100.000 cubic liters to 40.000 then to 20.000 and recently to 10.000 cubic liters.
Although a lot of calls and bids were made by the Russians and Americans to solve the issue with Turkey, all of them failed, and the problem remains as it is.
Since water cut-offs last for many weeks, people in Hasakah had devised other alternatives to obtain water; most primarily has been digging wells, but due to the drought that has struck the region for the past two years, most of them have dried.
Residents also counted on water tankers to secure their water. However, such water remains unsecure as it is filled from unknown resources and does not undergo any treatment, especially amid the outbreak of cholera in Syria.
Up to now, Turkey and its factions have cut off water some 27 times. Condemnations have made nothing to make Turkey yield. Observers believe that Turkey will not stop the "water war" since it has reduced considerably the flow of Euphrates water into Syria and Iraq that eventually affects agriculture.
Amid this situation, seeing women and children, notably IDPs, holding water containers in Hasakah is not an uncommon scene.
Darkness
Since November 20, Turkish forces have conducted a large scale and unprecedented air and ground bombardment against northern Syria. In the days that followed, nothing was spared from the Turkish shelling including a base jointly operated by the US-led Global Coalition to Defeat ISIS and the Syrian Democratic Forces (SDF) and a one held by Russian forces in the town of Tel Tamr in north Hasakah. Electricity and gas fields were targeted too.
Turkish warplanes targeted the Teqil Beqil power station in the countryside of Derik (al-Malikiyah). It was partially destroyed. Eleven people were killed in the Turkish attacks against Derik including Issam Abdullah, a local Kurdish journalist working with the Qamishli-based Hawar News Agency (ANHA). Six other people were injured too.
The air raid on Teqil Beqil deprived 65 villages in the countryside of Derik of power. What aggravated the situation was targeting al-Siwaydiay natural gas installation that used to supply the Hasakah Governorate with 50% of its gas, according to Co-chair of the Energy and Transport Office in Jazira Region of the Autonomous Administration of North and East Syria (AANES).
A Turkish shelling against Transportation Foundation in Herem Sheikho village on the Qamishli-Amuda road damaged cables which are in need of repair.
No gas
On November 23, a Turkish warplane struck an oil pump close to the village of al-Auda in the countryside of Derik. A day after, the same pump was hitr again along with Dijle oil field in south of al-Jawadiyah town. However, targeting al-Siwaidiya gas facility in the countryside of Rumeialn was the most painful.
The gas facility used to produce 14.000 household gas cylinders. Months is needed to be repaired.
A local told North Press, "If we stay in Syria we should depend in cooking on wood and manure just like our forefathers used to do. Turkish aircraft has hit gas and oil facilities."
According to concerned people, the gas facilities need spare parts from abroad to re-run it, an executive in the factory said.
Reporting by Rahaf Youssef