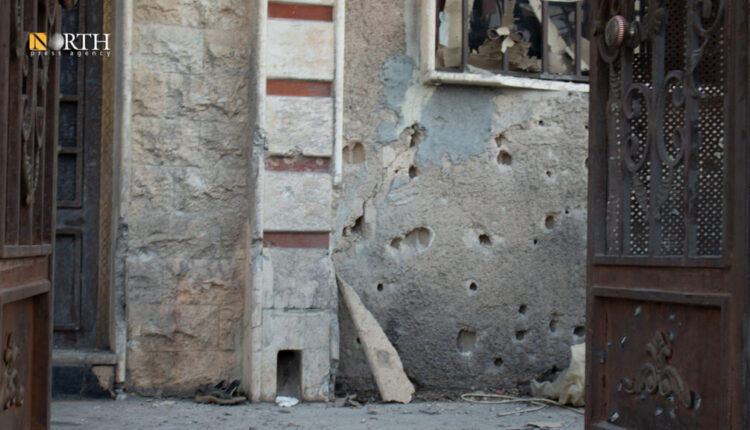 QAMISHLI, Syria (North Press) – Badoura Ali, 50, sits in front of her house, staring at the direction to which her husband went out two weeks ago, and never came back.
As she was about to cry, she wondered about the reason behind Turkish attacks that target civilians in their own lands.
On August 10, a Turkish drone targeted a car near the village of Malla Sibat, southwest of the city of Qamishli, northeastern Syria, killing three people, including Ali's husband, Adeeb Suleiman, 62.
Qamishli, like other cities on Syrian-Turkish border, witnessed repeated Turkish bombardment by drones and artillery shells, killing and injuring civilians.
Two months ago, Turkey's President Recep Tayyip Erdogan announced plans to carry out another major military cross-border incursion into northern Syria. Erdogan specified his targets in the two northern Syrian cities of Manbij and Tel Rifaat.
Since Tehran summit that took place on July 19 and brought together presidents of each of Iran, Russia and Turkey, Turkey has been escalating shelling of northeastern Syria, ignoring ceasefire agreements.
Eyewitnesses assured that the shelling of locations often happens twice in a row, separated by minutes, killing and injuring people while they gather to rescue the victims of the first targeting.
While trying to pull herself together, the grieving wife told details, saying, "It was 5:00 pm when I heard an explosion."
"Turkey shelled us, it targeted a car," she added.
Ali said that her husband rushed to help injured people, and although she asked him to return, but he refused.
While her husband, Suleiman, was trying to help injured people and get them out of the car, the Turkish drone hit again, killing him immediately, according to his family members and eyewitnesses nearby the scene.
It seems to be hard for Ali to accept the idea of losing her husband, as she said, "He used to work in field and take care of livestock, and his work was enough for us to live. However, he is dead now and nothing remains except memories."
On August 6, a Turkish drone bombed a car in al-Sinaa neighborhood (industrial zone) in Qamishli, resulting in the death of four people, including two children Ahmad Shibi, 14, and Aheng Shibi, 16.
Masoud Adeeb, 20, Suleiman's son, warned people of gathering in shelling locations, especially after minutes of shelling, as he said, "When shelling happens, civilians should not gather in the shelling location to avoid what happened to my father."
On August 16, Media center of the Syrian Democratic Forces (SDF) said that four fighters of Self-Defense Forces (compulsory recruitment), affiliated with the SDF, lost their lives in a Turkish drone attack on the countryside of Amuda, a city in the western countryside of Qamishli.
Ali Hassan, 50, who witnessed that bombing as he was on his way home, told North Press, "I heard an explosion in the village and when we went to check on, the drone shelled again."
He wondered, "For what crime were those children killed? Why is the world silence regarding these massacres?"
Media Ali, 45, from the village of Sanjak Saadoun, where the abovementioned shelling took place, also said that she witnessed the Turkish drone strikes on the same location in the village twice in a row.
Ali called for the UN and human rights organizations to stop the "Turkish aggression."
In a separate incident, the Turkish artillery shelled a post in the village of Segirka, behind COVID-19 hospital northern Qamishli, killing four people.
Ismael Farho, 62, a worker at a gas station nearby the location of the shelling in Segirka, said, "After a shell fell, we rushed there to transport injured people and martyrs. While we were moving away from the place, another shell fell."
Reporting by Muhammad al-Omari