DERIK, Syria (North Press) – 40-year-old Fatima Diyab has to bring water to her tent by gallons every day from a spring nearby Newroz camp in the countryside of the city of Derik (al-Malikiyah) in northeastern Syria.
This daily task exhausts Diyab, who is an IDP from the village of al-Faka in the town of Tel Tamr, north of Hasakah, especially that she does it after working for four hours in agricultural lands.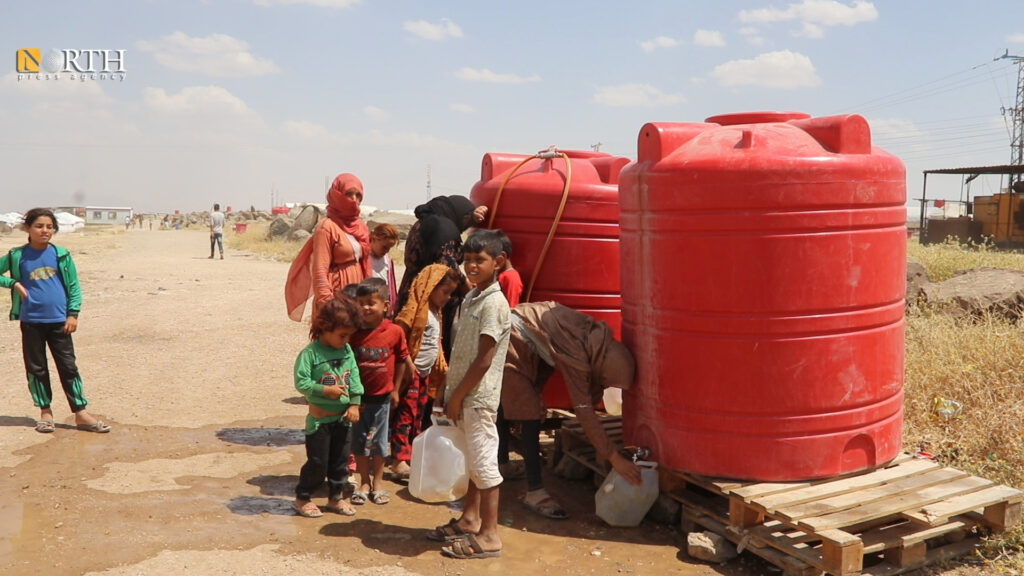 In Newroz camp, IDPs, who recently left their homes in the countryside of Tel Tamr and Abo Rasin(Zirgan), face hard times because their tents were built in a hurry due to overcrowding and the lack of basic services such as kitchens, bathrooms, electricity, and toilets.
Their tents were built on dirt floor on the outskirts of the camp. The tents house more than 200 families who have recently displaced as a result of the military escalation on their areas by Turkish forces and Turkish-backed opposition factions, also known as Syrian National Army (SNA).
The new section of the camp includes two water tanks, which are not enough. This forces them to bring water from a nearby spring.
The camp houses 1.076 families that include 5.839 members, according to camp's administration.
On June 1, Turkish President Recep Tayyip Erdogan renewed his threats of launching a military operation on northern Syria.
In the recent period, villages of the countryside of Tel Tamr and Abu Rasin have been undergoing intensive shelling by the Turkish forces and the SNA factions on an almost daily basis, displacing several families.
This is unbearable
Due to the camp overcrowding with IDPs, many families have to reside in two big reception tents which contain nearly 17 rooms. Where several families must share one room, amid the lack of cooling means.
While she was covering her face with a scarf to protect it from sun heat, Diyab said in a local accent, "this is not a life, transporting water is exhausting. Dirty and awful smells kill us."
Men, women and children defecate in the open because sanitation facilities are not available to them. This results in unpleasant odors, especially with the wind gusts and high temperatures.
Diyab feels bad about what happened to her and her children in the camp and fears that they are likely to develop skin diseases due to poor hygiene.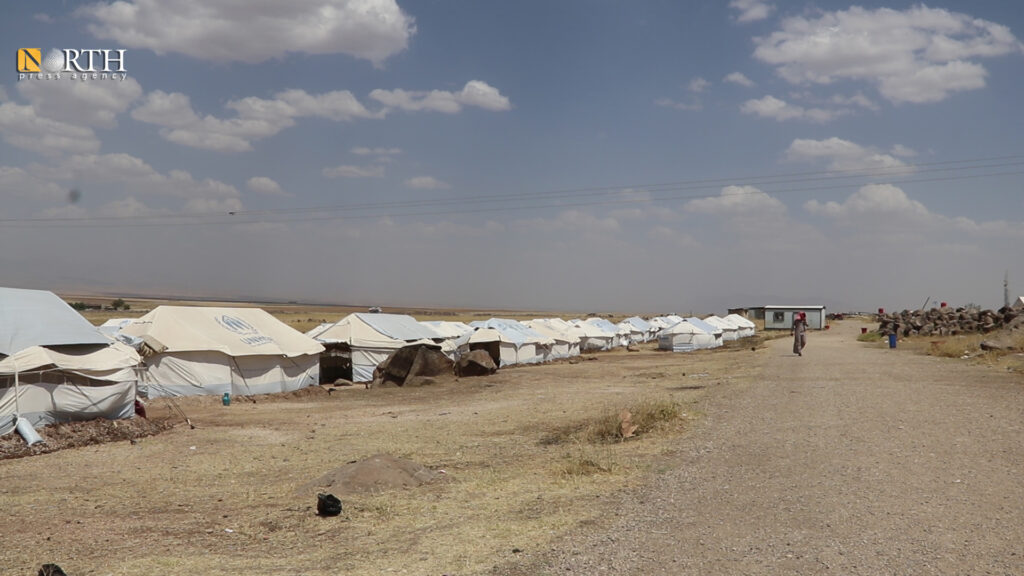 "Do you think that it is easy to be displaced? What makes it worse is that we are uncomfortable here," she wonders furiously.
"This is unbearable, is it logical to come back from work under summer heat and you have to fetch water also?" she added.
Regarding the bad situation in the new section in the camp, Nadim Omar, relation officer in the camp, said that they have received promises from United Nations Children's Fund (UNICEF) to implement service projects in the new section several months ago, but so far nothing has been provided.
Families continue to flee
During the past month, the camp received 107 displaced families. As a result of the Turkish shelling, families have been continuing to come to the camp, which pose threats to the camp's management about how to absorb all these IDPs whose numbers exceed the camp's capacity.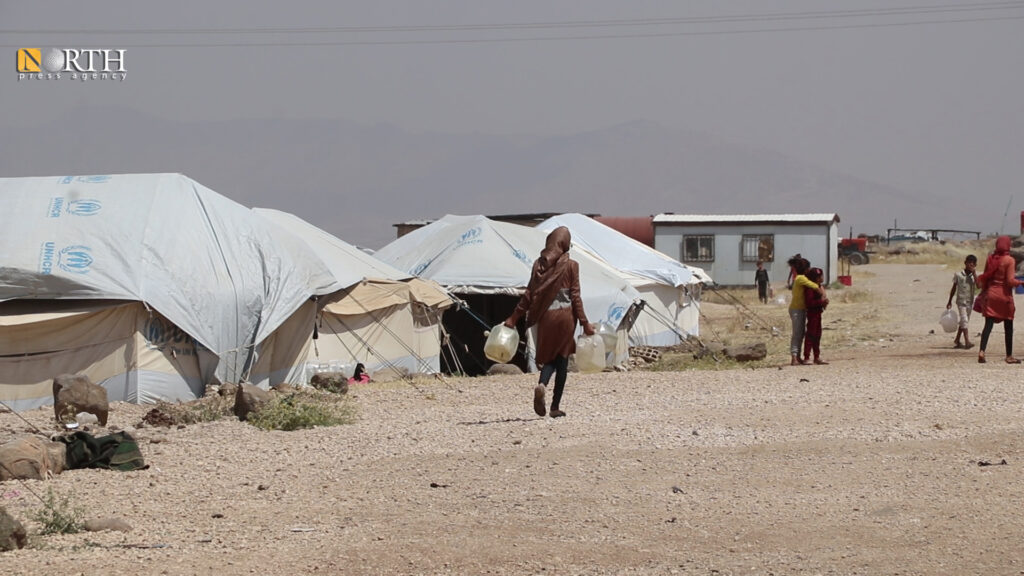 Due to building tents on dirt floor, the residents fear bites of poisonous animals such as snakes, scorpions and others, especially that there is no anti-sting serum in the camp.
Two weeks ago, an IDP was bitten by a snake to be taken to a hospital in Derik (al-Malikiyah) to receive treatment, according to IDPs.
Three months ago, 21-year-old Amira Abdul-Aziz and her family were displaced from their village, al-Faka.
In addition to the aforementioned suffering in the new section, Amira complained about the lack of food aid and receiving damaged food sometimes.
"I have just come back of Derik market, I sold a damaged bag of rice to animal feed dealer for 18,000 SYP, and I added 14,000 to it to buy a new one," she said.
While she was carrying the rice bag over her head and covering her face with a scarf, she said, "food aid is not enough, the situation is miserable."
Reporting by Dalal Ali