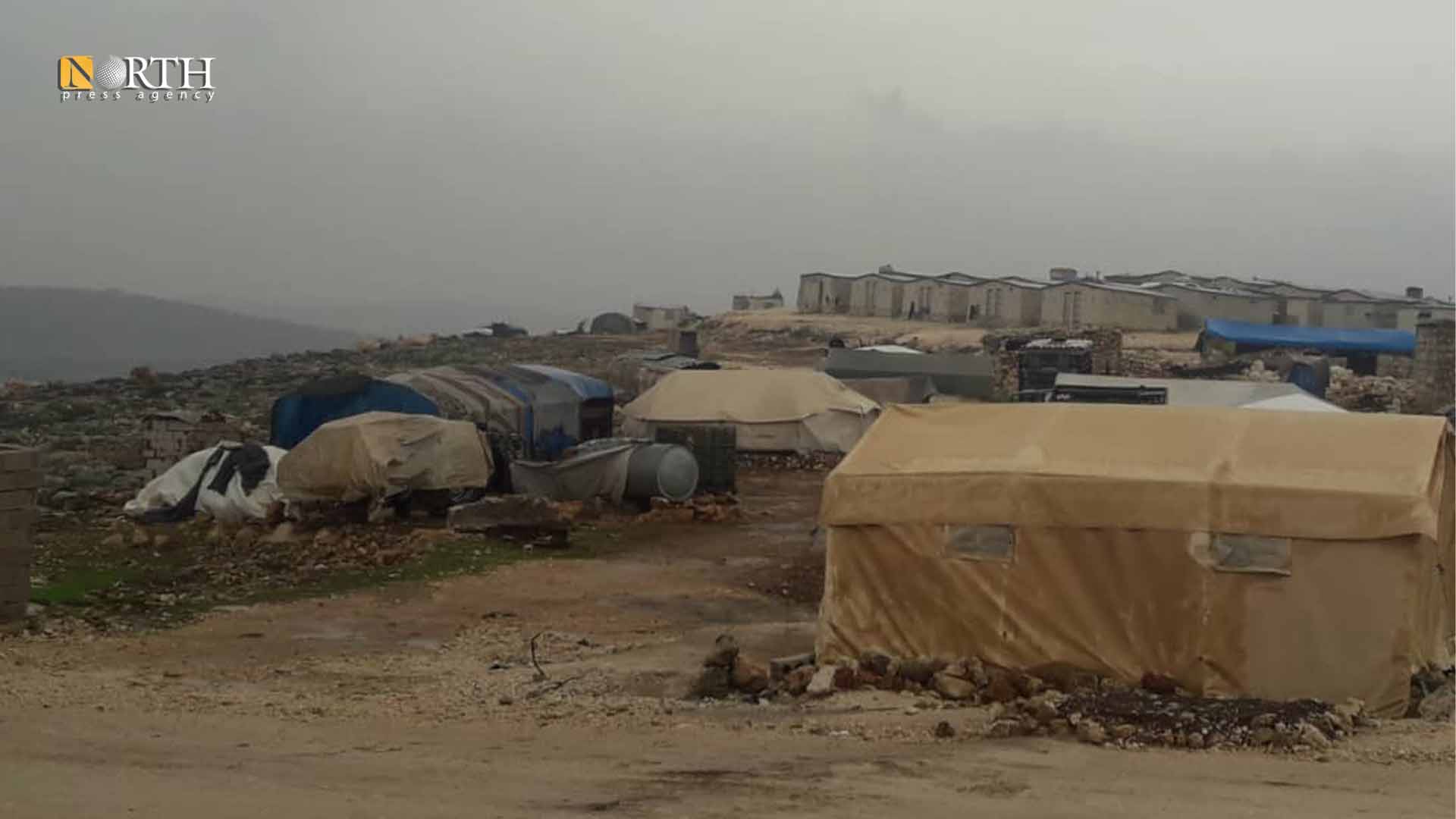 IDLIB, Syria (North Press) – The43-year-old Rabi' al-Youssef, a pseudonym for an IDP residing in Deir Hassan Camp, north of Idlib, northwestern Syria, has expressed his disappointments regarding the return to his city Ma'arat al-Nu'man since Turkey began the process of settling IDPs in concrete camps.
Meanwhile, border areas in north of Idlib are witnessing a significant reconstruction process including building concrete camps and paving routes with the aim of settling IDPs, the matter shattered hopes of thousands IDPs over their return to their cities and properties, from which they were forced to flee, amid what they believe to be Turkish deception.
Shattering hopes
After obtaining his concrete house in one of the camps scattered along the Syrian-Turkish border in Idlib that are supervised by organizations affiliated with Turkey, al-Youssef started moving his furniture.
"We will leave this tent and move to our new house; it seems that our stay in these camps will last for long time," he said in a sad tone.
The number of those camps that witnessed reconstruction processes is about 50 with Turkish Red Crescent and Directorate of Endowments of the Turkish state supervising them aiming at changing the demography of the region according to the policy followed by Turkey in Syria's northwest and northeast.
Those camps are scattered in Qah, Atmeh, Deir Hassan and Mashhad Ruhin with 600 city blocks in each camp, according to reports.
Al-Youssef pointed out that when he was residing in a tent, he had a glimmer of hope to return to his house that he forcibly left due to the last military operations south of Idlib, but he sees his displacement, now, as a "permanent residence home."
Complicity and failure
The construction of these dwellings indicates, "the Turkish complicity and failure regarding promises to return the IDPs to their homes that they fled," Mustafa Shahin a pseudonym for an IDP from Khan Shaykhun city, noted.
"We do not want to obtain houses in this exile, we want to return to our lands that they stole."
These projects "began in an attempt by Turkey, which is supposed to be a guarantor for the IDPs' return, to divert attention of thousands of IDPs from their rights in the return, but it sold their lands in turn for its own interests," according to Shahin.
Most of these projects are being conducted in remote and rugged areas that are not suitable for living; However, IDPs are preferring to live there rather than living under tents, which do not protect them from summer heat or winter cold weather, Shahin told North Press.
Dozens of concrete camps and blocks deploy along the mountains adjacent to the Syrian-Turkish border, where these camps are witnessing a high population density and are overcrowded with thousands of IDPs from different Syrian areas.
The 35-year-old Sa'id al-Ahmad, a pseudonym for an IDP residing in Atmeh Camps near the border, north of Idlib, was not surprised over the reconstruction process the camps are witnessing.
"Regime forces and their ally, Russia, would not have advanced an inch in areas they are running today, except they concluded coordination with Turkey," he said.
Building concrete camps is "natural in order to secure permanent houses for the IDPs and curb the displacement wave towards Turkish territory after they displaced thousands of civilians in the open," al-Ahmad added.
Meanwhile, Bilal al-Zoraiq, a pseudonym for a media activist living in the city of Idlib, warned against the long-term seriousness of these houses.
"The IDPs will be put under the fait accompli and abandon their legal demands of the return to their cities and villages," he pointed out.
Turkifying the region
"Currently, Turkey is suffering from deteriorating economic conditions and wants to achieve a victory in Syria in order to protect its Islamist government from internal pressures," opponent politician, Mohib Salha, who is residing in Suwayda, south Syria, said.
However, any complicity by Turkey with Russia and Iran in Idlib either through a military or political operation, "will not bring Turkey any gains after revealing its destructive role in support of terrorism," he noted.
So, all attempts by the Turkish Brotherhood government to Turkify the regions it is occupying, settle Islamic factions affiliated with it in Idlib and the northern countryside of Aleppo, construct a separate wall along the border from the northern countryside of Latakia, reaching Jarablus and Afrin, and the domination of Turkish symbols and curricula on all aspects of life there, come within this regard, according to Salha.
"If all Turkish endeavors in Syria worked, the silence of the Syrian government regarding the Turkification will become suspicious," he added.
"The Syrian government silence raises several questions including, has the regime accepted its share of the truly divided Syria against its will? Or is it a tactical maneuver to gain more time, for it and its allies to rearrange and reposition powers throughout northern Syria?"
Despite all complications of the situation, the scenario of Idlib will end, like other areas of the de-escalation zone, by handing them over to Russian Military Police (MP) and reducing the Turkish influence there either through a limited military operation or a political process, according to Salha.
Reporting by Samir Awad