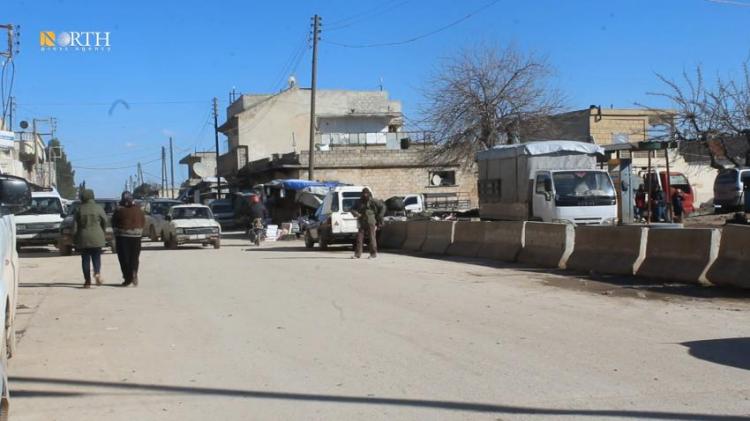 ALEPPO, Syria (North Press) – On Saturday at dawn, Turkish forces targeted the northern vicinity of the city of Tel Rifa'at, Herbel, Ain Deqna, and Maraanaz in the northern Aleppo countryside with shells from their base in the town of Kaljibrin, also in the north Aleppo countryside.
Local sources from the city of Tel Rifa'at, which includes residents and IDPs from Afrin, northwest Syria, said that the intermittent shelling is ongoing until the moment of preparing this report.
Since the invasion of Afrin by Turkey and Turkish-backed armed factions in 2018, hundreds of families from Afrin have been displaced to the city of Tel Rifa'at.
However, areas in the northern countryside of Aleppo are witnessing shelling coinciding with a Turkish silence regarding Russian and government shelling against areas in Idlib, although the past two days witnessed protests demanding the Turkish guarantor assume to its responsibilities over what is happening in the area.
Observers believe that Turkey and Russia have tacitly agreed to target the populated areas in Syria, where Syrians are the "big loser" in this shelling.
It is worth mentioning that areas in the northern countryside of Aleppo always witness shelling by the Turkish forces and the armed factions that are stationed in the surrounding areas.
Rabi'a Waqqas, an IDP from Afrin residing in Tel Rifa'at, said that during the past two days, the vicinity of the city witnessed shelling causing fear and panic among people.
On July 11, four people including a child were wounded as a result of a Turkish drone attack against the city center of Tel Rifa'at.
In January, as a result of the Turkish artillery shelling on populated neighborhoods in Tel Rifa'at, four civilian including a woman and a child lost their lives and ten other were wounded in addition to causing massive material losses in the site.
In 2019, Turkish forces and Turkish-backed armed factions targeted the Tel Rifa'at city, reporting ten casualties, including eight children and eight other wounded.
Reporting by Dajla Khalil