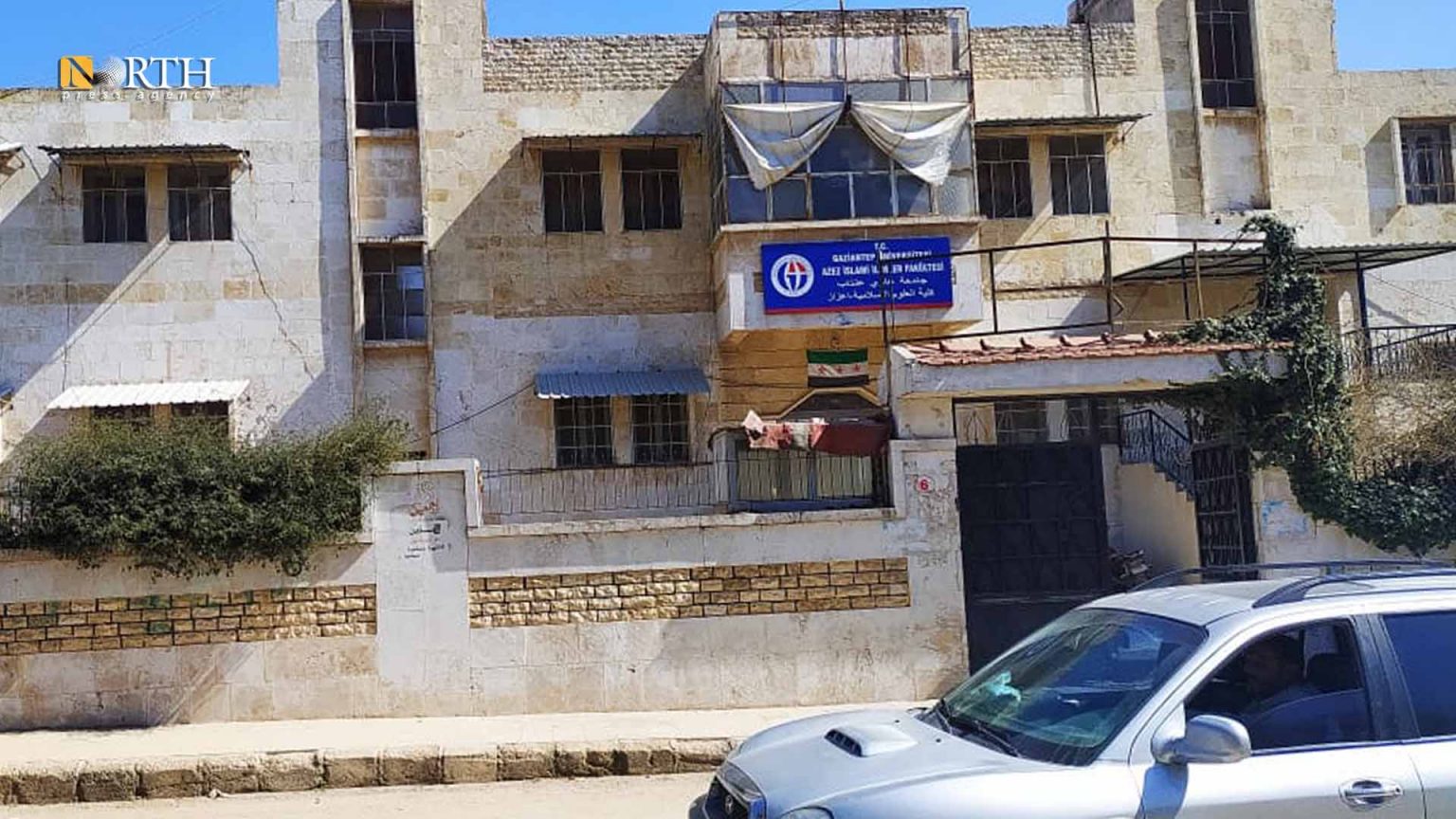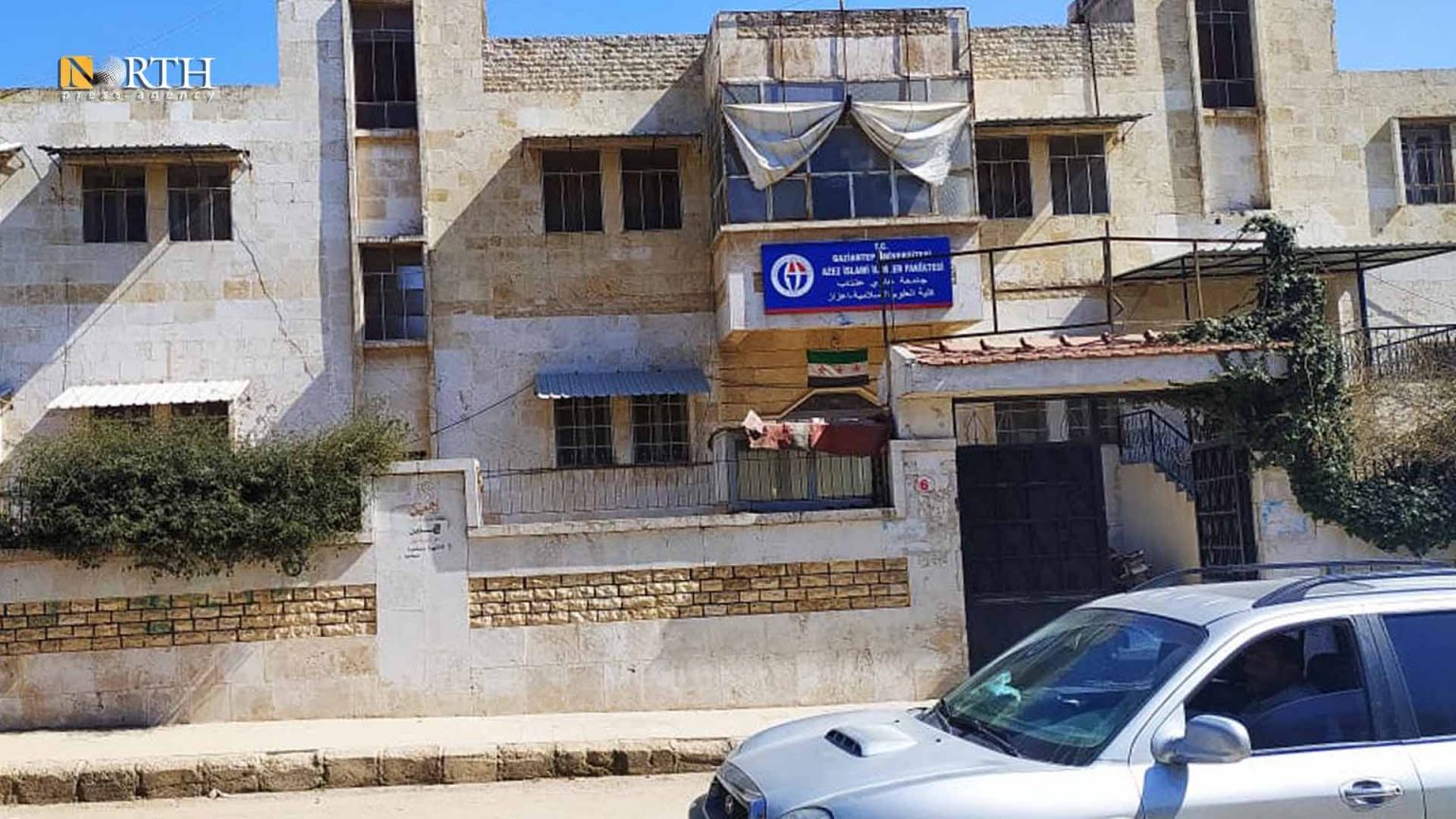 ALEPPO, Syria (North Press) – Residents of towns held by the Syrian government in the northern countryside of Aleppo, northern Syria, say that Turkey is seeking to spread sectarian culture through Turkish clergymen in the areas it controls, while its real goal is to implement Turkish policy and make it a fait accompli.
They believe that Turkey is seeking, through education and other means, to prepare the Syrian north for expansion plans similar to the scenario of the Sanjak of Alexandretta (Iskenderun), which Turkey annexed from Syria in 1936.
Turkish forces are controlling different parts of northern Syria through Turkish-backed armed opposition groups in Jarablus, Azaz, al-Bab, and Afrin in the northern countryside of Aleppo.
Additionally, Turkey is running the Sere Kaniye (Ras Al-Ain) and Tel Abyad regions in north and northeast Syria, while other Turkish-backed armed opposition groups are controlling the governorate of Idlib.
Sectarian culture
Badr Kassab, a university professor who lives in the town of Nubl, north of Aleppo, said that Turkey is using religious sectarian culture to implement Turkification projects in Syrian territories under its control.
"Almost every day, we see on the news sites of the Turkish-backed Syrian opposition graduation concerts for students of Sharia institutes and Quran memorization courses attended by Turkish clerics," he added.
Kassab believes that the universities opened in Jarablus and Azaz, and the religious institutes opened in the town of al-Rai and the Afrin region, are an introduction to the imposition of the Turkish language on the Syrians attending these schools.
He said that visits by Turkish officials and governors of Turkish border provinces have become frequent recently, and that "they are roaming separate areas in northern Syria to open schools and universities that raise the Turkish flag."
Kassab believes that this is a prelude to a separatist move supported by Turkey, which still believes that it has a right to most Syrian lands, especially in Aleppo and the north of the country.
Turkish institutes
Abdulkarim al-Ashqar, a retired colonel from the town of Zahra in the northern countryside of Aleppo, said that Turkey's goal of imposing its service and educational institutions is to completely take over the Syrian territories under its control.
In August, the German Merkur website reported that Turkish forces in Syria have cultural influence in Syria, where the Turkish language has been taught in schools, Turkish Islam has been spread, and the Turkish lira is the de facto currency.
On February 5, the Higher Institute of Health Sciences and the Faculty of Medicine was founded in al-Ra'i town, north Aleppo, by a decree issued by Turkish President Recep Tayyip Erdogan.
Turkey entered northern Syria claiming to protect its security and fight terrorism, while the truth is that it wants to annex these lands by imposing a fait accompli, according to al-Ashqar.
A real threat
Ramez Ibrahim, a notable from Hayyan town in the northern countryside of Aleppo, said that Turkey, which accuses the Syrian Democratic Forces (SDF) of secession, is sponsoring real separatist projects through its affiliated armed opposition groups.
He added that those groups get rid of opponents of Turkification through kidnappings, extortion, and displacement of the people to bring about a broad demographic change, especially in Afrin.
Turkish forces in Turkish-occupied areas work on the Turkification of the names of the parks, schools, and squares, such as the Ottoman Nation Park in Azaz, Recep Tayyip Erdogan Square, the Bulant al-Bayrek School in Bab.
Turkish forces and the Turkish-backed armed opposition groups raise the Turkish flag over several headquarters and government boards in areas under their control, and they write the names of these departments in both Turkish and Arabic.
Ibrahim believes that the displacement of the indigenous population and the settlement of Islamist Syrians and non-Syrians in the Turkish held-areas have become a real separatist threat.
Reporting by Najm Saleh