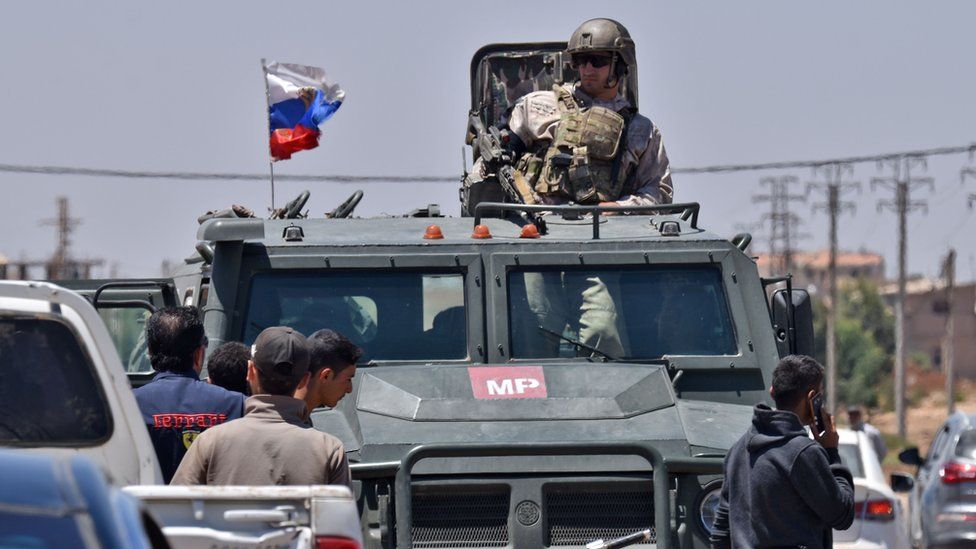 DARAA, Syria (North Press) – On Tuesday, Russian Military Police threatened to use airstrikes against members of the Central Committee of the armed groups in southern Syria's Daraa if the Syrian government's requests to deport six of its leaders to Idlib were not complied with.
On Monday, notables from the town of Tafas and members of the Local Central Committee of the armed groups held a meeting with two officers from the Syrian government's Fourth Division.
The Russian Military Police attended the meeting, which took place west of the town of Tafas in the western countryside of Daraa.
A source close to the local central committees in Daraa told North Press that the Fourth Division had demanded the deportation of six leaders of anti-government armed groups in Daraa to northwestern Syria.
The leaders, according to the source, are Iyad al-Ghanim, Abu Omar al-Shaghouri, Moaz al-Zoubi, Muhammad Qasim al-Subaihi, Iyad Ja`ara and Muhammad al-Ibrahim.
It was agreed that the response of the Central Committee will be given until the end of this week.
The source indicated that the Syrian government demands came after the killing of seven members of the Fourth Division and the wounding of ten others in military confrontations with the armed groups last Thursday.
The clashes stopped on Monday morning after Russian Military Police intervened and implemented the demands of the Fourth Division to expel the leaders of the factions to northern Syria.
The Russian Military Police threatened the Central Committee with the use of warplanes if the government demands were not implemented.
A local source from the western countryside of Daraa, who requested anonymity, told North Press that the requests for deportation did not receive any response or welcome from the local armed groups.
The source added that both Moaz al-Zoubi and Iyad Ja'ara, the most prominent leaders and opposition figures who reside in the town of al-Yadudah and Muzayrib in the western countryside of Daraa, sent an oral message through some notables of Daraa to the government, in which they indicated that they would not submit to government conditions or Russian threats, and would not surrender their weapons until a new reconciliation is agreed upon. They also stressed the need to remove armed Iranian-backed groups permanently from Daraa, according to the source.
The government forces brought in military reinforcements from the Fourth Division from southern Damascus countryside to the western countryside of Daraa after the assassinations of its members by armed groups affiliated with anti-government groups.
The area witnessed military confrontations between government forces and armed factions after government forces led by Brigadier General Ghayath Dallah attempted to storm the western countryside of Daraa.
Reporting by Sami al-Ali